During a bucket list-style adventure through Southeast Asia, I wrote this second installment to my travel blog series. During this part of the journey, we went from Bangkok, Thailand, spontaneously to Siem Reap, Cambodia. During a stop in the border town of Poipet, we haggled for visas, drank bottled water and ate scrumptious, authentic pad thai. We endured a few bumpy and lengthy bus rides through the most spectacular, raw countryside views. Eyes wide open, smiles in tow -- this was a trip of a lifetime! Read on, chime in and stay tuned as the series continues "into the jungles" next week. -- Cynthia
Surprising fact: Few Americans travel to this part of the world. While in Bangkok, we met an Israeli merchant who said he could count the number of American tourists he's met on both hands since moving to Thailand seven years ago. I'm in the airport at Siem Reap, Cambodia. Equivalent in size to say, Burbank airport, there's even a Dairy Queen ("queen" being the operative word here in SE Asia).
Our hotel in town was fantastic. Small, French, quaint and pretty luxurious compared to the tin roof shacks we saw on the way into town from Poipet. There's a term for backpackers who stay in hotels -- "flashpackers." I embrace this label with joy and an up-turned smirk.
Cambodia was absolutely incredible to see! Never in a thousand years would I have guessed I'd walk her dusty streets. Beautiful, lush, chock full o'character and history, the people here seem happy with their lot, and even happier to see my shiny, American face. They are hungry for tourism!
We took a mountain bike ride to Angkor Wat yesterday. The King of Cambodia (during the Khmer Empire) lived there in the 1200s. It was vast and impressive. Our two-bike rental cost five dollars and our clean bag of laundry, three. Clearly, you can live like a king (or queen) in this part of Asia.
After a day of sightseeing, we took a saltwater swim in the hotel pool during a tropical rainstorm. Holiday highlight. The pool was surrounded by lotus trees. It was a glorious experience...
Today we fly back to Thailand so I can witness the beaches of Krabi, see the rain forests, and (maybe) the jungles, and climb along with my rock climbing girlfriend. Day eight of this adventure brings me to the following conclusion -- I'm living a charmed life. I'm not always conscious of this fact, but today, I surely am.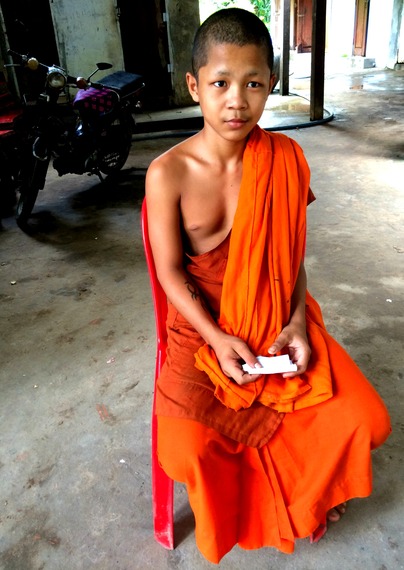 Oh, I'm spoiled. We are still in Ao Nang, Thailand, and I just drank my first Nescafe in at least a decade. We have also shifted our lodgings from hotels to hostels. That extra "s" makes all the difference. Does fluorescent lighting really save all that much on electricity? Who knew toilet paper was such a hot commodity?
Sue Ann, the girl I keep mentioning, is my "girlfriend." So far, so good on being gay in SE Asia. The further south we travel, the more Muslims we see. Eventually, we'll be traveling through Indonesia -- and we will have to turn our "gay" way down, for safety. Sue Ann knows Thailand. She came out here on extended holiday 14 years ago. She traveled the world, by herself, when she was 20+. Wow. Being here now, that seems a tad frightening to me. I guess since she lived in Taiwan as a baby, all this is "home," perhaps in the way I feel at home in Europe.
Hostel living reminds me of one particular tour adventure I had with Saucy Monky and my dear friends Annmarie and Naimee. We were touring Ireland with the band, and we played a bar gig somewhere in the country where the fee included housing. Whoa. Never in my life had I stayed in such a place. Not before, and not since. I remember I took a photograph of the charred, half broken toilet seat -- shocking as it were (haha). I think we slept three in a bed those days. Our band compatriots have since gone on to top touring acts, and hopefully better accommodations. Those memories are like gold to me now.
This is my first solo tour in many moons. I wonder how it will all go down? I intend to start a new career chapter in Australia. So get ready kids, new worlds, and new adventures await.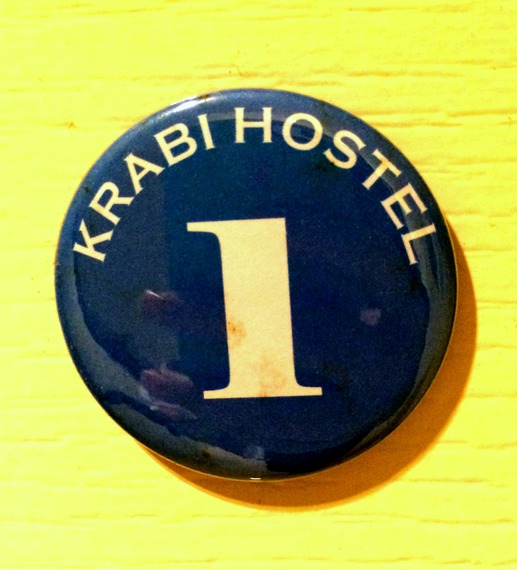 Popular in the Community