A Florida dairy farm is under criminal investigation after an undercover video from an animal rights group revealed workers kicking cows in the head and beating them with metal rods.
Warning: The following video includes footage that viewers may find disturbing.
The video was shot by a member of Animal Recovery Mission who went undercover in August as a farm worker at Larson Dairy in Okeechobee County. The footage shows men brutally abusing cows as the bovines cower and duck their heads. In some cases, the cows are unable to get away because they are confined by bars meant to restrain them for the milking process.
Larson Dairy was a supplier of Publix Super Markets, which has announced it suspended deliveries from the farm in the wake of the video, the Associated Press reports. Okeechobee County Sheriff Noel Stephen announced Thursday that he had launched a criminal investigation into the farm.
Farm owner Jacob Larson said in a Thursday statement, cited by multiple media outlets, that one employee seen in the video has been fired.
"We are deeply saddened and appalled by the actions witnessed in this video, which first came to our attention this morning," read the statement. "The unusual use of force is simply unacceptable on our dairy or on any other farm."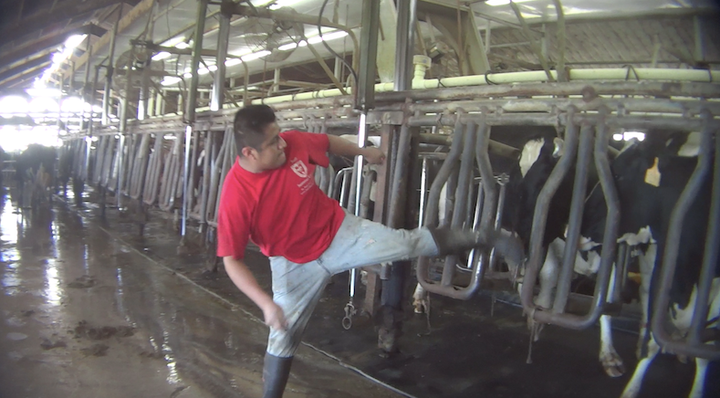 Sheriff Stephen told TC Palm on Friday that two other workers, in addition to the man fired, had been placed on suspension.
Though Larson's statement asserts the violence seen in the video was an anomaly, Animal Recovery Mission alleges that abuse was rampant at the farm. The group's website states that the cows were regularly "beaten over the head" and otherwise abused "during daily milk collections."
Larson has questioned why the undercover worker didn't simply report the abuse as soon as it happened, instead of waiting to release a video and report.