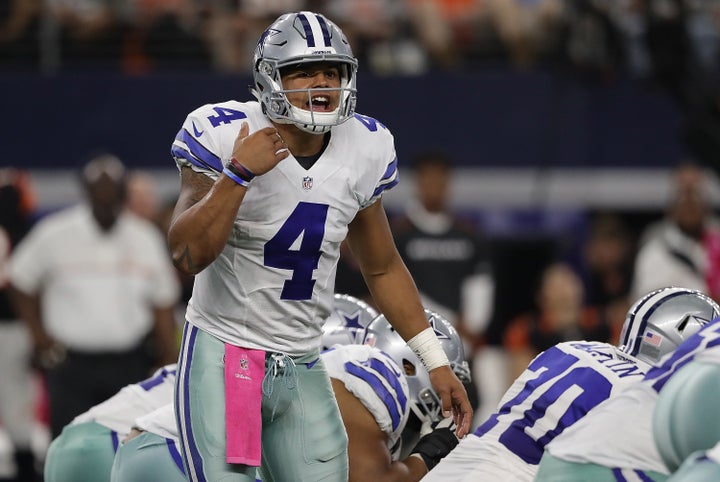 Dak Prescott wasn't going to be a Dallas Cowboy. Certainly not if owner Jerry Jones had his way. 
Flashback to the NFL Draft this past May and it was University of Memphis quarterback Paxton Lynch ― not Prescott ― whom the polarizing owner was targeting. Lynch, a 6-foot-7-inch flamethrower with a 36-inch vertical jump, offered more upside, at least in Jones' eyes. But Denver general manager John Elway nabbed Lynch with the 26th pick overall, and the Cowboys then selected Prescott in the fourth round.
"I probably should have overpaid here," Jones said at the time, regretting that he didn't do a deal with Seattle to obtain the needed first-round pick. He was "still mad about it," he said. 
Either way, the Cowboys entered the 2016 season with Tony Romo, a 36-year-old quarterback who had already endured multiple back surgeries. Romo was armed with the league's premier offensive line and a fleet of weapons, namely wide receiver Dez Bryant and rookie running back Ezekiel Elliott. Then the increasingly frail quarterback was injured in a preseason game against Seattle, and Prescott was pushed into a starting role. 
The rookie quarterback, who came from a read-option and shotgun-based offense at Mississippi State, has proved to be a revelation. While Lynch has struggled in a limited role with Denver, his counterpart has led the Cowboys to four consecutive wins while breaking the rookie record with 155 pass attempts and zero interceptions.
"You can tell that the players respect the heck out of him and that he's already a leader," Cowboys Hall of Fame quarterback Roger Staubach told ESPN. "He makes good, solid decisions. I think we've got a wonderful quarterback for the future."
But that's just it: The future is now.
Whether Dallas is a legitimate Super Bowl contender this season remains to be seen, but it's hard to argue that this isn't a better team with Prescott at the helm. The Cowboys aren't just winning with Prescott ― who had actually been recruited by most SEC schools as a tight end ― but rather because of him.
That's why it was such a shock when Jones said last Sunday, "Tony [Romo] is our No. 1 quarterback."
Remember, too, that the 23-year-old Prescott has completed 69 percent of his passes to go along with seven touchdowns (four passing, three rushing). His staggering 83.7 total QBR is second only to that of Atlanta's MVP candidate, veteran Matt Ryan.
Like Philadelphia rookie Carson Wentz ― who has also been sensational ― Prescott has displayed the rare ability to make solid pre-snap reads and not send the ball into hidden coverage.
"He is amazing at making decisions when ... there's a difficult situation there and he needs to dump the ball off," Staubach said.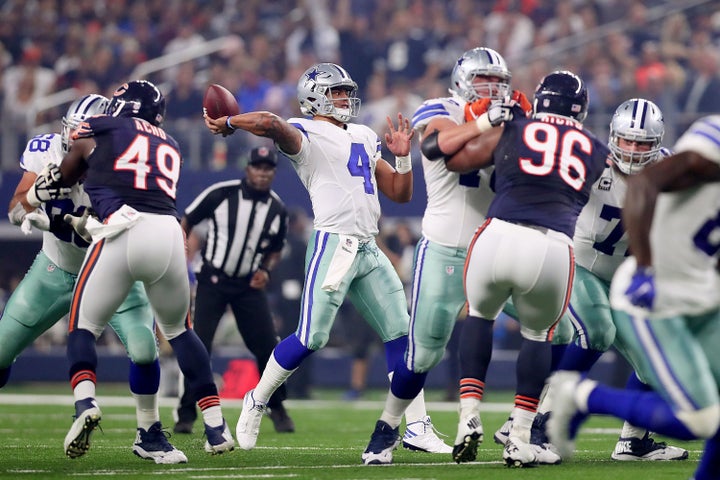 Romo's brilliant career is obviously what makes the decision for Jones and head coach Jason Garrett so difficult. And yet, on the "what have you done for me lately" question, the four-time Pro Bowler comes up very short. He hasn't completed a full 16-game season since 2012, and he's now on the wrong side of 30.
Prescott, for his part, has said all of the right things.
"This is Tony's team," Prescott said via the Cowboys' official website. "I knew that going into the situation. I think everybody knew that. I'm just trying to do the best I can to give my team a chance to win week in and week out."
REAL LIFE. REAL NEWS. REAL VOICES.
Help us tell more of the stories that matter from voices that too often remain unheard.