A showdown of some sort had been expected as several hundred protesters, who called themselves "water protectors," had remained in the Oceti Sakowin encampment earlier this week despite the looming deadline authorities had given them to vacate the site on federal land by Wednesday afternoon.
Members of the Standing Rock Sioux tribe who oppose the pipeline created the camp last spring. They argue the 1,172-mile pipeline violates their rights established in an 1851 federal treaty and might contaminate their drinking water, because it was not properly reviewed.
Photographer Josh Morgan was there for The Huffington Post documenting the waning hours of the group that had vowed to halt completion of the pipeline near the Standing Rock Sioux's reservation.
Time winds down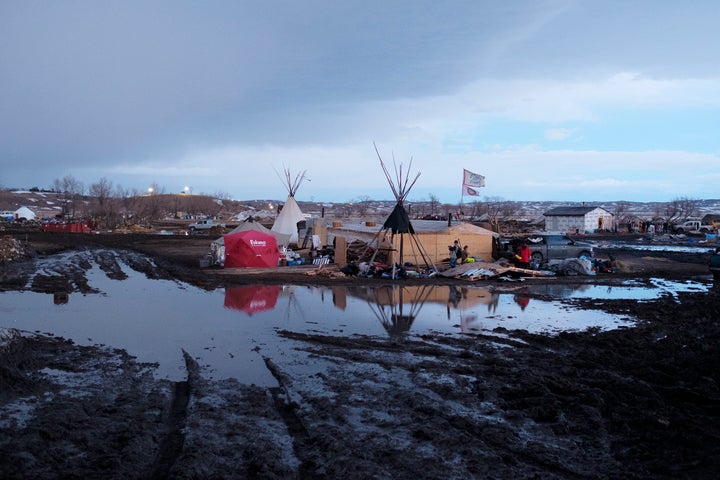 Oceti Sakowin was fairly quiet on Wednesday morning. Debris and dumpsters were scattered throughout the soggy campsite just hours before the government-ordered eviction was scheduled to take effect.
Protesters set fires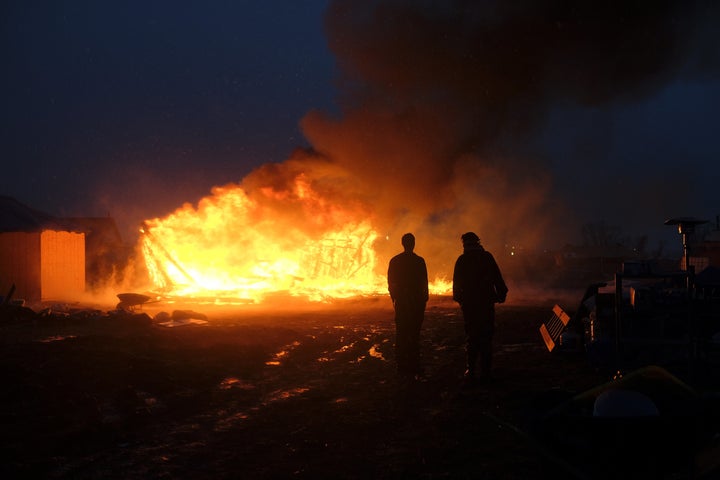 Authorities said that protesters had set about 20 fires on Wednesday ahead of the evacuation deadline. They reported that two minors were transported to a hospital with burns.
Law enforcement enters the camp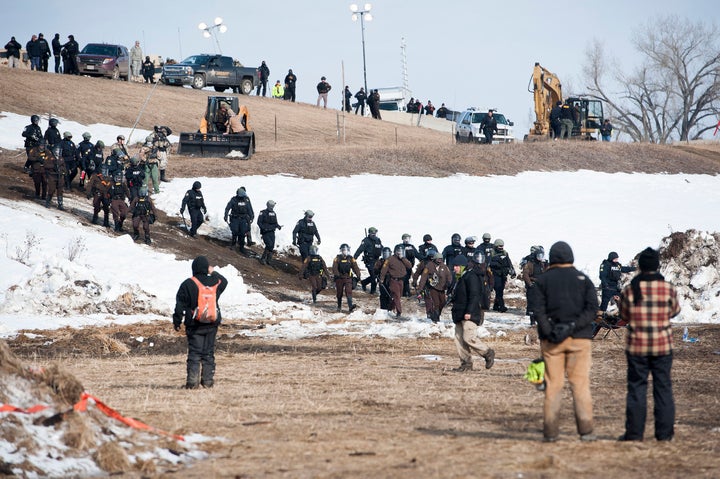 Morton County sheriff's department officials announced they'd made 46 arrests on Thursday, a day after the remaining pipeline opponents had been ordered to vacate the camp.
North Dakota Gov. Doug Burgum (R) and the Army Corps of Engineers had said the camp must be cleared because of health and safety risks. The camp was expected to flood as winter snows melt, and the flow could push debris and waste into nearby rivers, the authorities warned.
Water protectors hold their ground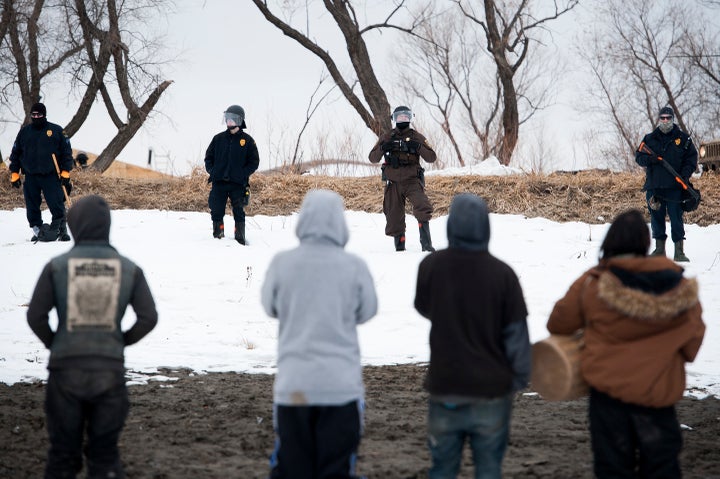 After Wednesday's deadline to evacuate had passed, a small group of Native Americans, veterans and other activists remained in the camp. Law enforcement put the number at "no more than 100."
The few dozen protesters who remained until Thursday afternoon lined up to face the advancing law enforcement officers.
Swan song of the movement?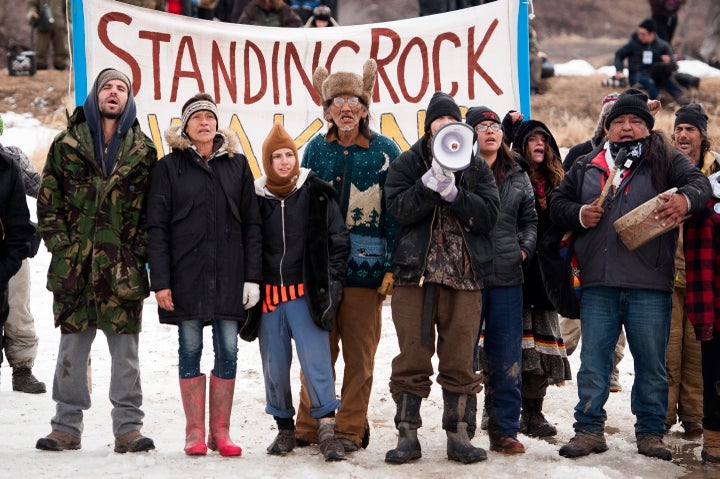 Standing shoulder to shoulder, some protesters sang as police began the forced removal of everyone from camp.
Holdouts face arrest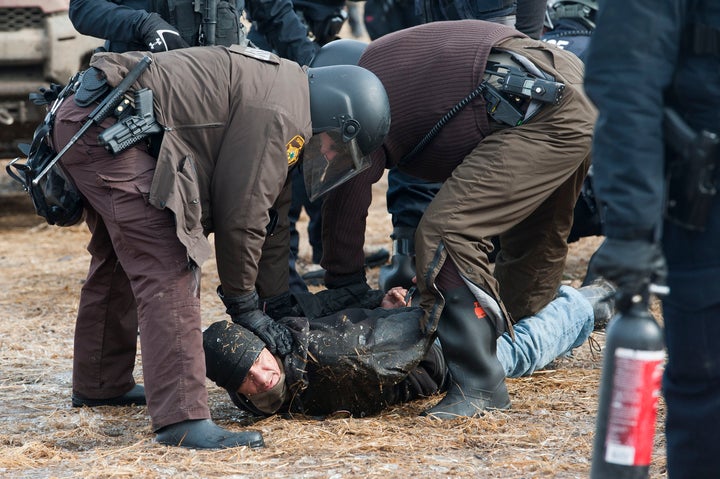 Although some protesters left of their own volition, authorities handcuffed dozens of others who'd ignored orders to disperse from Oceti Sakowin.
The Morton County sheriff's office said the holdouts included a group of military veterans who refused to leave their tent. Law enforcement carried the vets from the camp, the sheriff's office said in a statement.
Officers search camp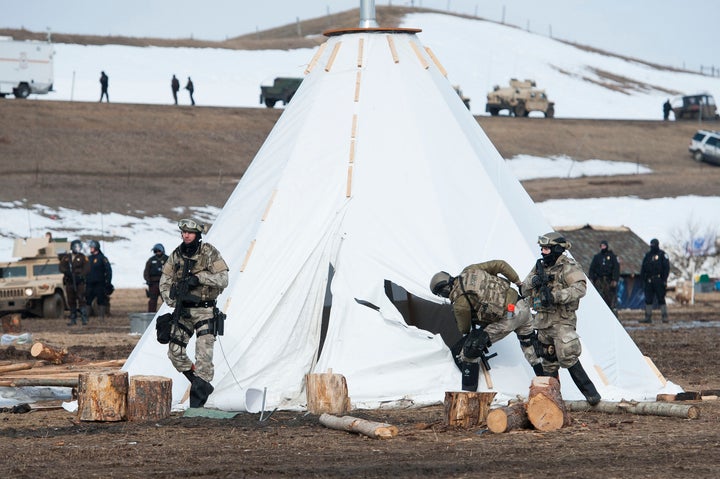 Officers combed through remaining structures, such as this tent, while checking for protesters during Thursday's raid.
Fleeing to safety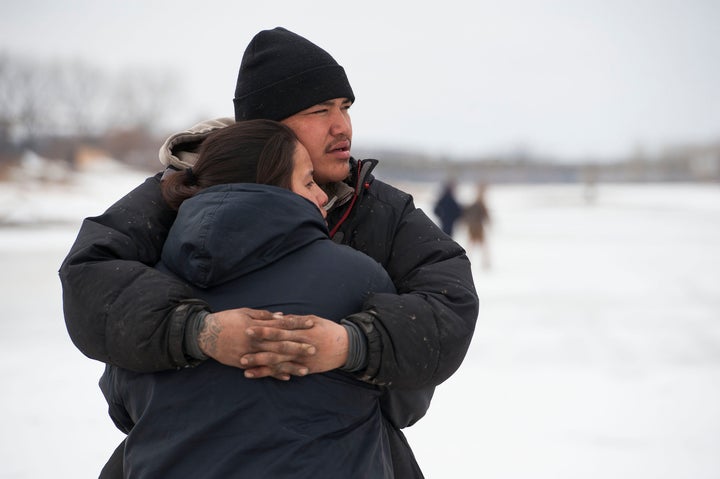 Some protesters avoided police by crossing the frozen Cannonball River to leave Oceti Sakowin.
Ramona Three Legs, 24, and Oscar High Elk, 26, both of the Cheyenne River Sioux tribe, told HuffPost that they abandoned their belongings as police swept into the camp.
"This is just another part of the struggle we've been living for all of our lives," High Elk said. "Our home was in there."
Solemn moment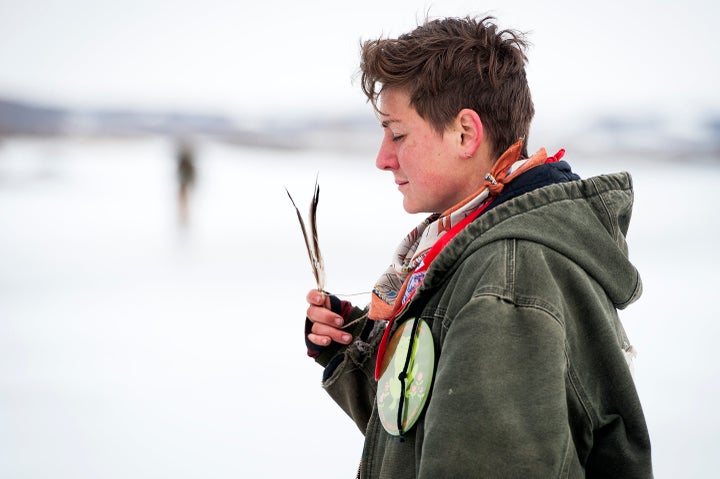 A water protector prayed on the Cannonball River as North Dakota authorities cleared the Oceti Sakowin camp on Thursday.
Smoldering remnants of camp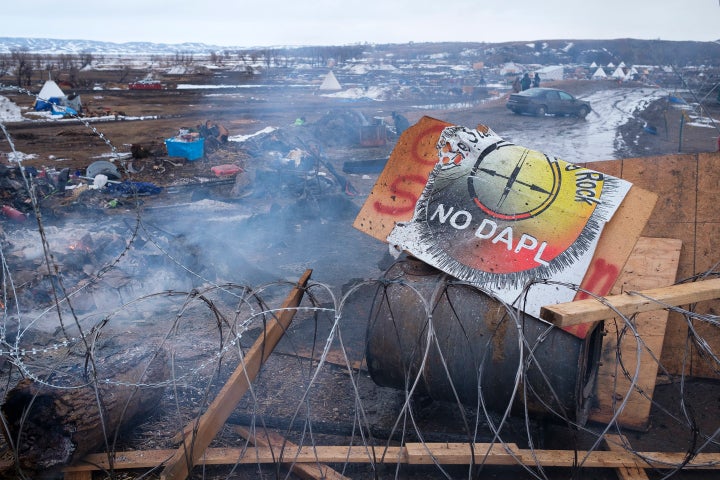 On Thursday morning, what had once been a teeming, highly organized camp looked like a deserted war zone. Wreckage still smoldered in the muddy, snowy ground from fires that had been set by protesters to wooden buildings, yurts and other structures the previous day.
A massive cleanup of the site had begun in recent weeks, but was far from complete before authorities retook control of the site from protesters.
Defiant march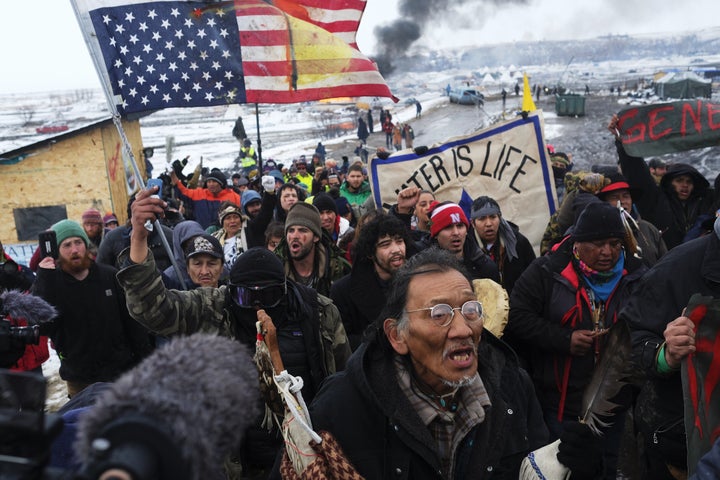 A group of about 200 protesters had marched around Oceti Sakowin singing songs and beating drums on Wednesday shortly before the government's deadline to clear the camp. One man carried an upside-down American flag.
A large number of the marchers climbed aboard buses to leave the site after the demonstration.
An emotional goodbye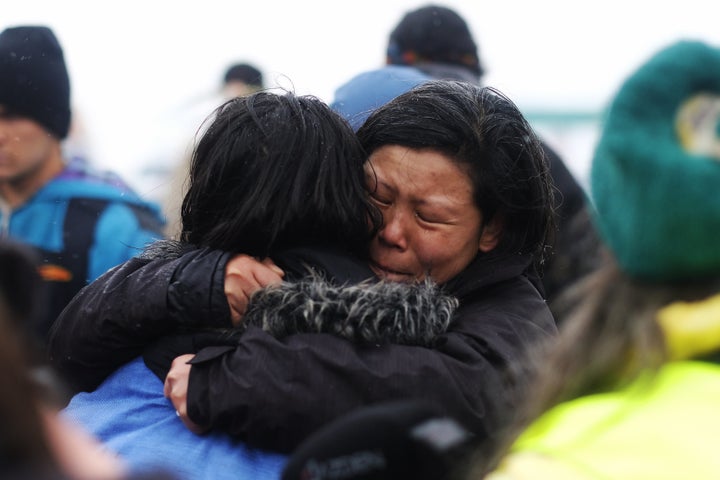 A woman weeped as she embraced another protester.
Popular in the Community