The Dakota Access Pipeline became fully operational this week without any fanfare or conflict in contrast to the months of strife seen in North Dakota during earlier phases of government review and construction.
At this point, the only thing capable of defeating the 1,172-mile oil pipeline running from North Dakota to Illinois may be the pending lawsuits that argue the project violates the treaty rights of the Standing Rock Sioux and threatens their drinking water. Still, activists haven't given up even though the protest camps that once held thousands of Native Americans and environmentalists are empty, aside from a smattering of holdouts. 
"To know that it's going to start flowing is overwhelming," said Allison Renville, 33, a protester who started a liberal political action committee in South Dakota. "Just because the camp is gone, it doesn't mean that we're not doing the work somewhere."
Some activists have taken what they learned from direct confrontation and started new projects to bolster grassroots efforts confronting other controversial projects and to educate people about the unprecedented movement against the Dakota Access project. 
Here are some of their stories.
Feed the movement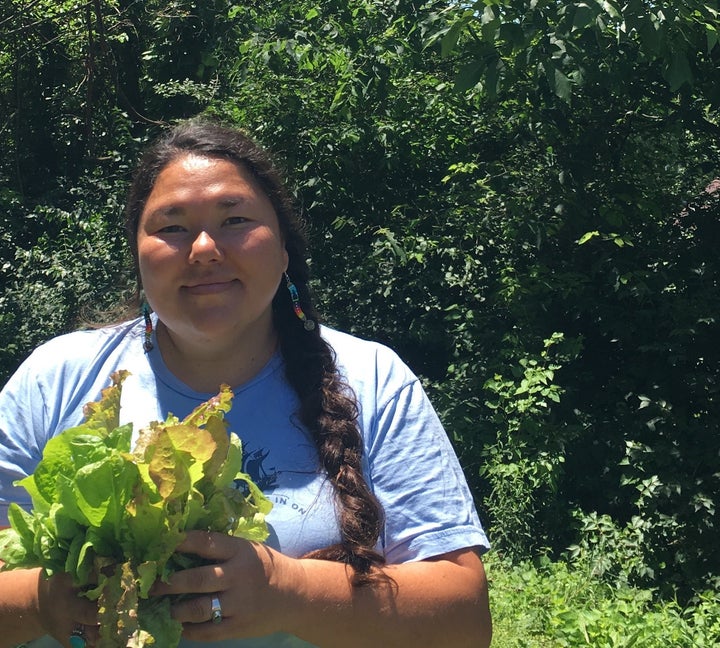 The camp-based opposition to the Dakota Access project became a model for activists battling other pipelines and controversial infrastructure. Linda Black Elk, 43, worked much of last year at Oceti Sakowin camp's medical clinic that treated patients who'd been hit with tear gas or rubber bullets after police clashed with protesters. She also saw firsthand the challenges that arose when activists showed up for weeks and months of life in the makeshift community without reliable access to fresh food.
To meet that demand, Black Elk, a Catawba woman who lives on the Standing Rock reservation, has helped set up a group that supplements the diets' of the remaining "water protectors" with produce grown and donated by about 10 Midwestern farmers. 
"If we're going to practice what we preach, we're going to have to stay as local as possible and grow as much food as possible and stay away from industrial agriculture," said Black Elk of her project. "We would love to see the project expand so we can sustain more movements like this."
In addition to fruits and vegetables, Black Elk's the People's Food and Medicine Garden Project provides herbal medicine. 
The People's Food and Medicine Garden Project hopes to expand deliveries to camps opposing other pipelines such as the Keystone XL, slated to run from Canada to Nebraska or the Trans Pecos in Texas, and eventually to activist training centers. 
Healing old wounds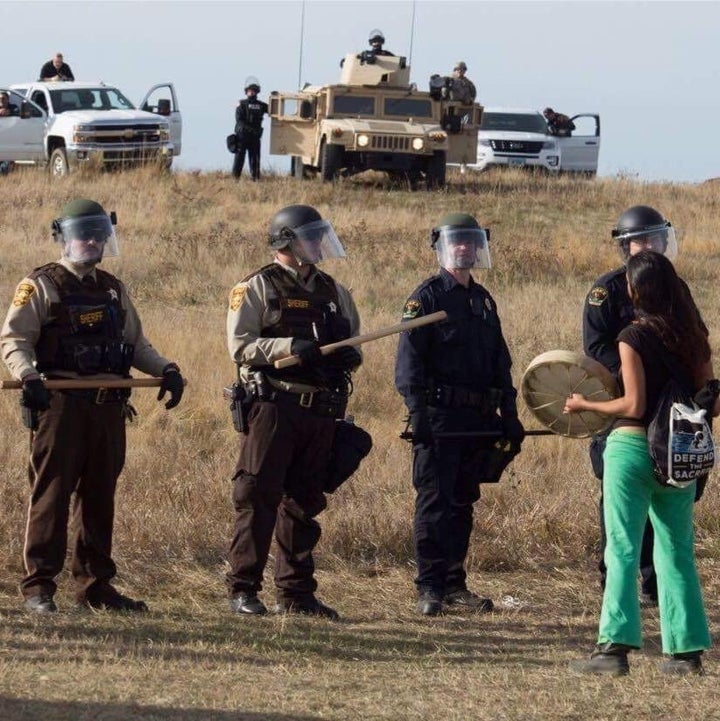 While life in the camps was an uplifting experience for many people, the conditions tested the nerves of many.
Energy Transfer Partners, the lead developer, had employed a security firm that used counterterrorism techniques against the protesters, according to documents recently published by The Intercept. There was constant surveillance from drones and helicopters. Infiltrators blended in among protesters to gather information for the developer and law enforcement. Clashes and raids happened at any hour of the day. People saw friends get arrested or injured. 
"I would tell people 'It's not if we're traumatized, but how are we traumatized,'" said Lolly Be, a therapist, who spent August through December in the camps. 
It was no surprise when people began displaying symptoms like insomnia, nightmares and irritability, she said. In other cases, problems developed more slowly and became apparent as protesters grappled with the return to their normal lives. 
Be, 29, has set up a network called Healing the Waters Within that connects traumatized veterans of the camps with healers and other people like themselves for support. When it's geographically feasible, a counselor, massage therapist or other aide visits the former camper in need of support. For people out of range, there also video conferences with therapists and private Facebook groups where people share similar experiences. 
"One of the major challenges that people are experiencing is reintegration into their regular lives," said Be. "This changed our lives and it's impossible to relate to your friends because their lives went on as normal. It's very hard to stand up to something with this much passion and then go back to paying bills."
Spread the word 
The Standing Rock Sioux's struggle against the pipeline resonated with Treston Chee, a 20-year-old Navajo art student.
Chee said that he's seen his tribe's land in New Mexico exploited for natural resources too. He was also inspired by the pan-indigenous unity that brought representatives of 300 different tribes to the North Dakota camps. 
Chee turned his two-week journey into a photographic presentation that helps educate and inspire people, especially other Native Americans, about the unprecedented movement. Chee, who said he was pepper-sprayed while protesting, doesn't want authorities to sanitize the story of the pipeline fight for posterity. 
"I know there are many histories that get whitewashed," said Chee, referring to versions of American history that downplay the persecution of native people. "I'm trying to spread awareness to the youth out there about the integrity, the dignity and the loyalty of…many people and what they did."
He's shared his presentation dozens of times at colleges, schools and community events near Santa Fe, he said. Some aspects focus on the lesser known controversial details of the Dakota Access pipeline, such as how the route near the Standing Rock Sioux's land was selected.
Pipeline to higher office
Opponents of the Dakota Access pipeline scored a victory when former President Barack Obama announced last year that the Army Corps of Engineers would not allow the pipeline to be built near the Standing Rock Sioux's water source. But President Trump showed that was a fleeting win when he reversed the decision and granted permission to drill under Lake Oahe, a federal waterway. 
Though the outcome was devastating, it reconfirmed what Renville already knew — activists ought to recruit candidates that will stand up for indigenous and environmental rights at all levels of government. To that end, Renville, 33, a member of the Sisseton Wahpeton Oyate tribe in South Dakota, has co-founded the Dakotas for America political action committee. 
"We had our hearts broken and it was really challenging not letting Standing Rock consume me. We wanted to give up and say this two-party system is not working," said Renville, who returned to South Dakota in February. "We were told by some of our leaders that we had to go back to what we were good at. For us, it's organizing our people."
Renville, a Bernie Sanders delegate at the 2016 Democratic party presidential convention, said the new PAC has a special interest in finding Native American candidates. The PAC has begun fundraising and hopes to field candidates for every office from school board to Congress or governor, said Renville. An endorsement for the 2018 governor's race may be announced soon, she said. 
Not going anywhere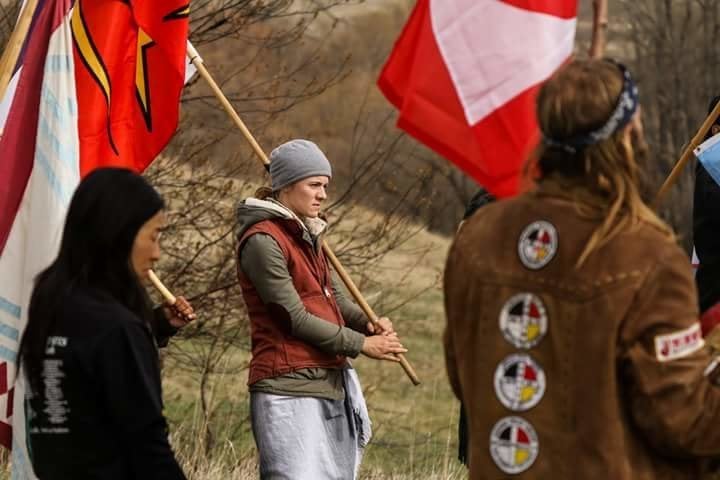 Exact counts have always been tough to come by, but there are at most a few dozen anti-DAPL campers at two sites maintained by the Cheyenne River Sioux, according to several witnesses.
Malea Kirkpatrick is one of only two permanent residents making up the Four Bands camp. It's a surprise even to her that she's still there. The 22-year-old had come with a small group from Charlotte, North Carolina in November that planned to stay for a week. When her companions went home, she decided to stay, giving up a pre-nursing program at a community college and quitting her job as a swimming instructor. 
"I decided to stay after seeing how strong the community was and how dedicated they were to this movement," said Kirkpatrick. 
Even after authorities cleared the main camps in February, citing alleged worries about flooding, Kirkpatrick decided to stay. These days, she joins in prayers and helps clear abandoned structures and other debris that still litter the area. 
"This is a fight for everyone, not just people who claim to be a water protector or activist," said Kirkpatrick, who added that she's undergone a lot of personal growth. "I'm a lot more sure of myself and am not willing to back down." 
REAL LIFE. REAL NEWS. REAL VOICES.
Help us tell more of the stories that matter from voices that too often remain unheard.