The Army said Tuesday it will abandon an environmental study of the Dakota Access Pipeline and grant a permit that allows its completion.
Army Deputy Assistant Secretary Paul Cramer wrote in a letter to Rep. Raul Grijalva, ranking member on the House Natural Resources Committee, that the service planned to grant an easement allowing Energy Transfer Partners to build a section of pipeline in a bitterly disputed federal waterway.
The decision follows an executive action from President Donald Trump that sought to resume construction on the 1,172-mile oil pipeline despite objections from a Native American tribe living near its path in North Dakota and a halt ordered by former President Barack Obama last year.
"Today's announcement allows for the final step, which is granting of the easement," Acting Army Secretary Robert Speer said in a statement. He said another study on the project's possible environmental impact was unnecessary, according to NBC News.
Pipeline opponents denounced the Army's decision.
"Donald Trump will not build his Dakota Access Pipeline without a fight," said Indigenous Environmental Network executive director Tom Goldtooth. "The granting of an easement, without any environmental review or tribal consultation, is not the end of this fight ― it is the new beginning."
The status of the the pipeline has been in limbo for months, though construction on the North Dakota-to-Illinois route by Energy Transfer Partners is nearly complete.
The Standing Rock Sioux have fought the project for months, arguing it threatens the water source for their reservation, disturbs sacred ground and violates a 19th century treaty with the federal government.
Months of protests on the Great Plains by the Standing Rock Sioux and their supporters led the Department of the Army to order an environmental impact statement in December before making a final decision. At the time, Army Corps of Engineers officials also said they'd look at options for re-routing the line away from the Sioux land
Energy Transfer Partners has argued that it's safer to carry the crude oil from North Dakota to Illinois through its $3.8-billion pipeline than on trucks and trains. It also claims Obama wrongly intervened in the project before he left office Jan. 20.
The Standing Rock Sioux said they would challenge the legality of the Army's termination of the environmental impact statement.
"This pipeline was unfairly rerouted across our treaty lands," Dave Archambault, the tribal chairman, said in a statement. "The Trump administration ― yet again ― is poised to set a precedent that defies the law and the will of Americans and our allies around the world."
Completion of the Dakota Access Pipeline was a campaign promise of Trump, who argued it would create jobs. Trump, who owned stock in the companies developing the pipeline, issued a memorandum last month that ordered the Army to study whether it could lift the stoppage imposed during the Obama administration.
Before You Go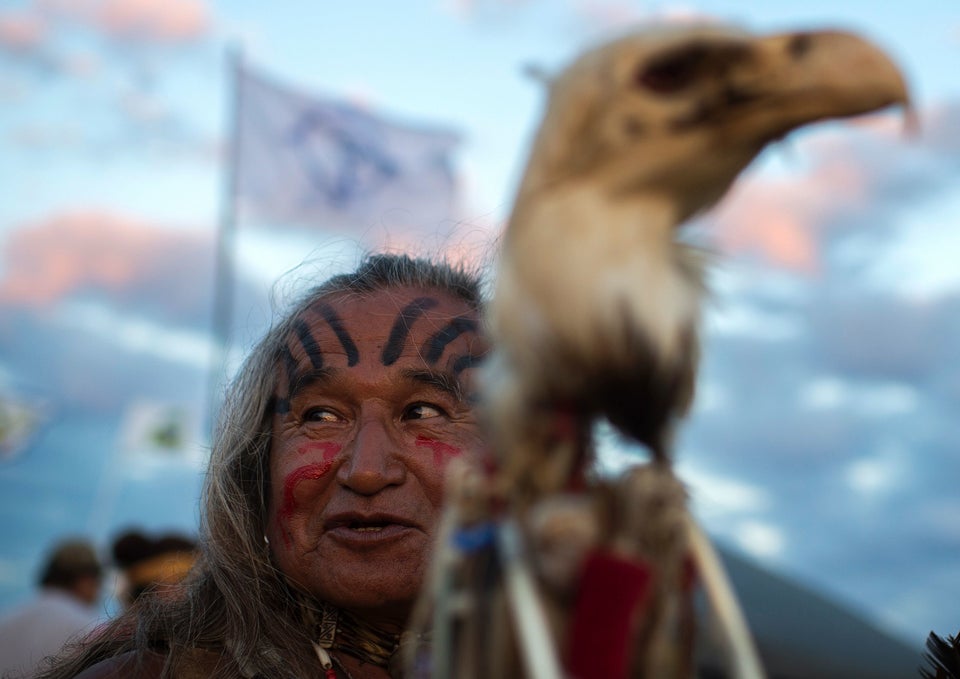 North Dakota Pipeline Protests
Popular in the Community