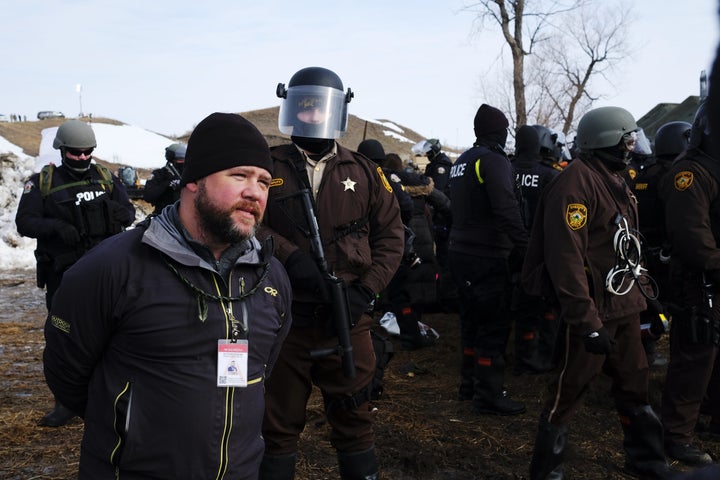 CANNON BALL, N.D. — Officers on Thursday arrested 46 protesters and forced out all other people who remained in a camp that had been the epicenter of opposition to the Dakota Access Pipeline.
The Morton County sheriff's department announced that it had completely cleared Oceti Sakowin camp by 2 p.m. local time. The camp, which teemed with thousands of demonstrators in early December, had "no more than 100" protesters Thursday morning before officers swept in to evict and arrest some of the holdouts, according to law enforcement officials.
Authorities appeared to restrain protesters with plastic handcuffs before placing them inside utility track vehicles that carried detainees up a hill.
Officials had also driven bulldozers and armored vehicles into the camp on federal lands near the Standing Rock Sioux's reservation and a disputed section of the pipeline.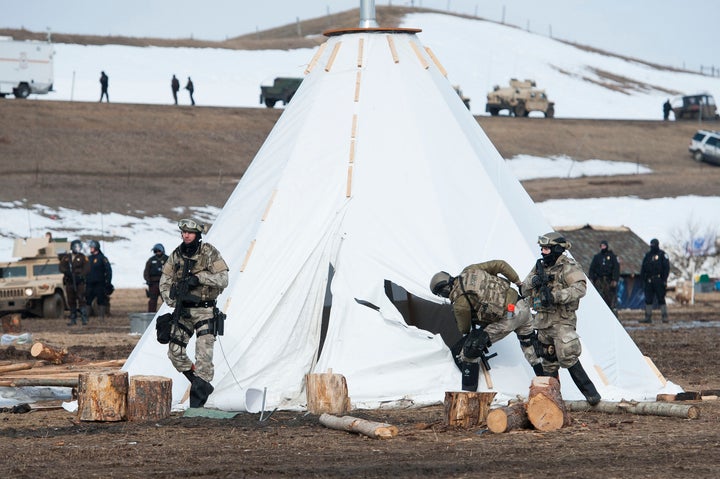 Some protesters fled the camp by walking across the frozen Cannonball River toward the Rosebud camps, where members of the Standing Rock Sioux and their supporters have also congregated.
Ramona Three Legs, 24, of the Cheyenne River Sioux tribe, told HuffPost that she and a companion planned to retrieve their belongings from the camp but left empty-handed to avoid the raid.
"We were in the process of getting our stuff when [law enforcement] came," Three Legs said. "We had to leave everything."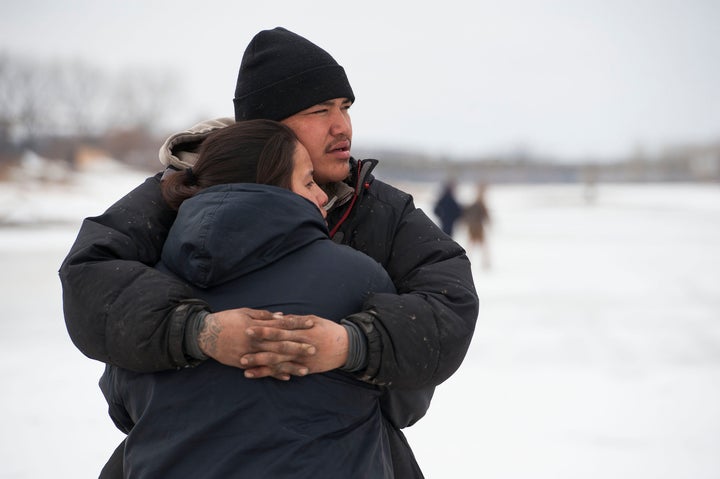 The camp has for months served as a base for protests against the pipeline, which the Sioux and their supporters argue violates their treaty rights and could contaminate their water source. The Morton County sheriff's department has arrested more than 700 protesters since last summer.
"I am very happy to say that we finally introduced rule of law in the Oceti camp," said Sheriff Kyle Kirchmeier in a statement Thursday evening.
North Dakota Gov. Doug Burgum (R) and the Army Corps of Engineers had ordered the camp to be emptied by Wednesday afternoon. They cited health and safety risks, as the area will likely flood from melting snow and possibly pollute nearby rivers with debris and waste from the camp.
As attention turned to the interaction between police and a dwindling numbers of protesters, Energy Transfer Partners revealed on Thursday that the pipeline is 99 percent complete, according to Reuters. Court filings seen by ABC News said the oil could flow as soon as the week of March 6.
Still, Chief Executive Officer Kelcy Warren told investors on a conference call Thursday that he'd made "a mistake" while trying to navigate the uproar over the project.
"There was a mistake on my part," Warren said, according to Reuters. "I underestimated the power of social media. I didn't realize people could just say things that aren't true and freely do it, but they did."
The 1,172-mile pipeline will transport crude oil from North Dakota's Bakken region through South Dakota and Iowa before reaching a terminus in Illinois.
Tribal officials from the Standing Rock and Cheyenne River Sioux have adjusted their strategy to focus almost entirely on legal action the Army Corps of Engineers and Energy Transfer Partners.
They're arguing in an ongoing federal lawsuit that the project did not get a proper environmental review and that the construction permits violate territorial rights established in an 1851 treaty with the federal government. Another hearing in the case s scheduled for Feb. 27
Photographer Josh Morgan contributed reporting from North Dakota.
This story has been updated throughout.
Before You Go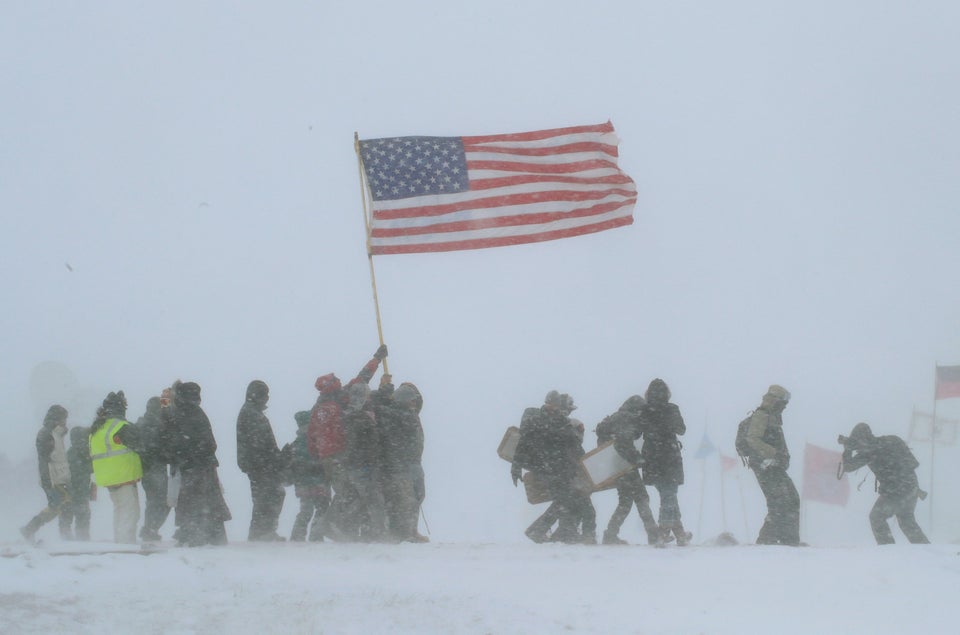 Blizzard In Standing Rock
Popular in the Community