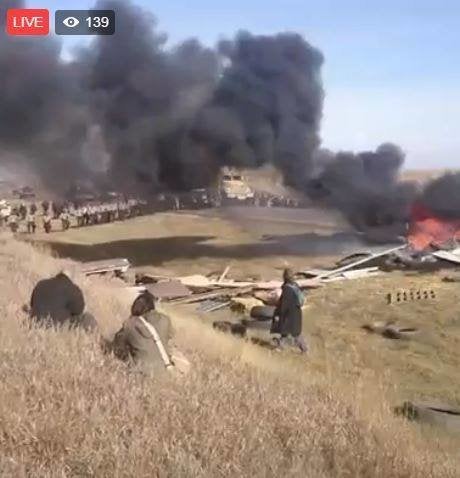 A standoff between Dakota Access Pipeline protesters and law enforcement degenerated into violence Thursday when two protesters opened fire in separate incidents, wounding a "private individual" and narrowly missing a sheriff's deputy, according to North Dakota officials.
A man was shot in the hand after being "run off the road by protestors," according to state Department of Emergency Services spokeswoman Cecily Fong, who noted that the victim also was armed. A protester was taken into custody, the Morton County Sheriff's Department said in a statement.
In a separate incident, a woman was arrested after firing three shots that almost hit a deputy, Fong said. As darkness fell, more than 100 protesters had been arrested.
"We do believe there are people down there that are peaceful and prayerful but we've also known from the beginning that there are some bad actors," Fong said, referring to the hundreds of Native Americans and activists who've camped in protest of the oil pipeline for months. "The last thing we want is for anybody to get hurt."
The violence erupted Thursday morning, when law enforcement began removing Native Americans and environmental activists from a protest camp they built on private land. The site, known as Cannonball Ranch, will be used by Energy Transfer Partners for its 1,172-mile pipeline.
Many of the protesters, who prefer to be called water protectors, had refused earlier orders to leave. Some prayed in circles while others yelled at advancing members of law enforcement, according to The Associated Press.
"Militarized law enforcement agencies moved in on water protectors with tanks and riot gear today. We continue to pray for peace," said Dave Archambault, chairman of the Standing Rock Sioux, a tribe that fears the pipeline will taint their drinking water and destroy sacred sites. "We call on the state of North Dakota to oversee the actions of local law enforcement to, first and foremost, ensure everyone's safety."
By Thursday evening, the sheriff's office had arrested 117 people in what it called "illegal protest activities." Sheriff Kyle Kirchmeier told reporters earlier that charges could include being a public nuisance and engaging in a riot.
"Nobody wanted this," Kirchmeier said, claiming that protesters' illegal actions made the conflict inevitable.
The group of about 200 people, including many members of the Standing Rock Sioux tribe, had been occupying land slated for the controversial pipeline since Sunday. The conflict escalated as the Morton County Sheriff's Department claimed that protesters set fire to a bridge and to tires left on the highway.
Officers were dressed in riot gear and some carried arms, The Associated Press reported. Authorities moved in with trucks, police cars, Humvees and buses, the AP said, while helicopters and a fixed-wing airplane monitored from above.
One witness, who had been livestreaming throughout the protest on Facebook, said that police had used tear gas and fired bean bags at protesters.
Fong, a spokeswoman for the North Dakota Department of Emergency Services, confirmed the bean bags and said police had used pepper spray. She added that protesters had thrown rocks and debris and had torched some construction equipment.
There have been "a handful of minor injuries," according to Fong, speaking before the shooting.
Kirchmeier said in an earlier statement that he was compelled to act because the protesters hadn't left the site on Wednesday.
"I can't stress it enough: This is a public safety issue," Kirchmeier said. "We cannot have protesters blocking county roads, blocking state highways or trespassing on private property."
The sheriff's department announced it was also dismantling a roadblock on a highway set up by the group of Native Americans and environmental activists. A variety of local and state law enforcement agencies have sent officers to support the department, Kirchmeier said.
This week, the Standing Rock Sioux accused local and state authorities of civil rights violations and asked the Department of Justice to open an investigation.
Energy Transfer Partners has argued that transporting oil via a pipeline is safer than carrying it on trucks and trains. A company spokeswoman did not immediately respond to HuffPost's inquiries.
Hundreds of Standing Rock Sioux tribal members and their allies have camped on nearby federal land for months. They argue that the pipeline project won approval without a proper environmental study, and worry that their drinking water could become contaminated if the pipeline leaks into the Missouri River. They also say construction has disturbed the tribe's burial sites and other land of historical importance.
This article has been updated to include the rising number of arrests by the sheriff's office.
Before You Go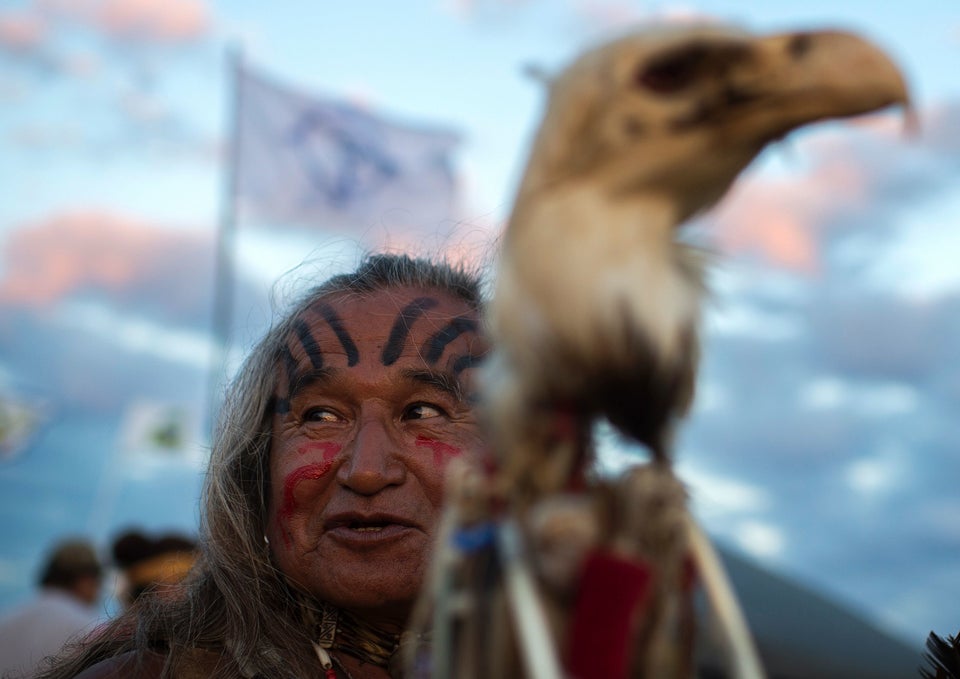 North Dakota Pipeline Protests
Popular in the Community