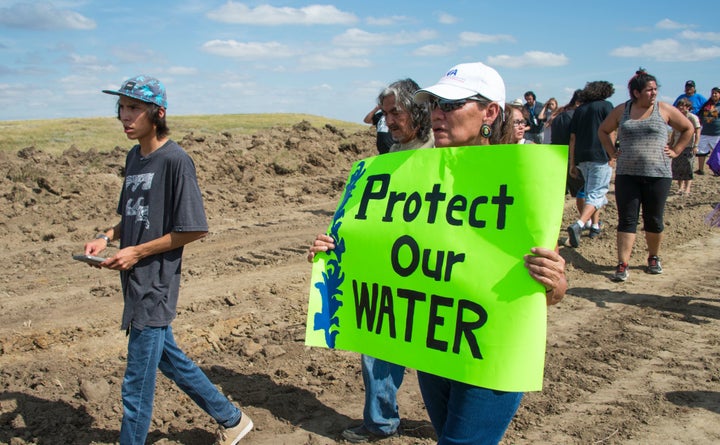 Last week, protesters looking to block the construction of the massive oil pipeline in North Dakota scored a significant, if temporary, victory as three federal departments halted the project and placed it under review, overruling a federal judge's denial of the tribe's request for an emergency injunction.
The protesters have argued that the pipeline construction will disturb sacred lands and burial grounds. In addition, the tribe is worried about the environmental impact of the pipeline, since it will run under the Missouri River, which supplies the tribe's drinking water.
The tribe has attracted thousands of supporters to its protest site, including representatives of more than 200 other tribes. Solidarity demonstrations have been held throughout the world.
On Tuesday, Kelcy Warren, CEO of Energy Transfer Projects, the pipeline's developer, defended the project that will transport oil across 1,200 miles from North Dakota to southern Illinois. In a letter, Warren downplayed its cultural impact and called the protesters' water safety concerns "unfounded."
But amid the controversy about the project comes the question of what comes next.
To answer that, we must better understand how we got here in the first place.
Doug Hayes, a staff attorney at the Sierra Club, has been involved with a number of battles over the construction of oil pipelines, including the Keystone XL, which the Obama administration rejected last year.
Hayes sees what's happening in North Dakota as the latest in a series of recent pipeline projects convened without federal agencies undergoing the necessary environmental review processes. The agencies' inaction, he argues, has put other communities at risk of oil spills and often threatened the safety of their drinking water sources and local ecosystems.
But Hayes says there's something unique at work in this particular battle. The Huffington Post recently spoke with the attorney about the Dakota Access protests and what may be different this time.
What is the historical context for what is happening with the Dakota Access pipeline?
I would say the main point in terms of historical context is that these oil pipelines — the Keystone XL, Enbridge and other companies' pipeline expansions throughout the Great Lakes region, the growing natural gas pipeline buildout — have always undergone an environmental impact statement that looks at the impacts and alternatives and so forth before they are allowed to go forward. It's required by law under the National Environmental Policy Act. The Keystone XL controversy really was a turning point. Since then, we've seen the Army Corps of Engineers, in particular, and other agencies basically approve pipeline after pipeline without any environmental impact statements. That's what happened here.
To put a finer point on it, the tribes are concerned about, among other things, water quality, and no agency has ever analyzed the risks or impacts of oil spilling from this pipeline, in any state of review. Not a single word.
The way the Corps has begun avoiding this transparent process is through what's called nationwide permit 12. It's essentially a blanket permit for pipelines up to a half-acre of impact, a pre-issued permit. The Corps has begun treating these 1,200-mile pipelines like a series of half-acre projects that each qualify under that exemption. This is a general permit that doesn't mention oil spills or climate impacts and never talks about Native American tribes and cultural significance and sacred sites.
Obviously there are a number of unique layers to this fight: the historic coming together of tribal communities and other groups, including even some farmers, against this. Is that what makes this battle so unique?
This is an unprecedented coming together of tribes around the country and the world, really. It's not just an environmentalist issue, though there are certainly a lot of environmental concerns we care deeply about. It's ranchers in very often conservative parts of the country that are seeing their land taken away by corporations to build these pipelines through their property through eminent domain, for the private gain of these corporations. In the Keystone XL fight, that was a good example of this, a pretty diverse coalition of groups coming together — the tribes in South Dakota and Nebraska were crucial in that fight, as well as landowners along the pipeline.
The first Keystone XL pipeline was supposedly the safest one ever built and it spilled oil 12 times in its first year of operation. One of those times, there was a 60-foot geyser of oil in South Dakota that a local rancher just happened to see and called into the pipeline company. And with this pipeline in particular, they originally proposed to build it near Bismarck, but they determined that it's a more highly populated, higher-income part of the state and they were worried about the stress to their water supply. So they moved it out to the edge of the Standing Rock Sioux reservation and its drinking water supply. I think that decision is a perfect example of what sparked such an outrage here.
This is not the first time a controversial project like this has been placed on or near tribal land and threatened water quality for Native communities, of course. How does that trend play into what's happening here?
The short answer is it's easier for the industry to build these without significant opposition in places where there are lower-income communities. There are the massive oil spills you hear about on the news several times a year, but there are hundreds of others that happen too.
The Kalamazoo spill in Michigan was an incident where the pipeline spilled for 17 hours into the river before they detected it. Then you have really egregious examples like just last week in Louisiana. In the last three years, there have been over 200 crude oil spills. They happen all the time. And those are just the ones where you get the data. All the pipelines' leak detection systems are only set up to detect spills of greater than 2 percent [of their liquid]. That doesn't sound like a lot, but when you have a pipeline pumping 470,000 barrels of oil every day, it is. These pipelines are often seeping or leaking in small places and we don't have any way to detect them. These are the types of concerns the tribes have and they're, frankly, very well-founded.
There's also the issue of drilling these pipelines under waterways, like they are in the Missouri River by the Standing Rock reservation. The Yellowstone River spill several years ago was an instance where the river pipeline drilled under the river eventually eroded and spilled up into the river. It's a whole other series of issues that haven't been addressed here.
Given the Obama administration's action to block the pipeline, are you optimistic that more good news is coming for the protesters?
It's definitely a great and encouraging first step. The administration is clearly listening to the Standing Rock tribe and its indigenous allies that have gathered there and we're hopeful they've committed to looking at the process and whether a further environmental review is needed. I think the answer to that is clearly "yes."
With a project of this magnitude — 1,200 miles going through the ancestral lands of the Standing Rock Sioux and other tribal nations and communities along the pipeline route — there's a risk of spills, a climate impact and everything else points to a thorough, transparent environmental review like we've seen with the Keystone and other pipelines. I'm hopeful the administration is going to agree this pipeline warrants further review.
Joseph Erbentraut covers promising innovations and challenges in the areas of food and water. In addition, Erbentraut explores the evolving ways Americans are identifying and defining themselves. Follow Erbentraut on Twitter at @robojojo. Tips? Email joseph.erbentraut@huffingtonpost.com.
Related
Before You Go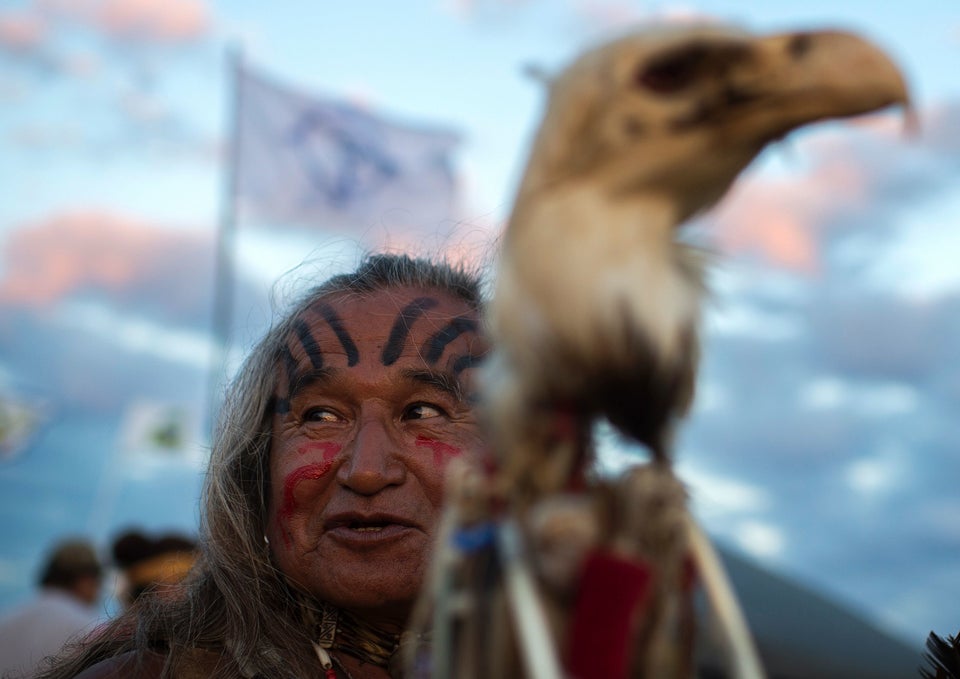 North Dakota Pipeline Protests
Popular in the Community