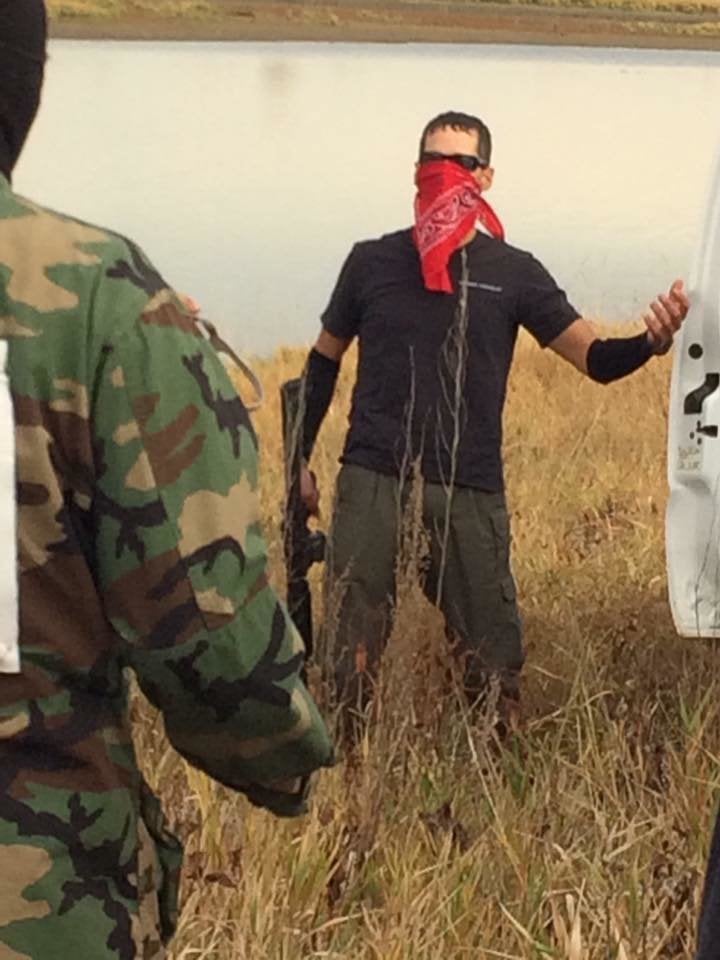 A man who North Dakota authorities had said was shot by Dakota Access Pipeline protesters was actually an armed instigator linked to the pipeline company, Standing Rock Sioux tribe members said Friday.
The sheriff's office, which said Thursday the man was shot in one of two incidents involving gunfire during tumultuous protests against the pipeline, backpedaled on Friday and said the man wasn't shot.
The conflicting new claims called into question accounts of Thursday's chaotic demonstration, in which 142 people were arrested as police in riot gear removed protesters from an encampment blocking the pipeline's path.
The Standing Rock Sioux tribe claimed Friday that the supposed shooting victim drove a truck through a highway barricade set up by protesters, who gave chase and forced him off the road. He then got out of the vehicle and "fired several shots from his assault rifle," the tribe said in a statement posted to Facebook.
Bureau of Indian Affairs agents detained the man, whose name has not been released, and turned him over to the FBI, according to BIA spokeswoman Nedra Darling. The FBI, in turn, handed the man over to local law enforcement, according to an FBI spokeswoman.
Documents found in the man's Chevy Silverado pickup suggest he was a Dakota Access Pipeline security guard in a company-owned truck, the Standing Rock Sioux statement said. The tribe posted photos of insurance papers linking the vehicle to the pipeline. Mother Jones reported there was an employee ID badge in the pickup. Protesters, who prefer to be called water protectors, later set the vehicle on fire, according to Mother Jones.
Morton County Sheriff Kyle Kirchmeier on Friday said the man, a contractor providing security, was indeed armed, but "that was more or less in self defense." The man fired no shots, Kirchmeier said during a press conference, and was not wounded by gunfire.
Friday's accounts differ in several respects from what authorities said on Thursday. The North Dakota Department of Emergency Services had said the man was a "private individual" who was shot in the hand by protesters. The department's spokesman said the man was armed, but didn't indicate whether he'd fired any shots.
Friday's protest was noticeably calmer than the previous day's, when police clashed for hours with Native Americans and environmental activists who oppose construction of the 1,172-mile pipeline. Police used pepper spray, bean bag rounds, a taser and other non-lethal weapons against protesters, Kirchmeier said. No shots were fired by law enforcement, he added.
A woman who was later arrested fired three shots on Thursday that narrowly missed a law enforcement officer, authorities said. Protesters threw feces, water bottles, logs and other debris at officers during the conflict, authorities said.
The tumult that unfolded Thursday prompted some calls to safeguard protesters who remain in a separate camp on federal land, where they've been for months.
Sen. Bernie Sanders (I-Vt.) called on President Barack Obama to send Department of Justice personnel to guarantee safety and First Amendment rights for protesters, and to suspend all federal permits for the pipeline project until the outcome of a "full cultural and environmental review."
Amnesty International announced it had deployed a team of human rights observers to the area.
Even before Thursday's clashes, Standing Rock Sioux members had accused local and state law enforcement of civil rights violations.
The tribe opposes the pipeline, saying it could pollute the Missouri River, the source of their drinking water, and will disturb burial grounds and sites of cultural importance. The Obama administration has withheld a permit that would allow Energy Transfer Partners to build across the river while the government reviews its approval of the largely completed pipeline.
UPDATE: This story has been revised to include information from the FBI.
Popular in the Community