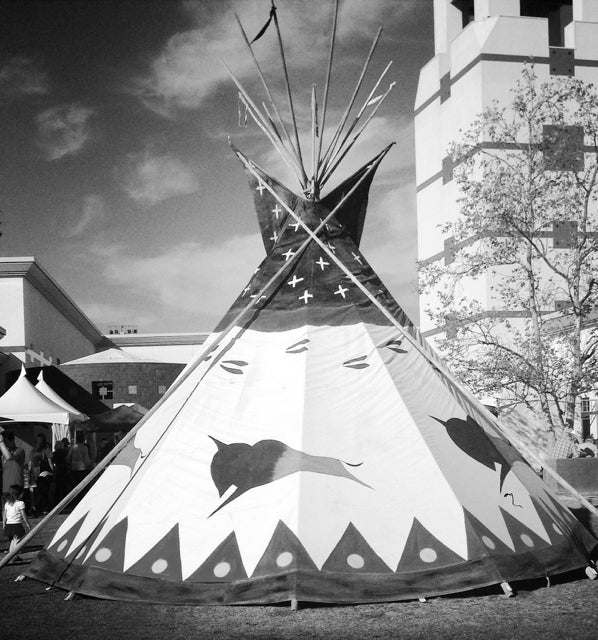 Terra nullius, a Latin term meaning "land belonging to no one" was used during British colonization to justify the theft and procurement of indigenous soil. It denied native communities their connection to and occupation of the land that they inhabited prior to the colonizers arrival. 2017 is almost upon us, and yet we are saddled with this haunting ideology that underlies the heart of The Dakota Access Pipeline controversy: big business for the sake of progress and profit bulldozing over nature and indigenous culture.
Colonial development of new nations progressed at the expense of their native population in an effort to gain economically, expand geographically, and to further settlement. The Dakota Access Pipeline project has basically attempted to do the same thing. The $3.8 billion-dollar project spanning 1,172 miles to connect the Bakken and Three Forks production areas in North Dakota to Patoka, Illinois traveled by the Standing Rock Sioux Reservation raising environmental concerns as well as crossing over sacred ancestral land.
On December 4, 2016 the ruling by the Army Corps of Engineers to deny the continuation of the pipeline construction through Lake Oahe handed a triumphant victory to the Standing Rock Sioux but begs the question as to what a newly minted President Trump will do once in office. President-Elect Trump has expressed his support for the project and is also reported to be a stockholder in one of the companies building the pipeline, Energy Transfer Partners. Energy Transfer Partners rejected the ruling of the Corps stating that they are "fully committed to ensuring that this vital project is brought to completion and fully expect to complete construction of the pipeline without any additional rerouting in and around Lake Oahe. Nothing this administration has done today changes that in any way."
It is difficult to process that this notion of mercantilism at the expense of our native communities is a dialogue that is still prevalent today. Years ago, as a senior at Bates College I wrote my thesis on colonial land disposition and the re-acquisition of traditional claims in both Australia and the U.S. At the time, I found that Australia was far more progressive on this front with the landmark Mabo Legislation and the Native Title Act of 1993 which provided recognition and protection of native title. The United States had not and still has not implemented any formal legislation, and as a best-case scenario compensated displaced tribes financially. The connection between these indiscretions of our colonial past and the Dakota Access Pipeline is no coincidence. These events are inherently intertwined as terra nullius continues to creep onward, leading us to march at a steady pace backwards.
We need to embrace this victory for the Standing Rock Sioux Tribe and ensure that the decision by the Army Corps of Engineers remains intact. In 1997 I asked the question, "Shouldn't native rights and concerns be an important enough issue in our world today?" It is close to twenty years later and I am still asking the same question. Varied cultural uniqueness generates pure beauty and is the key to what makes our world extraordinary. We must not resume skipping down the path of fear and ignorance. This descent attempts to snuff out what it does not understand or what money and power deems necessary. Let's finally at long last shove terra nullius into its colonial past where it belongs.
"Mni Wiconi-Water is Life." #NODAPL.
Calling all HuffPost superfans!
Sign up for membership to become a founding member and help shape HuffPost's next chapter