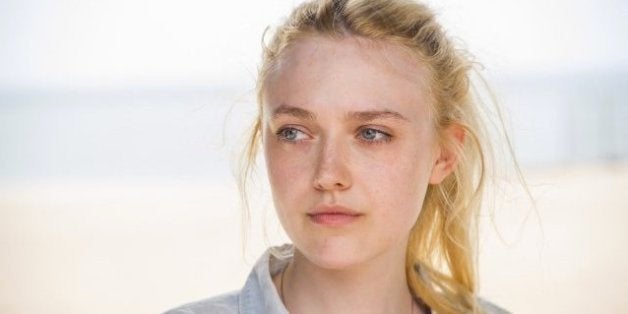 Dakota Fanning captured the world's attention as Sean Penn's bright-eyed daughter Lucy in the 2001 film "I Am Sam." Since then, the 20-year-old has nabbed role after role, transitioning from child actress to full-blown movie star.
Her latest project, "Very Good Girls," written and directed by Naomi Foner (mother to Maggie and Jake Gyllenhaal), tells the coming-of-age story of two teenage girls who make a pact to lose their virginity before leaving for college. Elizabeth Olsen co-stars in the film, which opens in theaters as a limited release on July 25.
Fanning spoke with HuffPost Entertainment about her new movie, her relationship with Olsen and growing up in the Hollywood spotlight.
"Very Good Girls" gave you the opportunity to show a more mature side of yourself. What was that like?
It was great. When I first read the script, the thing that I connected with the most was that I was experiencing the same time in my life as the character. I had already been kind of full circle with moving away and going to school and leaving my childhood behind, so it was exciting to make a movie about that because it really is such a rare thing to see in movies. And it's something that everyone experiences, but it's also a very specific experience, I think, that a young woman has.
How did you mentally prepare for the sex scenes in the film? You haven't done much of those in your career, and you had a few in this movie, including one with Peter Sarsgaard.
I wasn't very uncomfortable with it. It's just something you kind of have to do. It's really not that big of a deal, it's just a technical thing. Everybody is really respectful and I wasn't uncomfortable. You just kind of have to just go for that and get it done, like anything else.
And how was it working with Elizabeth Olsen? You have amazing chemistry together.
It was great. I knew Lizzie before making the movie, so we had an existing relationship and friendship. So it was nice to make a movie that's a lot about friendship with somebody that you actually know and like.
"I think I have a different relationship with [fame] now that I'm older."
At 20 years old, you have accomplished, well, a lot. How does it feel growing up in the spotlight? Have you learned to adapt to it all?
It is a hard thing because I don't really know any other way. But, it definitely still is a surreal experience as you get older. I think when you're a child, it's hard for you to know your life is different from anyone else's. And then, of course, as you get older, you realize that there are billions of people on the planet and everybody lives a different way and everybody has a different situation. As you grow up, you think, "Oh, no, that's not normal for everyone." And so, yeah, I think I have a different relationship with it now that I'm older. When people say hello to me, I feel like maybe I know them from somewhere, because they say like, "Hi! How are you?" And I'm like, "Oh, hi!" And then I realize, "Oh, no, they just think they know me because they watched me in a movie." Which is cool, but definitely not a normal thing.
Is there a difference, you think, living in New York vs. Los Angeles?
I think it's the lifestyle that's so different. In New York, you walk everywhere so you're amongst people all of the time and everybody is in a hurry and going somewhere or has something on their minds. And in LA, it's still much more of a laid-back life, at least in my experience. But as far as other things, I feel like it's just different. In New York, people see you like walking down the sidewalk and before they could say anything, you're around the corner, because that's how New York works. So I think it's probably a more anonymous kind of life, living in New York.
What's one experience from your career that you connect with the most? Is there a memory that sticks with you?
Wow, there are so many. I think an experience that I feel really close with was the first movie that I did do ["I Am Sam"]. Although I was very young, I still remember I was working with Sean Penn ... and the story was really special, the experience was really special and it was my first introduction to what making a movie meant and it was such a doorway for me for everything else that I've done up to this point. So, I'm very grateful for that experience.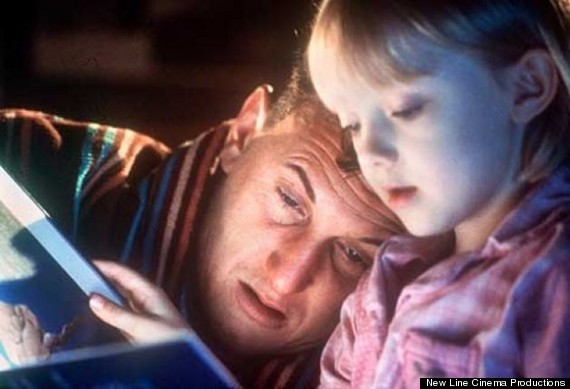 Did your parents let you watch all of your own movies when you were a kid?
I mean, I filmed it, so I knew nothing was real, so I was allowed to. It's kind of pointless to say you can't watch something that you already pretended to do! I think the only one -- there was a movie I did called "Trapped," it was my second movie, and there was a part between Charlize Theron and Kevin Bacon where someone covered my eyes for like five minutes. But other than that, I've pretty much been allowed to watch everything since "I Am Sam" was made, so I had a healthy relationship with it. I wasn't going to be like scarred from it, because I knew that it was fake.
"Each role that I've played has had a piece of a dream role in it."
Do you ever feel uncomfortable watching yourself onscreen?
I didn't feel that way when I was younger, it was just like, "Oh, This is fun! I remember when we filmed that." I would just watch it as a movie and forget that it was me. And that's easier to do when you're younger because you have less insecurities and you still have that childlike view that everything is wonderful. And then as you get older, you're like, "Oh, God." I started to kind of recoil seeing myself, for sure. But I try to just enjoy the film and forget about myself and let it go. It's more about hearing myself, actually. I think that's what the insecurity is, like, "I can't believe I sound like that." It's strange!
What are your goals for the future? What would be your dream role?
Each role that I've played has had a piece of a dream role in it. I don't know if you ever get to find that complete dream role, but I've been so lucky with the ones that I've had. I just like stories that are about real people or just about people, in general. Those are my favorite movies to watch -- little movies about experiences that everybody has. I think sometimes people can get lost in the bigger special effects, science fiction, robot stuff, and those are cool and fun to watch too, but I think it's so important to sometimes step back and watch something that's about life and human interaction.
This interview has been edited and condensed.
REAL LIFE. REAL NEWS. REAL VOICES.
Help us tell more of the stories that matter from voices that too often remain unheard.
BEFORE YOU GO
PHOTO GALLERY
Celebrity Commercials Before They Were Famous