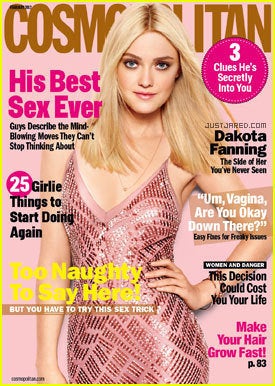 Media critics should stop insulting women's intelligence by saying Dakota's too young to be on the cover of
Cosmopolitan

magazine!
Puhleeze! Can the prudes who are in a tizzy over almost 18-year-old Dakota Fanning appearing on the February cover of American Cosmopolitan please get their knickers out of a knot?
Cosmopolitan is, by far, the largest women's magazine in the entire world. I can assure you that millions of 17-year-old women read it without incident. I know this as both the former editor-in-chief of Cosmopolitan and as a mother of a 21-year-old daughter.
But out-of-touch critics are attacking the magazine for putting Dakota on the cover because she doesn't turn 18 until Feb. 23rd. Their beef is that while they admit Dakota is actually in a very demure evening gown on the cover, she is surrounded by Cosmo's typically sexy cover lines.
"Cosmopolitan is going overboard by putting an underage girl on its cover surrounded by such article titles," so-called media expert Rachelle Friberg groused to FOX411's Pop Tarts column. "It is one thing to educate young women about sex and their bodies, but putting a young, underage girl on the cover of a magazine that had long been known to push the limits is sending "the wrong message."
Yes, the headline to the left of her face, says "His Best Sex Ever -- Guys Describe the Mind-Blowing Moves They Can't Stop Thinking About," and another cover line says, "Too Naughty To Say Here! But You Have To Try This Sex Trick."
OK, they are sexy. SO WHAT?
Have you tuned in to pop culture that 17-year-old girls have been exposed to since the 1960s? Have you seen Jersey Shore, Gossip Girl, Keeping Up With The Kardashians, Pretty Little Liars and 90210  on prime time lately? Seventeen year-old girls have, and all these shows cover sex pretty explicitly and no one is freaking out about it.
Let's talk about Dakota's career itself. She starred in the terrific 2010 independent film, The Runaways, about the early career of  rocker Joan Jett. Dakota played the very sexually precocious member of Joan's band,  the underage  Cherie Currie, who performed on stage in corsets and garters and had sex on screen with a lesbian, Joan Jett, played by Kristen Stewart.
She also played the intensely evil vampire Jane, in the Twilight series films.
In other words, she's been playing "very adult" roles for years. I doubt that her "morals" are being corrupted by appearing next to a few racy cover lines in an evening gown that is a whole lot less racy than anything worn by 16-year-old Kendall Jenner recently or by many teen girls going to proms.
Furthermore, Dakota is a freshman student at New York University. She's hearing about far more explicit sex talk from her friends and classmates, I bet, than what she's reading in Cosmo.
Neither can we equate Dakota's cover to other "controversial" magazine or advertising photos which have featured young teens.
When Miley Cyrus appeared basically topless at the age of 15, on the cover of Vanity Fair, that was inappropriate. When Brooke Shields appeared as a sexy model saying nothing came between her and her Calvins , when she was just 14, THAT was appropriately controversial.
Calling all HuffPost superfans!
Sign up for membership to become a founding member and help shape HuffPost's next chapter