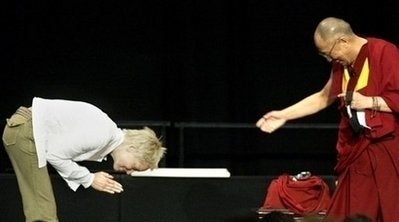 The Dalai Lama distanced himself Thursday from Hollywood star Sharon Stone's controversial comment that China's earthquake was bad "karma" for its handling of Tibet.
Stone cited the Tibetan spiritual leader as her "good friend" when she made the remark at the Cannes film festival last month.
Confirming "yes, I've met that lady", the Dalai Lama told a news conference in Sydney he did not share her viewpoint on the May 12 quake that killed nearly 70,000 people.
Popular in the Community