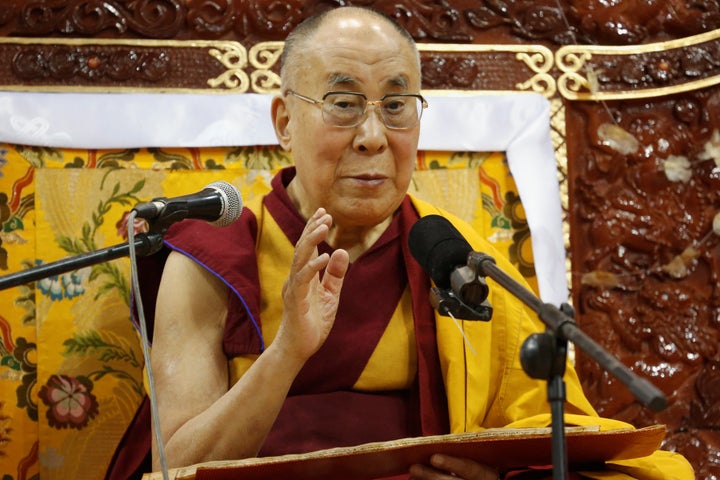 The Dalai Lama expressed hope that Trump would move away from the inflammatory rhetoric he used during his campaign ― speech that has often targeted Muslims, refugees, and other marginalized groups in the U.S. ― and shift towards policies that are more aligned with reality, now that he's won the election.
"I feel during the election, the candidate has more freedom to express. Now once they (are) elected, having the responsibility, then they have to carry their cooperation, their work, according (to) reality," he said during a visit to the Mongolian capital, Ulaanbaatar. "So I have no worries."
The Dalai Lama added that he hopes to meet the president-elect after the inauguration.
"I think there are some problems to go to United States, so I will go to see the new president," he told reporters.
The Dalai Lama fled from his homeland to Dharamsala, India, in 1959 after a failed uprising against the Chinese government.
A spokesperson for the Tibetan government-in-exile told The Associated Press that while she wasn't aware of plans for an upcoming meeting between the Dalai Lama and Trump, she hopes that Tibet's exiled community would continue to enjoy a good relationship with the United States. 
"His holiness has always put great hope in the U.S. as a champion of democracy. He hopes for continued support from the new president and his government," Tenzin Dhardon Sharling said.
The Dalai Lama has largely avoided making comments about Trump and the 2016 election cycle in the past. In March, he responded to an ABC reporter's request for comments by saying "That's your business" and admitting that he doesn't know enough about the background and context of the election to comment.
In an interview with Piers Morgan in September, he said he didn't know what to think of the reality tv star-turned-politician ― before launching into mocking impression of Trump's hairstyle and speech.
REAL LIFE. REAL NEWS. REAL VOICES.
Help us tell more of the stories that matter from voices that too often remain unheard.
BEFORE YOU GO
PHOTO GALLERY
Vintage Photos Of The Dalai Lama