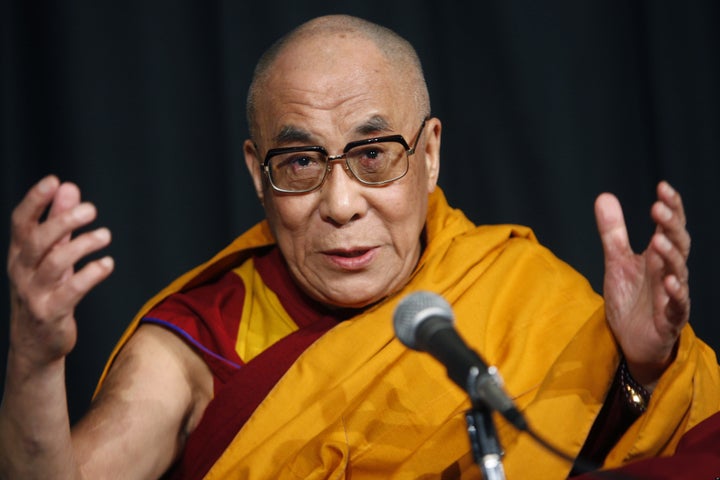 By Chris Herlinger
Religion News Service
NEW YORK (RNS) In a city tired and edgy from a sagging economy, terrorist threats and a cold and wet spring, comes the Dalai Lama with a sunny message of hope.
Despite a seeming endless supply of disasters and global woe, humanity is generally doing a better job of things that it used to, the Tibetan spiritual leader and Nobel Peace Prize laureate told journalists and followers Thursday (May 20) as he began four days of public appearances at Radio City Music Hall.
There are numerous "signs of humans becoming mature," the Buddhist leader said at a news conference at Radio City, which has become the spiritual leader's temporary home for the better part of a week.
The Dalai Lama, 74, has spent most of his New York visit in sold-out teaching sessions on several Buddhist commentaries and texts, and a public talk on the theme of "awakening the heart of selflessness." The Dalai Lama also plans a talk Sunday at the Episcopal Cathedral Church of St. John the Divine.
When asked the source of his hope, the Dalai Lama took a long view, noting that when he was born in 1935, the world had just emerged from one global conflict and was just years away from a second; in subsequent years the threat of a nuclear war was real and palpable.
But look at the world today, he said, marveling at an increased global hunger for peace and environmental protections; better relations between the superpowers; and the quick and massive global response to events like the devastating Jan. 12 Haitian earthquake.
All of these changes, he noted, occurred in the course of a century.
"Such a response (in the early 20th century) would not have been possible," the Tibetan leader said of massive humanitarian efforts in Haiti.
He also cited the absence of lingering ill will between the U.S. and its World War II enemies, Japan and Germany, as another source of accomplishment.
"These are the sources of my optimism," the Dalai Lama said. "If these forces are wrong, please let me know."
Part of the Dalai Lama's sense of hope is also borne from optimism over the long-term prospects for autonomy for Tibet, which has been occupied by China since 1959, with an exiled Tibetan government based in northern India.
Despite the unresolved status of Tibet and ongoing violence, the Dalai Lama said the long-term prospect for autonomy for Tibet is good because of increased desire within China for "transparency, rule of law, democracy and an independent judiciary."
"Our faith in the Chinese people has never been shaken," he said, adding he still considers himself a Marxist because of Marxism's belief in fair income distribution, though he also champions liberalizing market-driven reform in China.
The Buddhist leader spoke of a theme from his latest book, "Toward a True Kinship of Faiths," about the need for the world's religions to find common ground, and cited the example of India as a nation which can claim some success for its religious pluralism.
When challenged about the history of tension between India and predominately Muslim Pakistan, and ongoing religious tensions within India, the Dalai Lama said, to laughter, "Your understanding of India is limited."
"We have to look (at it) holistically," he said, citing the example of prominent Muslim, Sikh and Christian political figures within the predominately Hindu country.
Before he was done, the Dalai Lama had one last reminder, for journalists and their role in promoting understanding and harmony. Gently wagging his finger, he told them, "You must be honest, unbiased and truthful."
Popular in the Community