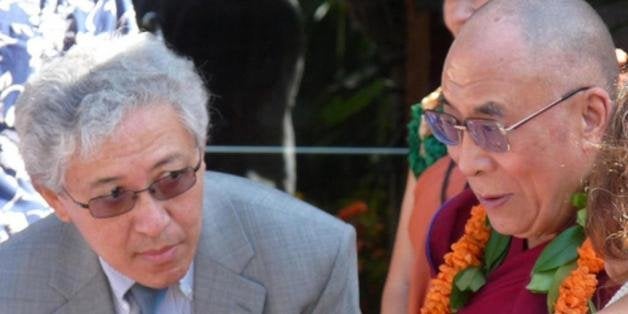 Editor's Note: When the 14th Dalai Lama visited Honolulu for the inaugural Pillars of Peace Hawaii in April 2012, Civil Beat contributor Jon Letman was curious about the interpreter who stood beside the Dalai Lama at every appearance. Shortly after the event, Letman contacted him and, over more than a year's time, corresponded and interviewed him to explore what it's like to work with the Dalai Lama.
Born in 1961 near holy Mt. Kailash, Tenzin Dorjee was still an infant when his parents bundled him against the bracing cold and escaped Chinese-occupied Tibet into India. One of the more than 100,000 ethnic Tibetans who have sought refuge in India, Dorjee grew up in Bylakuppe, one of the largest Tibetan enclaves in South India.
After high school Dorjee left the south for the foothills of the Himalayas, moving to Dharamsala, home to the 14th Dalai Lama. There he embarked on Buddhist studies at the Institute of Buddhist Dialectics where he worked as a researcher and translator at the Library of Tibetan Works and Archives. Tucked away in the Himalayan Tibetan town, he spent countless hours translating the Buddhist teachings of Tibetan scholars into English. Dorjee appeared destined for a quiet life of Buddhist studies and academia until he was invited to the United States to teach at a Tibetan Buddhist Center in Montana in 1991.
"I never thought of coming to the West," Dorjee admits. "But my friends thought I was too conservative so they kind of pushed me to go."
While in Montana, Dorjee was called upon to tour and translate for Lati Rimpoche, a prestigious Tibetan Buddhist master and debate assistant to the Dalai Lama. Then, in 1993, during a second tour, Dorjee decided to continue studying in the United States. In 1995 he received a visa which allowed him to pursue undergraduate and graduate degrees and eventually a Ph.D. in communication from the University of California.
Like many Tibetans of his generation who were raised in India, Dorjee speaks Tibetan, Hindi and English. When he first began learning to translate Tibetan into English, there were no formal programs and, because the two languages are so different, his early years of study were grueling. Unlike English, Tibetan follows a subject-object-verb order. With verbs at the end of sentences, simultaneous interpreters must think in two languages at the same time, recalling a previously spoken sentence while waiting for the verb to complete the thought.
"The two languages don't go well together and without a verb, you cannot translate," says Dorjee.
By 2012 Dojree had become a U.S. citizen, earned his Ph.D. and was teaching communication theory at California State University, Fullerton, when he received an email from the office of the Dalai Lama asking if he could travel to Hawaii to act as an interpreter during a three-day event called Pillars of Peace.
Over three decades in India, Dorjee had interpreted for half a dozen eminent Tibetan Buddhist teachers including, on many occasions, the Dalai Lama himself. Still, the request came as a surprise. By chance, the Dalai Lama's usual interpreters were unavailable to travel to Hawaii so Chhime Rigzing, the Dalai Lama's personal secretary, contacted Dorjee.
"Chhime Rigzing showed His Holiness a picture of me and he said, 'Yes, I know him.' That's how I was able to come to Hawaii," Dorjee recalls.
After so many years Dorjee was very excited to be reunited with the leader of the Tibetan Buddhist world. "There was an emotional significance."
Speaking in English, the Dalai Lama can certainly hold his own even discussing topics that would stump many native speakers. Having an interpreter at his side is, in some ways, more for his own sense of security than out of necessity. But for Dorjee, it meant standing close by and remaining attentive at all times, ready to perform a task he calls intensely challenging but a great honor.
"His Holiness's thinking is very deep and profound," Dorjee says.
The Dalai Lama is the author of more than 100 books on subjects like metaphysics, cosmology, neuroscience, spirituality and science, but because he is not a native English speaker, he occasionally struggles to find commonly used words, leaving him to improvise, like calling a medicine chest a "medicine box."
On days Dorjee translated for the Dalai Lama, he was almost constantly at his side, at the center of an impermeable security bubble usually reserved for heads of state. These days the Dalai Lama's schedule is less demanding but Dorjee recalls working with him years earlier in India. "Because he would go until 6 or 7 in the evening, it was very exhausting."
One one occasion, Dorjee says, he nearly blew it.
"As a Tibetan, the Dalai Lama is everything to us," he says. He is a human but also a divine being and so we put him on a pedestal. I couldn't imagine being in his presence but I was asked to translate. It was the first time and I got nervous."
Dorjee had made a mistake to which the Dalai Lama responded with a firm "No."
"I was so scared, I had a blackout," Dorjee says. "When I regained my senses I realized that His Holiness was speaking in English and I thought, 'Well, that was the first and last chance for me. No one will call me back.'"
But they did call back, repeatedly. By working closely with the Dalai Lama again and again, Dorjee says he was able to develop a relationship that allowed him to better understand the Dalai Lama's way of thinking and gradually he grew more confident.
"It's challenging because you have to follow his train of thought," he says. "He might not be speaking in Tibetan, but if he struggles to find a word, you have to guess it."
These experiences, Dorjee says, allowed him to do "a pretty decent job." For an interpreter unfamiliar with the Dalai Lama, the same task would be very difficult.
When the Dalai Lama speaks on subjects as varied as tantric meditation, quantum physics or ethics and genetics, very few interpreters can match his pace.
"He can quote a hundred different books from memory and you have to catch up with his brilliant mind. It's very tough," Dorjee says.
The Pillars of Peace events in Hawaii, he says, were relatively simple because the audiences were primarily students and the general public and the topics — pursuing peace and cultivating compassion — were relatively easy.
Victor Chan, founding director of The Dalai Lama Center for Peace and Education in Vancouver, B.C., attended Pillars of Peace. He agreed Dorjee's task was light compared to what some interpreters face. Chan explains that it's not uncommon for the Dalai Lama to speak uninterrupted for 15 to 20 minutes before pausing for an interpreter to recall the entire monologue.
"The translator is expected to remember everything without taking notes," Chan says.
"It's not easy to translate for His Holiness ... unless you know the vocabulary of neuroscience and psychology. If you're translating Buddhist teachings you need to be very fluent," Chan says, adding that many of the scientific English terms the Dalai Lama uses have no exact Tibetan equivalent.
The Dalai Lama calls himself "a simple Buddhist monk" and in a gesture of humility, talks about speaking "broken English." But Chan, who has co-authored two books with the Dalai Lama, says he's a very competent English speaker. Even when the Tibetan leader breaks basic grammar rules, Chan says his delivery is idiosyncratic and powerful.
"He can easily talk in English non-stop without notes for an hour and a half and hold his audience spellbound."
Now 78 years old, the Dalai Lama still spends much of the year traveling to address audiences all over the world for weeks on end (he will be in New York this week), periodically returning to teach across India and at his residence in Dharamsala. Depending where he is, the Dalai Lama works with interpreters conversant with Tibetan, Hindi, English, Japanese, French or other languages.
Dorjee points out that Tibetans view the Dalai Lama differently from non-Tibetans. While the Dalai Lama is, in one sense, very down to earth and able to connect with people regardless of background and really doesn't care about a person's status or power, he is much more than a "simple Buddhist monk."
"If we really look at his life's history and the institution of the Dalai Lama and how it started ... he is the 14th in the line, a human incarnation of Avalokiteshvara (Chenrezig), Embodiment of Compassion. That means he can't just be simple — it's very different. He's a highly evolved, realized person," Dorjee says.
"For somebody like me, having to negotiate those two levels of truth is kind of a challenge. In one way he is like us. In another, he is a very enlightened person. But those two things seem to work very smoothly in his case. At the same time, it's a very paradoxical reality for me. So it's a challenge how to relate to him."
And what of the future of the Dalai Lama? He has said he will address the question of succession when he is 90 years old. Speaking earlier this year in Australia the Tibetan leader has suggested the next Dalai Lama may be a woman or, if the figure of Dalai Lama is no longer relevant, he could be the last one.
Dorjee points out that the Dalai Lama often speaks of the importance of cultures adapting to new circumstances.
"He said we have to learn what are the important things in our culture to keep and learn the new things. We cannot preserve everything that is called 'culture' and some things need to change," Dorjee says.
"We don't want to think about a 15th because the 14th is very much alive, but at the same time we have to be realistic. As His Holiness often says, he won't be here anymore. Yes, I do think about it."
Support HuffPost
The Stakes Have Never Been Higher
Related
Before You Go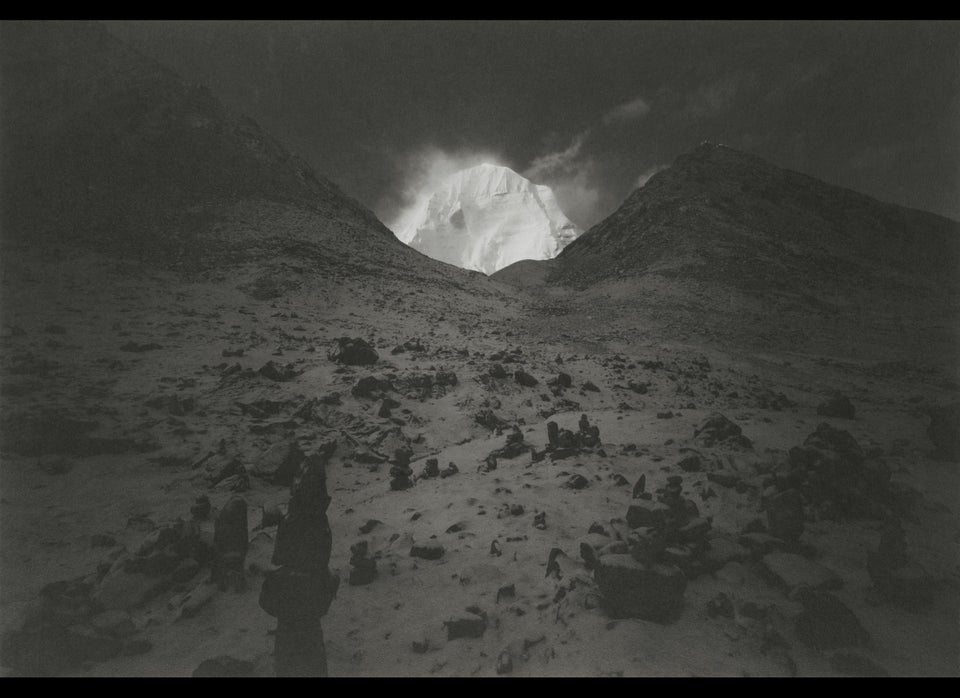 Buddhism's Sacred Places in Black and White
Popular in the Community