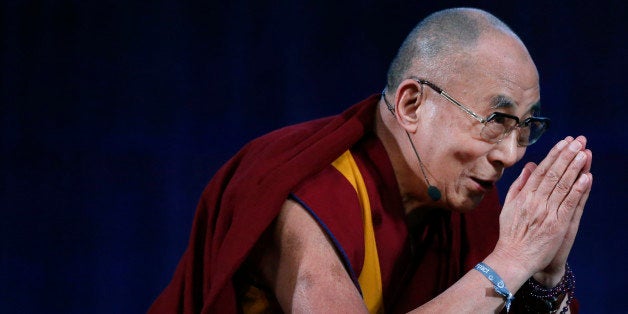 NEW YORK -- As protesters milled on the sidewalk outside, His Holiness the 14th Dalai Lama took center stage at the Beacon Theater on Monday with a lesson on how to find wisdom and recognize "ultimate truths."
Surrounded by faithful monks, nuns and an audience of supporters, the Tibetan Buddhist leader urged his disciples to use reasoning when examining both scriptural texts and teachers. "Ultimate truths" can be evidenced in religious teaching, but can also be inferred through logic, he said.
"Anything that is violating norms of reason or is contradictory should not be accepted, even though it is coming from a high lama," the Dalai Lama said through an interpreter.
Tashi Khamshitsang, a member of the Tibetan Parliament who attended the teaching, explained it this way to The Huffington Post: "When you find a teacher, judge him by who he is, and once you are certain, then you can receive his teaching."
In the same vein, the exiled leader also spoke about distinguishing between provisional and definitive truths. Provisional teachings, he explained, are those teachings that masters use to nudge their disciples a little bit further along the path to wisdom, while definitive truths are more absolute.
The key is to determine whether the content of a particular scripture passage "stands to reason and validates experience," the Dalai Lama said, or whether there is another layer of truth still waiting to be uncovered. The Buddhist leader also applied that reasoning to the perceptions of individuals, which he said will always be subjective.
"We tend to think we are objective," the Dalai Lama said, "but our perception field is just a projection of our own mind."
No spiritual teaching can be taken "at face value," the Dalai Lama added -- a remark that may have been aimed as much at the swarms of protesters gathered outside the Beacon Theater as it was toward supporters inside the venue.
Tibet House US, which hosted Monday's event, identified the protesters as followers of the New Kadampa Tradition (NKT), a breakaway sect that worships a Tibetan deity called Dorje Shugden.
Tensions within Tibetan Buddhism have flared up in recent years with the rise of the NKT, whose adherents the Dalai Lama has asked "not to attend his formal religious teachings," according to his website. The Buddhist leader has cautioned that the NKT may be spiritually misguided and politically divisive, and his supporters have accused the Shugden following of acting on behalf of the Chinese government to create schisms within the Tibetan community in exile.

As a result, Shugden followers have in turn accused the Dalai Lama of religious discrimination and have protested the leader's visits to the United States. They picketed with signs and chants outside recent events in Princeton, Boston and New York.
"Considering the Dalai Lama travels the world on a platform of human rights and basic human values, that he's instigated this kind of segregation in his own community is outrageous," International Shugden Community spokesman Nicholas Pitts told The Huffington Post.
Suzanne Newcombe is a research officer who has studied the NKT at Inform, an organization based out of the London School of Economics that aims to provide balanced information on new and alternative religious movements. Newcombe said the protests were likely set up by individuals or by front organizations, rather than by the NKT directly.
"Individual members take it upon themselves to protest what they call 'gross injustices' being thrust on them because of the Dalai Lama's policy," Newcombe told HuffPost over the phone. "His advice against practicing Shugden became emphatic in 1996. Then there was a vote in the major Gelug monasteries not to allow the practice in 2007. But now independent Shugden monasteries have been set up around the world."
Newcombe suggested that while followers of the NKT may strive to reach enlightenment and "be good Buddhists," many who have left the movement report that NKT authorities did not allow them the space to develop their own faith.
Alexandra Ulrey, a public health researcher at Columbia University who has been interested in the Dalai Lama's teachings since she was in fourth grade, said she was surprised by the protests.
"Even though he's a religious figure, he's a scholar and a nerd," Ulrey said. "His emphasis on secular ethics, in particular, is what keeps him very relevant and appealing to a wide audience."
Robert Thurman, the president of Tibet House US who was onstage with the Dalai Lama at the Beacon, criticized the protesters in a Huffington Post column Monday, accusing them of misinterpreting the true nature of Buddhism and misleading the public with claims of religious oppression.
Thurman wrote that it was "tragic" that Western converts to Buddhism were being "drastically misinformed" by the NKT.
"They are not being given education in the higher trainings in ethics, meditation, and critical wisdom [...] and are being prevented from learning about themselves and life from the most important world teacher in this era, His Holiness the Dalai Lama," Thurman wrote.
Khamshitsang, a Dalai Lama supporter, said he has examined the leader's teachings and found them to be good and practical.
"Tibetans in Tibet are dying to see the Dalai Lama, and these people are accusing the Dalai Lama of [being] false," Khamshitsang told HuffPost. "Dalai Lama is the apostle of peace, nonviolence [...] What they're talking [about] doesn't stand the ground."
Related
Before You Go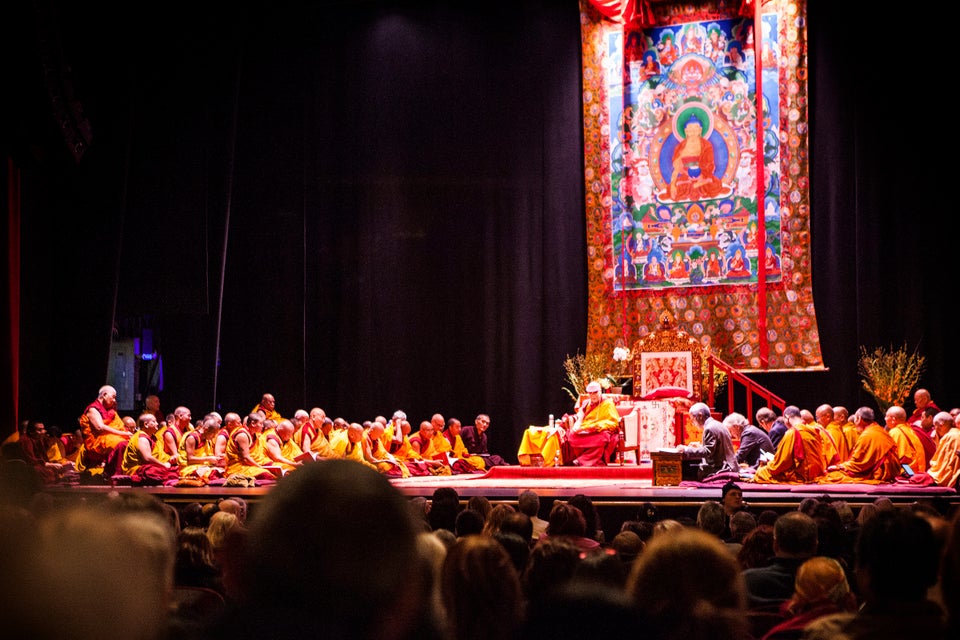 Dalai Lama Teaching In NYC Met With Protest
Popular in the Community