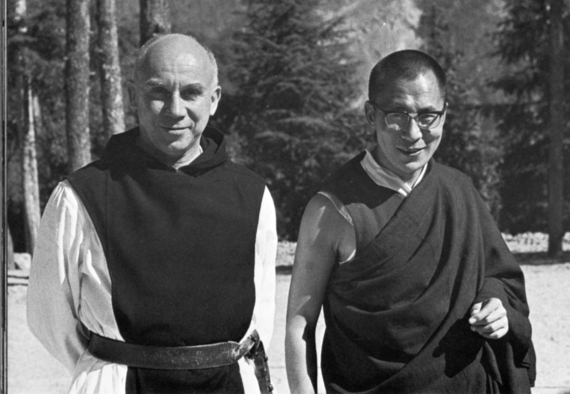 (Photo used with permission of The Thomas Merton Center, Bellarmine University)
I met the Dalai Lama and all he wanted to do was talk about Thomas Merton. This isn't too surprising in that we were interviewing him as part of a documentary about Merton. Nonetheless our meeting was scheduled for five minutes but fifteen minutes later His Holiness was still talking enthusiastically about his time with Merton. It seemed as if they had spoken yesterday rather than 45 years earlier. Theirs is obviously a friendship that has retained its power over the years. As His Holiness said, "I myself consider him a close friend, a most special friend, a spiritual brother."
For friends and admirers of Thomas Merton it's been a very good year. This must confound the conservative churchmen who thought their efforts to obscure Merton's legacy had been successful. Others, outside of spiritual circles, are left to wonder why this Catholic monk from a rural Kentucky monastery would even matter today. In our cyber age how could a contemplative who died in 1968 be relevant? Yet in this centenary year of his birth there have been scores of Merton conferences and celebrations. A documentary, "The Many Storeys and Last Days of Thomas Merton", on the last year of his life has premiered and is soon to air on PBS stations. There's even a feature film underway. For many the capper was Pope Francis placing Merton in the company of Abraham Lincoln, Martin Luther King and Dorothy Day, hailing the four as exemplary Americans he most admired.
In describing Merton Pope Francis said "He was... a man of dialogue, a promoter of peace between peoples and religions."
"A man of dialogue" indeed. This month marks an anniversary of one of Merton's most important exchanges of dialogue, an exchange that has reverberated through the decades. In November of 1968 Merton was traveling in Asia, a pilgrim engaging with teachers and practitioners of many faith traditions. For Merton hoping to find what serious spiritual seekers held in common was a natural and necessary endeavor. For many of that time it was scandalous behavior for a Catholic monk, particularly if the partner in dialogue was a Buddhist leader.
The possibility of upsetting conventional minds did not deter Merton from traveling to Dharamsala, India to meet with the Dalai Lama. Recounting their time together the Dalai Lama's face lit up. He recalled his first impressions. There were the elements of the traditional Trappist habit Merton wore. He admired the broad leather belt in particular. Also he noted, "His head was quite significant. Very much shining! That was a very strong impression." A big laugh punctuates this remembrance. The Dalai Lama laughed often in describing their time together. In a more serious tone he observed that Merton seemed a genuine practitioner of his Christian faith one for whom "the message of Jesus carry 24 hours."
Also noted and appreciated was that Merton made a "serious effort to learn from different traditions, particularly Buddhism... So, this time, this moment, very, very important. Close up contact. And then, as a result of closer relation, there was automatically mutual respect. Often I describe him as very, very strong bridge between Catholic monk, Catholic tradition and Buddhist tradition."
My conversation with His Holiness was led by Paul Pearson, the Executive Director of the Thomas Merton Center at Bellarmine University. Dr. Pearson presented His Holiness with gifts of Merton mementos. One assumes that His Holiness receives many gifts in his travels and usually hands them off to an aide after politely examining them briefly. One Pearson gift was treated quite differently. It was a picture of Merton and His Holiness taken at their meeting in '68. He examined it closely. Merton is in his prime at 53, yet mere weeks from his death. The Dalai Lama at 33 is still early in his remarkable journey of spreading the message of compassion.
"This looks I'm his son," His Holiness decided. Again the great laugh. Then, more seriously, "I think spiritually he is elder. So, I am younger. So spiritually I think something like, father more experienced, then the younger one, that's the son."
Time to go. His handlers were ready to move us along. His Holiness seemed reluctant. Another thought on his relationship with Merton
"I always feel a responsibility what he would hope on me. So until my death I will carry. So logically two persons, a very similar sort of concept, now one passed. Now only the remaining person logically have more responsibility."
Time to go but one more thought.
"You see one person make effort. Good! But 10 person, better! So now (is the) time (to) come forward. Do something."
"Do something"! An exhortation worth thinking about as we commemorate the meeting of two great spirits.