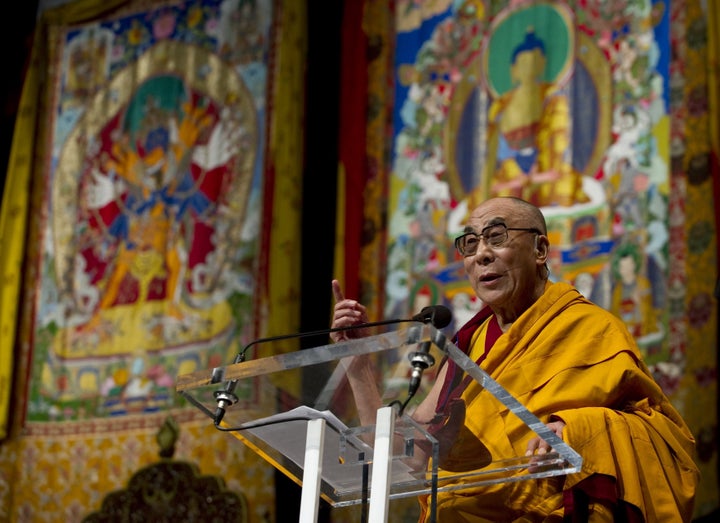 Tens of thousands of Buddhists and non-Buddhists are expected to flock to the city's Verizon Stadium July 6 through 16 for Kalachakra, an ancient ritual that involves a series of prayers, meditations, dances, chants, vows and a construction of a large sand mandala -- all with the aim to bring "world peace." In addition, the multimillion-dollar event that kicks off Wednesday will include a Tibetan cultural festival and public teachings from the Dalai Lama in front of the U.S. Capitol.
A highly complex spiritual "initiation" that traces itself back to a ritual performed by Buddha, Kalachakra is also rare. The Dalai Lama, who has hundreds of speaking engagements each year, last hosted the ritual five years ago in India, and has only done four others in the United States.
But in picking the United States capital as the site of his first major public appearance since stepping down from his role earlier this year as the political leader-in-exile of Tibet, the Dalai Lama may also be sending a message about the social and political climate in the U.S. and the unofficial political role he intends to keep, say Buddhists and outside observers.
"D.C. is the site of American decision making and governance. Part of the purpose of the Kalachakra is to transmit a vision of the world in harmony. D.C. could use that," said Jack Kornfield, a teacher at the Spirit Rock Meditation Center in Marin County, Calif. and a leader in the Buddhist vipassana movement.
"There is lots of polarization, and he may feel that it's a good time to be doing this because maybe there is some healing that can come," said Kornfield. "He also, of course, wants to make sure the concerns of the people of Tibet are still visible."
The Capital Area Tibetan Association, which is organizing the event, has billed it as "the largest gathering for world peace in history." That may be an overstatement, says Melvin McLeod, editor-in-chief of Shambhala Sun, a popular Buddhism-oriented magazine.
"But the impact of this event can take place on very subtle levels. It's possible that the ceremony's effect on the mind of tens of thousands of people can have a subtle and not obvious effect on society as a whole," said McLeod, who has reported on Buddhism and the Dalai Lama for 20 years.
Jeffrey Hopkins, a professor emeritus of Tibetan and Buddhist Studies at the University of Virginia and a former translator for the Dalai Lama, said the Washington, D.C., event is significant for Buddhists outside of the United States, too.
"There are many lamas who can do this, but it is one of His Holiness' favored rituals," said Hopkins. "The aim of these rituals is to introduce a practice for the sake of undermining ounterproductive emotions...by removing these, one's self is brought to a more peaceful life and one brings more peace to the world."
Tickets for the 11-day event, which have sold quickly, are priced as high as $475, or $45 for single-day passes. The Dalai Lama and other Buddhist lamas are also hosting several free events. On Saturday, Whoopi Goldberg will emcee the Dalai Lama's "A Talk for Wold Peace" on the U.S. Capitol's west lawn.
"[Kalchakra] explains how ordinary people with jobs and mundane responsibilities (as opposed to monks/nuns or other renunciates) can use everyday life as their spiritual path and thus create a good and peaceful world. That His Holiness is focusing on this particular knowledge from among his vast body of wisdom speaks to his compassion for our confusion about how to do just this," said Susan Piver, a meditation teacher and author, via email.
While many Buddhists interviewed said they were excited about Kalachakra and believed it will bring a more peaceful climate, some have reservations.
"It's no more going to establish world peace than Live Aid or one of those things, or any average rock concert. I'm all for freeing Tibet. But there's nothing particularly Buddhist about that," said Brad Warner, an Ohio-based Soto Zen priest and author.
"People who go will pat themselves on the back for being Buddhists by virtue of attending some big commercial feel-good gathering. That's not Buddhism," he added.
The event is also being noted by political observers. The Dalai Lama, who met with President Barack Obama at a short closed-door meeting last year despite protest from the Chinese government, is not on the president's calendar this time. News outlets have reported that he will meet with House Speaker John Boehner and House Democratic Minority Leader Nancy Pelosi.
"In light of -- or, one can say, in spite of -- the fact that the Dalai Lama has stepped down from his role as governmental leader of Tibet, this event showcases the essential truth that his message and his influence now transcend political title," said Perry Garfinkel, a journalist and author who has written extensively about the spiritual leader. "And that, as far as the Chinese should be concerned, frees him to push the agenda to free Tibet and Tibetans from China's shackles to a wider audience."
Popular in the Community