The Senate voted Wednesday to confirm Dale Ho to a lifetime federal judgeship, a major victory for progressives who have been anxiously awaiting action on Ho's nomination for nearly two years.
Ho was confirmed 50 to 49 to the U.S. District Court for the Southern District of New York. Every Republican voted no. Every Democrat, including the three independents who caucus with them, voted to confirm him, except for one: Joe Manchin of West Virginia.
Sen. Tim Scott (R-S.C.), who is running for president, missed the vote.
Ho, 46, is considered one of the nation's leading voting rights lawyers. He's been the director of the American Civil Liberties Union's voting rights project since 2013 and was previously a staff attorney with the NAACP Legal Defense and Educational Fund. He argued two cases against the Trump administration at the Supreme Court, one of which successfully challenged former President Donald Trump's plan to include a citizenship question on the 2020 census.
Ho has also led a racial justice clinic at New York University's School of Law since 2014.
His Wednesday confirmation "represents the very best of Biden's judicial legacy" of diversifying federal courts, said Brian Fallon of Demand Justice.
"As much as any nominee, Dale Ho exemplifies how President Biden and Leader Schumer have worked hand-in-hand to revolutionize the type of lawyers who get nominated for the bench," Fallon said. "Under previous administrations, lawyers who spent their careers at civil rights organizations were too often passed over when it came time to pick judges. Not so anymore."
Fallon added, "Given his youth and brilliance, this ought not be the last time Ho comes before the Senate for a confirmation vote."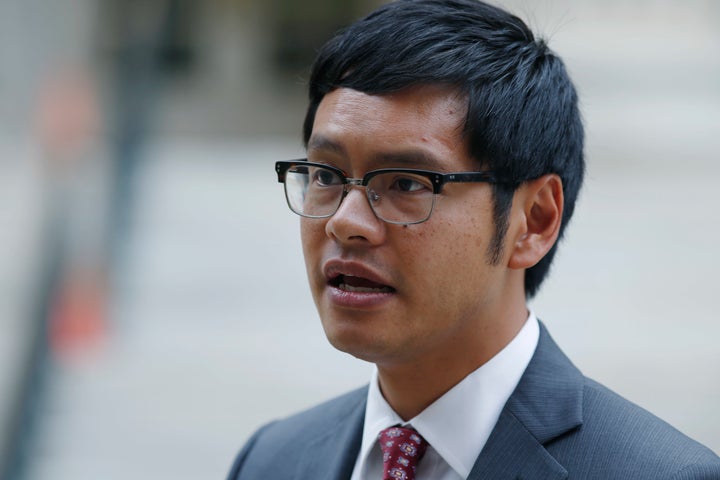 Ho's confirmation vote has been a long time coming. Biden nominated him in September 2021, and he had his Judiciary Committee hearing in December 2021. But since then, Ho's nomination stalled amid stiff GOP opposition and Democratic absences in a Senate where Democrats hold the razor-thin majority of 51-49.
In a sign of just how tight his vote was, Ho was originally scheduled for a confirmation vote last week but it got derailed when a single Democratic senator, Patty Murray of Washington state, was out because of a sinus infection.
Republicans were trying to sink Ho's nomination over tweets he'd previously sent that criticized Republican senators, and over his ACLU advocacy work. Manchin said Wednesday that he was opposing Ho over his tweets, which are now hidden becau Ho has set his account to private.
"Mr. Ho's prior inflammatory statements make me doubt whether he can be impartial when interpreting the Constitution," said Manchin, who is up for reelection in 2024. "Hateful words and partisanship should never be characteristics of someone on a federal bench and, for this reason, I have voted against Mr. Ho's nomination."
"Mr. Ho, you're a smart man. I can tell. But I think you're an angry man," Kennedy said at the time. "We don't need federal judges who are angry. We need federal judges who are fair and can see both points of view."
Kennedy elaborated that Ho seemed angry because of his tweets that criticized GOP senators. He didn't say what the tweets said, but Ho said he regretted the tone he'd taken on Twitter at times in his role as a voting rights advocate.
The irony of Kennedy attacking Ho as "angry" wasn't lost on Sen. Mazie Hirono (D-Hawaii), who pointed out that Kennedy had previously voted to confirm Supreme Court Justice Brett Kavanaugh, who screamed and sneered at senators during his confirmation hearing.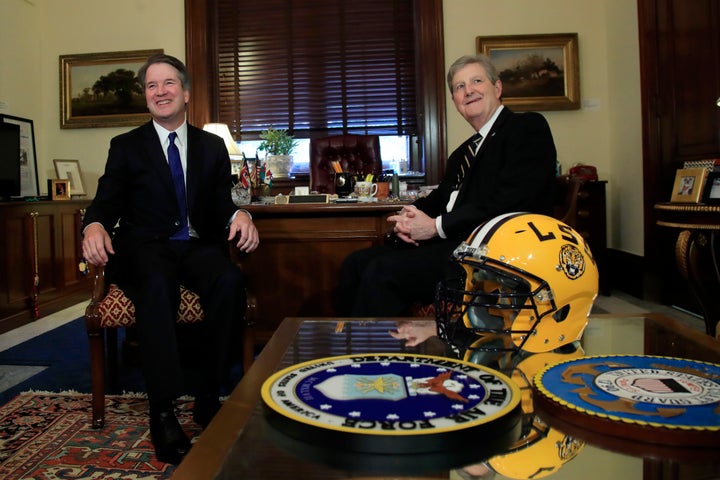 Republicans have also intentionally misconstrued past comments that Ho had made as evidence that he is a partisan.
"Mr. Ho has described himself – listen to this – as, quote, a wild-eyed leftist, end quote," Senate Minority Leader Mitch McConnell (R-Ky.) said on the Senate floor last week. "Let me say that again. President Biden would like a self-identified wild-eyed leftist to rule on cases in the largest federal court in the country."
Kennedy brought up this quote, too, during Ho's confirmation hearing back in December 2021.
"You've described yourself as a, quote, wild-eyed sort of leftist," said Kennedy. "Do I have that right?"
Ho said that was not correct.
"Senator, I think I was referring to a caricature of the way that I think other people may have described me," he said. "Not how I would describe myself."
Carl Tobias, a University of Richmond law professor and an expert on judicial nominations, said Republicans including McConnell "vociferously vilified Ho as a 'radical activist'" when it simply isn't true.
"Dale Ho was one of the most highly qualified, diverse Biden nominees in terms of intelligence, experience, independence, ethnicity and ideology," Tobias told HuffPost. "Ho successfully litigated many high-profile cases involving voting rights and immigration for the ACLU. ... Ho will be an exceptional judge on this storied court."
Ho's confirmation is also a personal victory for Schumer, who nominated him. The New York Democrat celebrated on Twitter moments after the vote was done.
"He's the 4th Asian American judge ever confirmed to SDNY," Schumer tweeted, "and I was proud I recommended him."
CORRECTION: This article has been amended to note that there are three independents who caucus with Democrats, not two.
Support HuffPost
The Stakes Have Never Been Higher
Popular in the Community