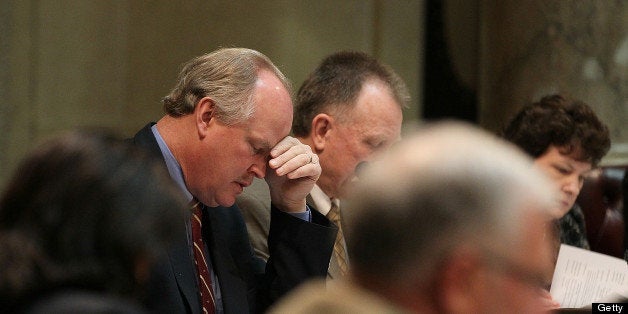 A Republican state senator in Wisconsin slammed his own party as "extreme" and compared its decision-making to that of Russian President Vladimir Putin in a recent radio interview.
"Look, I think that things have gotten way too extreme and out of hand, and when we start taking important policy issues about whether or not we're going to have bounty hunters in Wisconsin and throwing them in -- in the middle of the night -- without any transparency, public discussion, or analysis, I think we have a problem," Schultz said.
He also took aim at Republicans' attack on the Wisconsin Center for Investigative Journalism. The legislature's Joint Finance Committee added a provision to the budget that would prohibit the center from occupying any facility owned by the University of Wisconsin System Board of Regents or having any UW employees work with the center.
"It smacks of the kind of tactics you would expect from Vladimir Putin or Hugo Chavez," he said.
A spokesperson for the Republican Party of Wisconsin could not be reached for comment.
Schultz, who served as the state Senate's Republican majority leader in 2005 and 2006, is known as a moderate and has frequently clashed with more conservative members of his party. Because of his willingness to reach across party lines, he has been called the Wisconsin Senate's "man in the middle."
Many Wisconsin residents also expressed anger at the GOP's late-night budgeting session, which ended after 6 a.m. Wednesday.
The Appleton Post-Crescent published an editorial Wednesday chastising legislators for failing to operate during business hours.
"Lawmakers: You look sneaky at best and downright deceptive at worst when you work at night and change the budget seemingly on a whim," the paper wrote. "This must stop. Find a way to conduct your business during normal business hours, and give voters notice on the changes you're considering that affect their lives and the tax bills."
Calling all HuffPost superfans!
Sign up for membership to become a founding member and help shape HuffPost's next chapter
BEFORE YOU GO
PHOTO GALLERY
The Strongest Conservatives In Congress