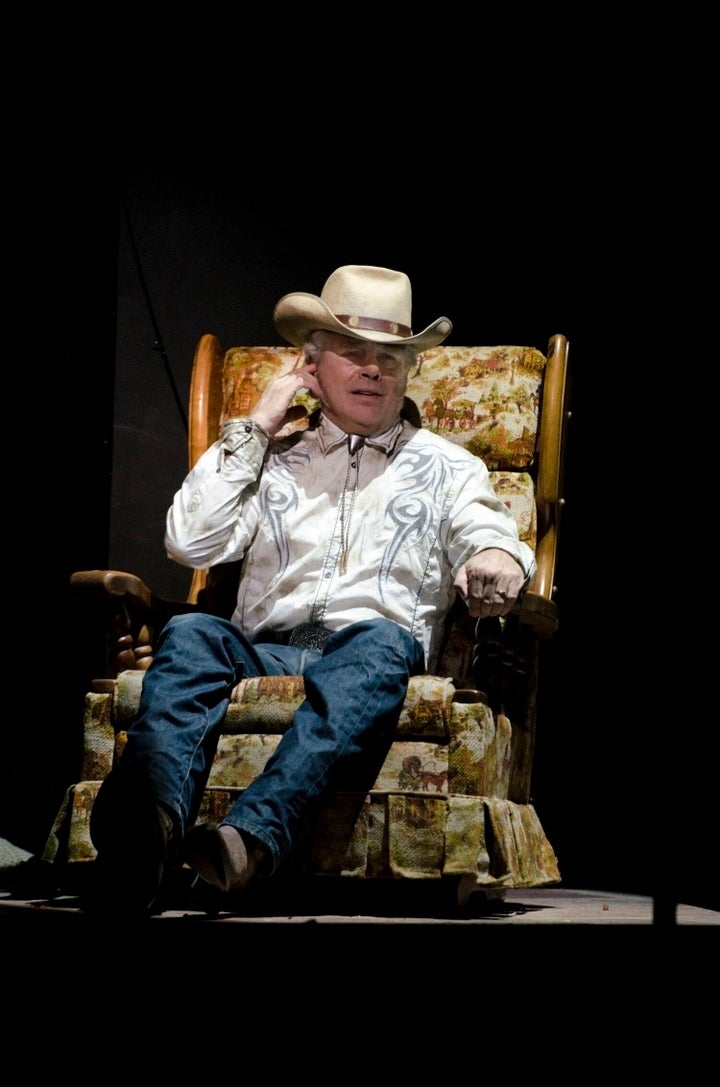 Last Tuesday night, a man who had never performed in a play in his life stepped in front of 750 people and into the lead role of a major new musical by Stephen King and John Mellencamp. He sang songs he'd never sung under lights he'd never been under, setting cues and talking to actors to whom he'd never spoken, and he did it with no script in his hands.
As an actor this is pretty much the most terrifying situation imaginable. In fact that very scenario forms the basis of its own play, An Actor's Nightmare, by Christopher Durang, in which an unsuspecting performer plays the lead in a show he's never seen.
But musician Dale Watson lived a (modified) version of that on Tuesday when he played the role of Joe McCandless in Ghost Brothers of Darkland County at the Alliance Theatre in Atlanta after the Tony-nominated actor and Goergia native Shuler Hensley fell ill unexpectedly, and Watson, his understudy, had to fill in. It was the last night of previews before a Wednesday night opening. (Full disclosure: I play the role of Frank McCandless in "Ghost Brothers," a show I've been working on since the beginning of March.)
The thing about Dale Watson is that he's one of the most fascinating, sincere, and altogether entertaining performers I've ever met, but stage acting isn't his trade. A local legend in Austin, Texas who has played the historic Grand Ole Opry in Nashville, Watson is also the recipient of multiple European country awards (he's huge in Europe and performs consistently in Holland and the Netherlands and Spain.) He sports a fine white pompadour and a voice as honest and smooth as vintage Johnny Cash, with whom he shares an almost supernatural affinity.
"I was pretty nervous to perform at the Grand Ole Opry," Watson said. "But I was probably more nervous here than any of that."
The "Ghost Brothers" creators and its musical director, T. Bone Burnett, a master of authenticity himself, had made a concerted effort to find actors of unorthodox backgrounds for a musical of this size -- performers who could actually play instruments and who didn't sing, in the words of John Mellencamp doing his best Ethel Murman impression, "like thiiiiiissss!" They basically wanted people unfamiliar with modern American musicals.
So when auditions for Ghost Brothers came to light, New York casting director Laura Stanczyk immediately thought of Watson, who she'd seen play at a wedding years earlier. Although the Tony-award winning Hensley got the role, Watson was asked to be his understudy and play a few ensemble parts, including the Zydeco Cowboy, a 1960s crescent-style radio DJ.
Watson questioned whether or not to take it. He'd be leaving his life and family and he wasn't sure the whole "theatre thing" would be for him, but ultimately it seemed like a once-in-a-lifetime experience. So he put his Austin-based band on a weekly retainer and took a major pay cut -- "financially, this is the most expensive thing I've ever done," he told me -- and he blocked out two and a half months of his life. He knew he'd go onstage at least once in Hensley's role, on April 17, when Hensley hosts his eponymous "Shuler Hensley Awards" for Atlanta high school students, but the news that he'd be going on last Tuesday came as a big surprise.
"I got the call that morning around 9 o'clock that I might actually have to go on. They said it was a 50/50 chance," Watson said. "I had no choice. As an understudy, you have to do it."
As a musician, Watson's made a name for himself as being fiercely independent; he frequently laments the state of modern country music as being too commercial and too polished, so he steers clear. His last few albums, including 2007's "From the Cradle to the Grave," which was recorded at Johnny Cash's old cabin in Tennessee, have been released independent of major labels.
But as the whole Tuesday night experience played itself out, independence would have no part. Watson learned the one thing you get in a cast of a play -- something you don't really get anywhere else with the same intensity -- is unwavering support. From everyone. Actors and crew-members helped him run lines over and over. They brought him dinner while he ran through scenes and cues. And then, during the show, as he worried about where to stand and what the hell comes next in this story he's supposed to be weaving for the audience, everyone onstage had his back. Even as he blanked on lines a few times and required a few whisper-nudges in the right direction.
"You don't realize everything that's gotta happen," Watson said, speaking of all the distractions that come in a show of this size. "You gotta move the couch one way then you gotta move it back then you gotta move it up again. I realized I hadn't moved a blanket when I was supposed to, there's a lot of stuff to think about besides your next line."
Eventually Watson began to lose himself in the role and stopped thinking so much about all of that other stuff. As he crooned his rendition of "What Kind Of Man Am I?" a stomper that comes near the end of Act 2, he felt comfortable, in his element. And when he delivered his final monologue -- his character's "truth," as it is consistently referred to throughout the show -- it was, to be quite honest, moving as hell.
In the green room afterwards he received one of the warmest ovations I've ever seen from a cast. And at the bar, later that night, everyone laughed (and drank; Mr. Watson holds tremendous amounts of liquor with a dignity I've never seen) as he recalled the night we'd all had.
"Doing this play is a break in the norm, and I wanted to try something different, to get out of my comfort zone," the normally stoic Watson said. "And boy was I. Oh my God."
Tickets for "Ghost Brothers of Darkland County" can be purchased here. The show runs until May 13 at the Alliance Theatre in Atlanta. Watson himself plays a weekly Monday night gig at Smiths Olde Bar in Atlanta with other members of the 'Ghost Brothers' cast.
Watch a trailer for the show:
Related
Popular in the Community