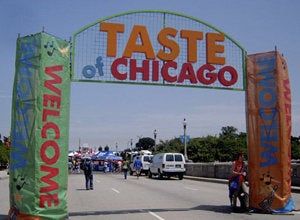 It's no secret that Chicago's mayor is a fan of privatization. In recent years, the Daley administration has cut lucrative (if mismanaged) deals to lease the city's parking meters and the Chicago Skyway to private contractors in exchange for lump-sums of cash up front.
In the past, Daley's also proposed privatizing the city's water system and Midway Airport, among other services.
But with the city facing a massive budget deficit -- and the windfalls from the Skyway and meters deals all but gone -- Daley suggested yesterday that a much wider array of city functions might be up on the auction block soon.
According to the Chicago Tribune, the city's lakefront festivals, including the massive Taste of Chicago, could be put out for bid. Private companies, not city employees, would operate the festivals.
Also on the table, according to Daley, is the city's blue-bin recycling program. Because of financial hard times, the program has stalled out, currently only reaching 29 of the city's 50 wards and leaving millions of Chicagoans without city recycling.
The city's pound and the repairs of its automotive fleet could be privatized as well, in an effort to generate immediate revenue for the city.
But some critics expressed skepticism that the deal would address Chicago's budget problems, the Tribune reports:
Daley provided no details on how much money the privatization efforts could fetch or how many city workers could lose their jobs. And observers noted all of the ideas Daley floated won't balance the budget. They wondered what else the mayor might put in play before presents his financial plan to the City Council in mid-October.

"The mayor is giving away too much, and yet these proposals won't begin to address the shortfall we're looking at," said Ald. Robert Fioretti, 2nd.

NBC Chicago points out just how serious the city's shortfall is. Fitch Ratings downgraded the city's bond rating earlier this month, thanks to its declining tax revenue, use of reserve funds and underfunding of pension obligations. A lower bond rating will make it harder, and more costly, for the city to borrow money.
If the city can't borrow to meet its obligations, it is left with two choices: cut the budget by firing city employees and trimming services, or find new sources of revenue. With a mayoral election looming in February 2011, Daley may see privatization as a more palatable alternative to cuts or tax hikes.
Calling all HuffPost superfans!
Sign up for membership to become a founding member and help shape HuffPost's next chapter