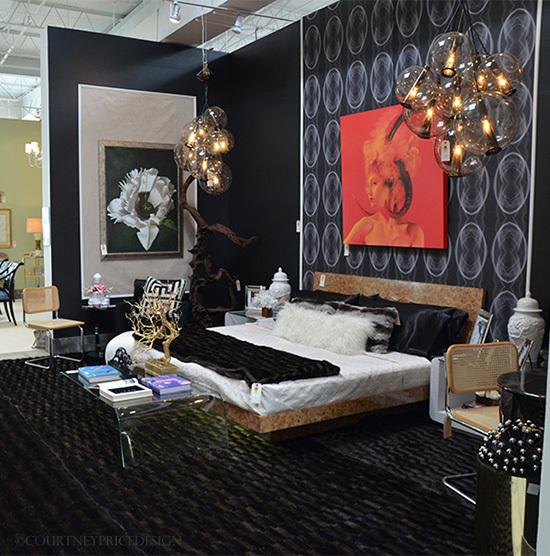 Last night, Dwell With Dignity's VIP kick off event in Dallas marked the start of the 2014 Thrift Studio. Founders, Lisa Robison an Kim Turner have created a high spirited interior design-related way for many to contribute creatively to families who struggle with homelessness and poverty. What they have created is inspiring and worth a deeper view.
What is Dwell With Dignity?
Dwell with Dignity (DWD) is a Dallas based non-profit group, run by Kim Turner and Lisa Robison, comprised of Interior Designers and volunteers dedicated to creating soothing, inspiring homes for families struggling with homelessness and poverty. One household at a time. They provide and install home interiors for families that include furnishings and art, bedding and kitchen supplies, and food in the pantry.
If we can change a person's surroundings, we can change their outlook on life. Exposing children (especially) to a nurturing home environment, that includes good design and art, can inspire a standard of living that will carry-over to future generations. Exposing parents to this same environment will allow them to see the positive impact it has on their family; inspiring them to maintain a standard of living they can be proud of and thrive in.
Thrift Studio is a hotly anticipated annual event. April 11-May 10
Stylish designers pair with design showrooms to dedicate their resources, product, inspiration, design brilliance and untold hours to executing their gorgeous Thrift Studio vignettes at Dallas' International on Turtle Creek Design Center. Every last thing in these vignettes is for sale at eye-popping bargain prices, and trust me when I tell you that things sell out within minutes of the event start time. Here's the cool thing, as items sell, more inventory appears from the DWD warehouse, so the Thrift Studio is actually a month long, rolling sale full of design deals. The design finds are unreal. Proceeds all go to Dwell With Dignity, into the cycle of helping others.
The participating designers and showrooms should be celebrated... the gift they give is significant.
Artwork informs the language of nearly every vignette we create at Mecox Dallas, and our Thrift Studio vignette was no exception. Carly Allen-Martin's "Lucky Now" provided a sprightly palette and happy energy that each finish, fabric, and final touch worked with to accomplish a feel-good effect. We believe that all living spaces, even a drawing room full of classical elements and rather serious, period styles, should make all who enter feel good about themselves, others, and life in general. It was Dwell With Dignity, and our growing relationship with them, that has shaped this belief. Through their intensely inspiring dedication to providing happy homes for underprivileged families, they have revealed to us a new meaning of "good design": Good design evolves out of hard work, out of dedication to a higher level of living, out of blood, sweat, and tears, and passion. Lots of passion. Good design should inspire the better qualities within you, as it should equally inspire the better qualities in those around you, and it should nurture love and happiness, family life and friendship. Dwell With Dignity has illuminated for us this new way of thinking about design, and we are so grateful to them for that. It has been a sincere privilege to participate in their Spring 2014 Thrift Studio, and we cannot wait for the next opportunity to join them in helping families escape poverty and homelessness through design.
Tompkins Lloyd was so honored to be selected along with such an amazing group of talent to represent Dwell With Dignity's Thrift Studio this spring. Our inspiration was Bianca Jagger's bedroom. Dwell With Dignity is a wonderful group that assists in furnishing underprivileged families decorate their houses and transform them into very special homes for their occupants.
This sort of generous spirit should happen in all cities, benefiting many interiors and increasing awareness about ways to give back. Kim and Lisa of Dwell With Dignity have created an energized design movement that makes giving back fun and enlightening for many. If you are in or near the Dallas area, stop by for an interior design bargain treasure hunt, through May 10.
Related