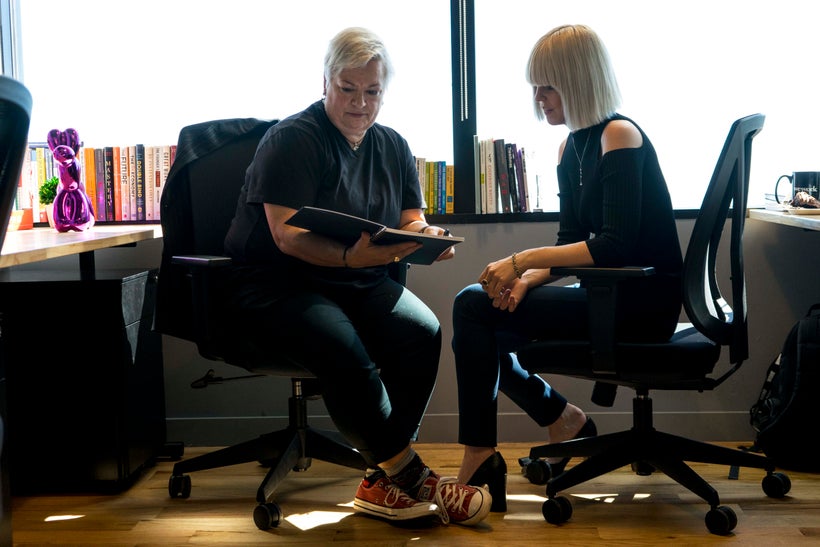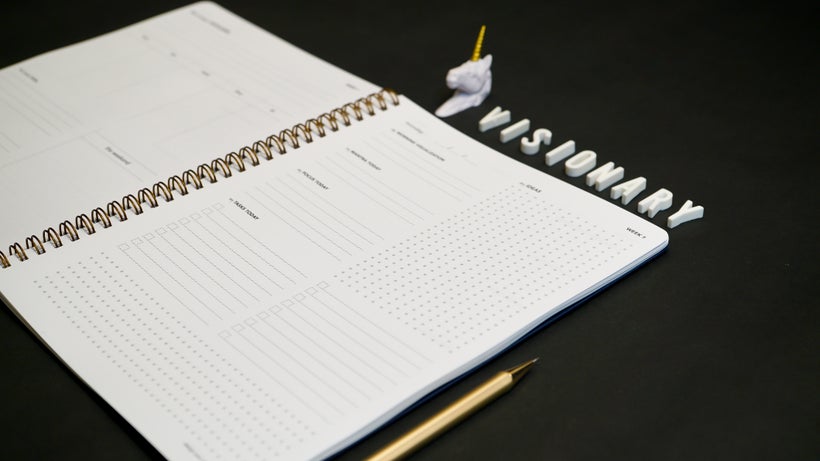 I have two silver tumblers on my desk, one for fine tip pens and the other for magic markers, thin, pointed and representative of all colors known to man. I purchase them in sets, the kind with three shades of orange (peach, melon, tangerine), four of green (from olive to emerald) and even hues like flesh and ochre. I am not an artist. Not a graphic or textile designer, pre-school teacher or architect. I am a person who needs to write things down. And cross them off. A person who swells with exuberance when the list is completed and the rainbow formed, a glorious expression of stripes and swerves, squiggles and waves.
I am not alone. Despite the devotion to computers and phones, and the calendars and memos and reminders embedded within their ethers, a lot of people, even young tech-y ones, feel the physical, mental and creative need to plan their days, weeks and lives by hand. Yes, by hand! You cannot really buy a curly-cord phone anymore, or an electric typewriter. But if you go to an office supply store, you can find--though limited in variety--an aisle of planners, appointment and date books.
The physical act of writing has well-documented mental benefits (it stimulates the Reticular Activating System in our brains), including increased memory and understanding, as well as the ability to synthesize ideas. Also, using the hand and seeing a landscape of thoughts, not just one item on a list, can generate big picture cognitive activity rather than check-off-the-task automation. When these concepts are applied to the planning of thinking--as in creating a visual log of what you intend to do, see, figure out--all sorts of brainpower can be unleashed.
Enter ZerCareer, a new company that produces planners that are tailored to the work lives of people in specific industries or types of pursuits, with a mission to foster meaningful contribution. Its first product is The Everyday Visionary, made for young female professionals in creative professions, including marketing, advertising, social media.
"We are saying, 'Design your career. Design your state of mind. Visualize your success each day, and create a plan for getting there,'" says Elizabeth Fischer, 29, a Dallas-based entrepreneur and former marketing executive who started the company with business partner Lisa Umbarger in March. Fischer used to design her own planners in college because she couldn't find any to buy "that were structured the way life happens." By the end of four years, she had created 30.
"I even designed one for my brother that didn't just say 'Do your homework assignment,' but asked, 'Where did you put it?'"
ZerCareer (https://zercareer.com/), which has hit its initial Kickstarter goal and is 100 percent funded, has plans to produce planners and other desk accessories for entrepreneurs (The Everyday Rainmaker) and for freelancers (The Everyday Hustler), among others. Included in the design are spaces titled "This Week's Outlook," "Morning Visualization," "Focus Today" and "Lessons Learned." Most important is the philosophy behind the practice. "It's not about the planner, but about the person," says Fischer. For ZerCareer, the person is a female professional who who is engaged and empowered, on her way to making a difference in the world around her.
"This person cares. She takes notes in a meeting, she is writing down what I'm saying, not on a phone, looking distracted or disrespectful," says Fischer.
The company also sees its tool as a way to record history, both personal and work-related. A book that can be touched and held can also be saved. It doesn't vaporize when deleted from an electronic device. "As a company that stands for inclusion and equality in the workplace, in terms of merit-based advancement and pay," says Fisher, "we've designed the planner for someone who can ultimately take her record to her boss and say, 'Look at what I've accomplished.'"
The products, which are manufactured in Dallas, are available online.
Calling all HuffPost superfans!
Sign up for membership to become a founding member and help shape HuffPost's next chapter
This post was published on the now-closed HuffPost Contributor platform. Contributors control their own work and posted freely to our site. If you need to flag this entry as abusive,
send us an email
.