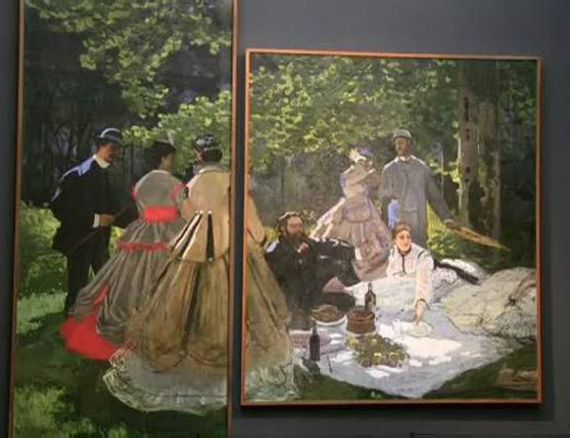 One could possibly think that the Dallas-Fort Worth appellation is just an indication of a big twin megapolis, when in fact, as I discovered Sunday, it's two very distinct cities, not even remotely touching, with a Grand Prairie in-between - grande prairie means large field in French.
So it took me an hour to drive from Dallas to Fort Worth Arts District to reach the Kimbell Museum.

Needless to say, I was starving when I reached the museum. True fact is that I always eat first at art exhibits, firstly because I am always starving, and secondly because museums have the best cafés and shops.
The Kimbell has a unique flat rate fee for plates of three sizes - small, medium, and large. The menu is the same for all. But you pay by the size of your plate. Some people have mastered the art of piling up tons of food in a precarious balance on their plate. I saw some lunchers with a small plate who had more food than me on my medium one.
But I digress. Claude Monet is one of these great French painters that everyone knows. They may not know his name but will recognize his art. He is a familiar painter with a subdued and sweet domestic life that accompanied his paintings all his life. His paintings of Venice, London, and Paris are vital witnesses to the cities' daily landscapes.
Organized in collaboration with the Fine Arts Museums of San Francisco, thanks to loans from 10 countries, and a handful of private collectors, the show offers a unique view of the early years of the master, starting when he was 17 years old and painted the "View at Rouelles" where he lived.
All the paintings presented at the Kimbell are from Monet's early years and have seldom been seen in museums. The precious exhibit is a must-see for lovers of impressionists' work.
My favorite Monet piece is the whimsical lunch on the grass, for its romantic setting, the fashion so beautifully described, and the funky story of its missing part. You will only see two pieces of this large painting at the Kimbell, as this is the only remaining parts of the massive representation of a lunch in the woods. Monet explained how the painting got cut up and subsequently gone shorter:
"I had to pay my rent, I gave it to the landlord as security and he rolled it up and put in the cellar. When I finally had enough money to get it back, as you can see, it had gone moldy."

When his landlord finally gave it back, Monet cut it up and kept only three pieces - but the third part has now disappeared.
The auction house Christie in New York just sold last week the piece "Grain stack" for a hefty $81.4 million, when the hope was to sell it for half of that. I won't tell you who bought it, because it's a secret - the 1891 canvas was won by an anonymous collector bidding over the telephone.
The wheat stack sold is not at the Kimbell, but a couple of the series of about 20 stacks canvases are on view - better hurry to see them before they sell for millions and vanish into some lucky private living room!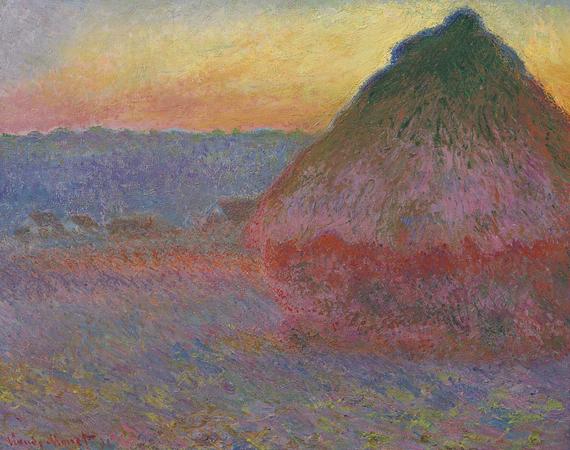 Another Monet had already set a record for the painter; his "Water Lily Pond" was sold for $80.4 million in 2008. The 19-part elliptical painting of the "Nymphéas" is another familiar sight for many. A special studio was built for the size of his project, and he devoted the rest of his life to the large masterpiece.
We are treading far away from cutting up paintings to pay the rent! If only Monet could see the frenzy of collectors around his art today.
Claude Monet was a great impressionist master - good at drawing, and even better at rendition of material such as clouds, water, and snow. Friends with Renoir, his flowers show the influence the other master had on him.
" Qu'y a-t-il à dire de moi ? Que peut-il y avoir à dire, je vous le demande, d'un homme que rien au monde n'intéresse que sa peinture - et aussi son jardin et ses fleurs ?"
(What is there to say about me? What can possibly be said, I am asking you, about a man that nothing in the world interests except his painting - and also his garden, and his flowers?)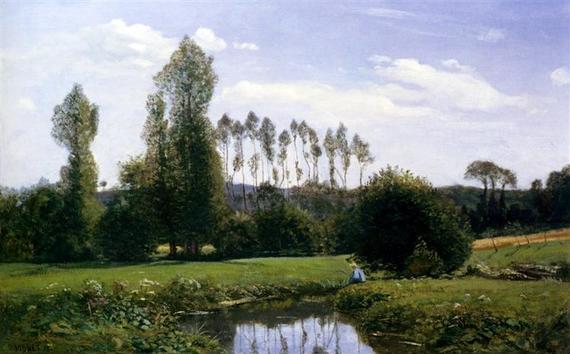 More info:
Monet: the early years.
Kimbell Art Museum
3333 Camp Bowie Blvd. Fort Worth, Texas 76107.
817-332-8451.
Trough January 29, 2017. Tickets are $7 to $18. The museum is closed on Mondays, Thanksgiving Day, Christmas Day, and New Year's Day.
Note: The Kimbell Museum's pavilion hosting the Monet exhibit was designed by star architect Renzo Piano and opened in 2013 - but that's another story.

Questions / Comments: sidoniesawyer@gmail.com.
Visit my website to read more of my stories.
Calling all HuffPost superfans!
Sign up for membership to become a founding member and help shape HuffPost's next chapter