A Dallas man's powerful images showing a police officer protecting him from deadly gunfire at the Black Lives Matter protest on Thursday are going viral.
"That guy was calm, controlled, very professional," Moore told The Huffington Post on Saturday. "To be in the presence of someone with such command lends an air of assuredness to the people around that things are going to be OK."
Moore says he was photographing the march, which began close to his downtown apartment, when the firing began. "I turned, saw one officer hit and fall, then the gunfire really opened up," he said.
He ended up crouching next to a car, alongside three officers, for almost two hours. He was stranded in front of the official police perimeter and unable to move because officers believed the shooter was located inside a nearby garage.
Moore couldn't contact his partner, friends or family because he'd left his cell phone at his apartment to charge. "That was the worst, I couldn't let anyone know," he told HuffPost.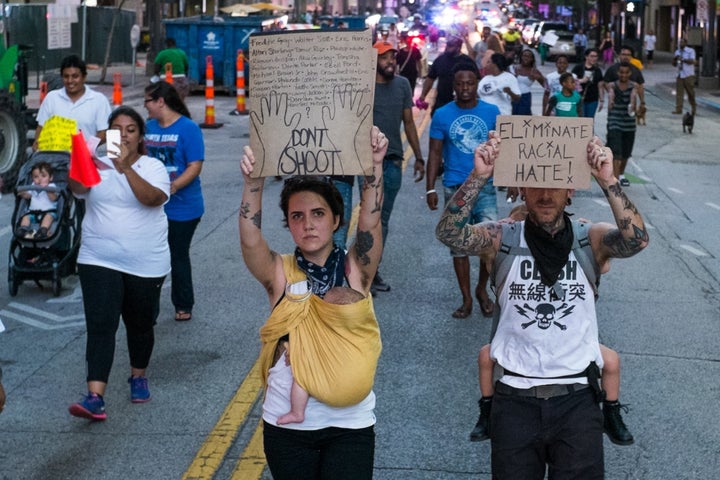 Moore said the experience was "surreal," but it suddenly became "very real" when he saw the officer down. "You're breathing heavy, your mind is racing," he said. "You're looking all around your environment, making sure you know where you are, what's happening."
When it came to eventually leaving the area during a break in the gunfire, Moore said the officer he photographed stood up to create a human shield. He got behind and they walked "as hastily as possible" back to the main police line.
Since posting the photographs to Facebook and Instagram on Friday, Moore said multiple people have come forward to him with the police officer's identity. He declined to name him, but said he did want to thank him in person.
Popular in the Community