A Dallas photographer says that a quick-thinking police officer saved his life amid the deadly gunfire at the Black Lives Matter protest on Thursday.
Lynn Mays, 46, told The Huffington Post about the terrifying sequence of events and the heroic actions of an unidentified cop who pushed him out of harm's way.
"It was the most terrifying feeling I have ever had in my life. Ever," Mays said on Friday. "I'm almost 50 years old and I've been through a lot. But never have I had bullets fly past my head so close you could hear it zipping past your ear."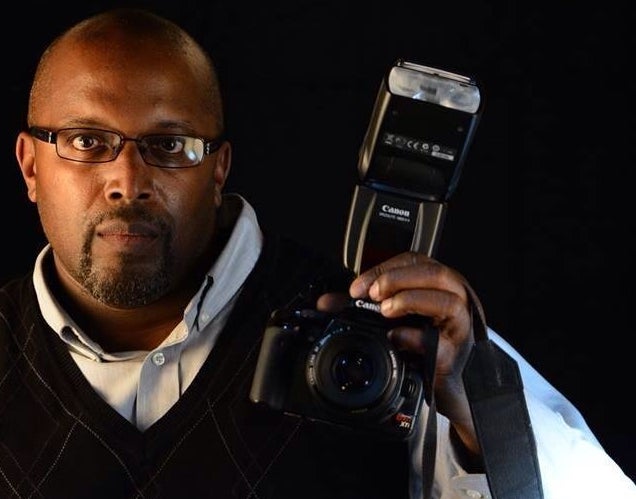 Mays said he was taking "antique-style" black and white photographs inspired by images of 1960s demonstrations when he first heard the shots ringing out.
"I turned to run and a police officer pushed me out of the way and said, 'Get out the way, get out the way, take cover.'" The next thing Mays heard was the same cop shouting "Officer down!" after a colleague was hit.
"So I started screaming 'Officer down, officer down!' and it led to other officers on the other side of the wall trying to see where the gunfire was," Mays said. "They went around the corner to their comrade, and that was when multiple gunshots rang out between the police officer and the shooter."
"That's when the war began," he told Dallas News reporter Caleb Downs in a video interview posted to Twitter that's now going viral.
Panicking, Mays ― who has a 4-year-old daughter and a 19-year-old son ― told HuffPost he didn't know what to do. "I'm thinking about my little one, what's gonna happen if I get shot? I was just thinking, any minute I'm gonna feel it. Any minute I'm gonna feel it. I'm gonna be hit at any minute."
He eventually managed to run around the corner to safety, but with downtown Dallas evacuated, he was forced to remain in the vicinity until 5 a.m., when his girlfriend came to pick him up.
The status of the officer who was downed near Mays is not clear. But Mays said he was indebted to both him and the officer who pushed him out of the way.
"If I can find out who that police officer is, I would tell him thank you from the bottom of my heart," Mays told HuffPost.
"I wish I also knew the officer that got shot because if it hadn't been for the other police officer, it could have been all of us. It could have been me lying right beside that man."
READ MORE ON THE DALLAS POLICE MASSACRE
Popular in the Community