"A people without the knowledge of their past history, origin and culture is like a tree without roots."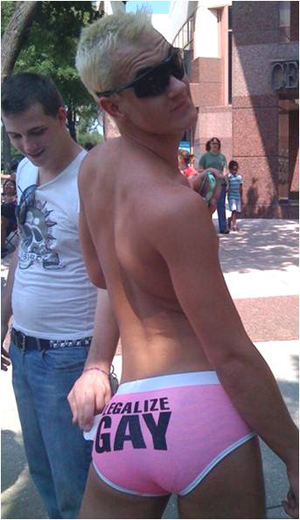 The Alan Ross Texas Freedom Parade and Festival, aka Dallas Pride, is an important LGBT pride event each
year, but outrage over stricter dress code enforcement for participants has reached a fever
pitch and threatens to dampen the event's ever-growing celebration of LGBT
culture. As a result, the parade organizers are now backpedaling on harsh statements made by
Dallas police in earlier reports.
"I've seen some crazy headlines that are not true," Michael Doughman, executive director of the Tavern Guild, which puts on the parade, told the Dallas Voice. "There is not any issue with underwear. I don't know where this thing about anybody in underwear will be arrested came from, but we've never said that. The police have never said that. The extreme is what we were talking about -- the water-soaked, see-through white underwear with an erection is what we're talking about."
Some LGBT rights activists are angry that the Dallas Pride parade enforced dress rules at
Sunday's parade. Local gay rights activist Daniel Cates took to Facebook to allege that
organizers want everyone remove the "queer" from Dallas Pride to make the parade more "family friendly."
Jeremy Liebbe, a gay detective sergeant at Dallas Independent School District (DISD)
who coordinated with parade organizers to oversee 95 officers from the Dallas Police
Department and DISD to provide security for the parade, said any floats in violation of
indecency standards would be warned in the lineup prior to the parade.
"If there's an [exposed] erection and a child is present that could see it, it is a felony, and we don't want to see that happen," Liebbe told the Dallas Voice. "My goal at all of these events is to have zero enforcement action taken. But there are some people over the years who've tried to push that line to see just how far we could go."
Officer Liebbe is technically correct. Texas Penal Code Sec. 43.23, under "Obscenity," reads:
A person commits an offense if, knowing its content and character, he:

promotes or possesses with intent to promote any obscene material or obscene device; or
produces, presents, or directs an obscene performance or participates in aportion thereof that is obscene or that contributes to its obscenity.
Violation of this code is a class-A misdemeanor. However, the offender can be subject to felony
in the third degree if acts were viewed by a minor under the age of 18. If convicted of a felony
charge for engaging in "obscene" behavior in front of a minor, the offender would become a
Recently, several Texas cities have redefined "nudity" and put stricter guidelines in place for
local businesses. The Fort Worth City Council and the Lewisville City Council both voted unanimously to redefine "nudity" after the "Anything But Clothes" night at Redneck Heaven, a Lewisville bar, required waitresses to wear body paint and nipple pasties instead of bikini tops. These
changes to local ordinances were intended to both reduce displays of local obscenity and protect workers, but the ordinances (and the enforcement of these ordinances) are now being
applied in ways that have further-reaching implications, and LGBT activists have a wide
diversity of views on the subject.
Opposing nudity at pride events, gay activist and blogger John Aravosis wrote:
I've never understood the need to get naked (literally, or virtually) during Pride parades. DC's parade this year had one float with a quite well-hung young man sporting some quite loose underwear, or a thong, and jumping up and down so his d*ck would flop 180 degrees up and down for the audience. And while I would have loved the show in the privacy of my home, I found it inappropriate for a public parade, and I have a difficult time understand the connection between our fight for civil rights and that idiot on the float.
While not necessarily supporting nudity, but certainly supporting freedom of expression, Michael
Diviesti of GetEQUAL Texas took aim at any attempt to demonize the LGBT community:
Pride is a celebration of a day when many LGBTQ people stood up against a systemic

stifling of our freedom of expression. Every day, we are forced to self-edit, assimilate,

and hide our identities and expressions simply to survive. Pride celebrations should be a

safe place for us to express ourselves authentically.
Barely-there outfits are nothing new for LGBT pride celebrations. Since the inception of annual pride events,
they were culturally influenced by larger street celebrations like Mardi Gras
in New Orleans and Carnaval in Brazil. Similar to other prominent street celebrations of liberation,
pride events started as protests against oppression. Pride was created to oppose the shaming created to encourage society's social stigma around being LGBT. The events were also statements of opposition to violence by police in the raid of Stonewall Inn, a gay bar in New York City. The Stonewall riots that erupted in response to that raid sparked the beginning of the American LGBT rights movement
and is why LGBT pride parades gained prominance throughout the world. Revered bisexual
activist Brenda Howard is known as the "Mother of Pride" for her work coordinating the
original march. Howard also originated the idea of a week-long series of events around the anniversary of the Stonewall raid,
which became the genesis of the annual LGBT pride celebrations that are now held around the
I believe that nudity and indulging in self-celebration at pride events is similar to traditions
embraced by other Carnaval-type celebrations, which mark an overturning of the oppression of daily
life. These events provide an opportunity to celebrate the beauty of who you have become as a
result of releasing the negativity of America's heteronormative, sin-labeling culture.
It's for this reason that the Tavern Guild's reinforcement of old dress code rules is perceived by some in the LGBT
community as an attempt to reestablish the demonizing "pedophile projection" created by some
religious leaders to promote anti-gay sentiments.
The real shame here doesn't rest with parade participants but with parade organizers, Dallas
police, and city leadership. Once again, Dallas Mayor Mike Rawlings abandoned the LGBT
community when his presence would have assisted in bridging the divide between the LGBT community and the broader community. Dallas Pride is 25 years strong and has always been family-friendly, and to
suggest anything otherwise is an attempt to deconstruct the event's founding principles.
controversy. The Tavern Guild's Doughman was the person who announced enforcement changes around the dress code, and the Tavern Guild is also a major advertiser in the pages of the Dallas Voice.
Parade organizers allegedly blamed Wright for the dress code story garnering national attention.
In a statement to the Dallas Observer, Wright disputes the idea that he was terminated for any
other reason. Wright says that insubordination was not the reason, calling allegations of
insubordination "just so fucking false it's not even funny. It's ludicrous." The Tavern Guild and
parade organizers could not be reached for comment.
For me, this is an example of the abuse of power by the 1 percent in the LGBT community, who are using their
influence to bend the truth, promote their own agenda and, thanks to the lack of civil protections
for LGB workers, secure the firing of employees who disagree with them at will, with no legal
consequences. It's time for the LGBT community as a whole to address the oppression that
exists within our community and take action against companies that stomp all
over LGBT workers' rights, like Walmart or Exxon Mobile. We must continue to take action around
racism, sexism, and transphobia so that equality is not just for the top 1 percent of the LGBT
community but for the entire community. And we need to make sure that our votes count in the next
election cycle, so that we can pressure our civil leaders to pass the federal Employment Non-Discrimination Act (ENDA) and begin the steps to ensure full
federal equality for the entire LGBT community!
So here's my request of Dallas Pride parade organizers, city leaders, and Dallas police: Stop
obsessing about gay erections so that we can get on with the business of celebrating our
rainbow-colored history and getting equal!