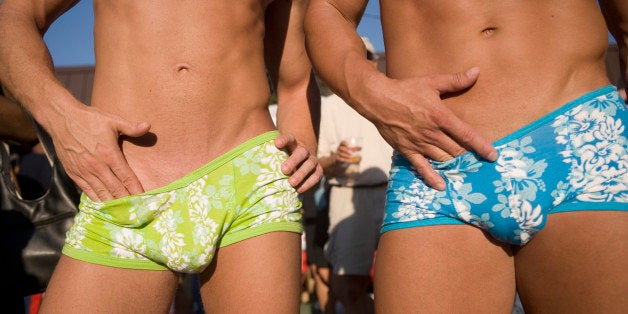 Texas LGBT activists are up in arms over an attempt to implement and enforce a dress code during this year's Alan Ross Texas Freedom Parade, more commonly known as Dallas Pride, which takes place on September 15.
The news initially broke on Monday when Daniel Cates, an activist formerly associated with GetEQUAL TX, posted this cutting critique of the "new rules" on his personal Facebook: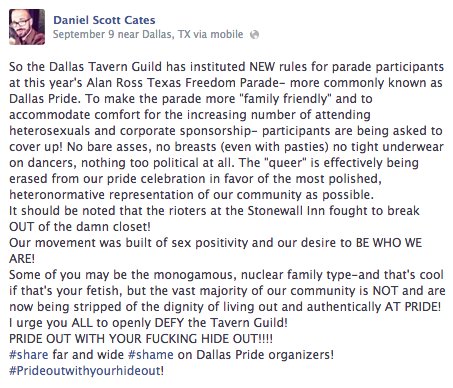 Michael Doughman, executive director of the Dallas Tavern Guild, which sponsors the parade, reportedly stated that the uproar surrounding the Pride celebration dress code was "much ado about nothing," claiming that the dress code warning came from law enforcement. According to the Dallas Voice, a co-commander of security for the Pride parade and festival warned that those violating indecency statutes during the celebration in front of children can be charged with felonies.
Local law enforcement claims that they are merely attempting to enforce long-standing lewdness and public indecency laws. "It's just a matter of discretion," said Doughman. "You certainly can still express yourself, but unfortunately if your way of expressing yourself is to be naked or to be aroused in public, then it's inappropriate, and I think most of the community agrees with that."
Additionally, following an anti-gay rant by a homophobic city council member, Wausau, Wisconsin's first gay Pride celebration was cancelled in June citing "concerns about anti-gay sentiment." In a unified display of community following the cancellation, a smaller LGBT event took place drawing about 300 supporters for a March for Equality.
The openly gay Dallas Police Department liaison to the LGBT community reportedly stated that decency standards will be regulated as participants in the parade do a preliminary line-up. Groups and individuals failing to comply with the set of standards for appropriate dress and behavior before reaching the parade route risk facing charges.
Calling all HuffPost superfans!
Sign up for membership to become a founding member and help shape HuffPost's next chapter
BEFORE YOU GO
PHOTO GALLERY
21 Facts About LGBT Pride You Probably Didn't Know