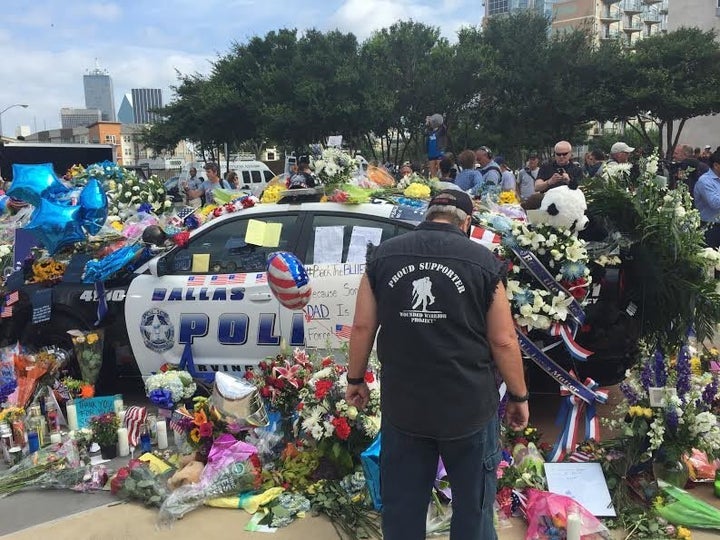 DALLAS, T.X. ― Everywhere you turn, you can see the divide.
An invisible yet very real wall separates those who support the Black Lives Matter movement and those who support police. Parts of the county feel embroiled in conflict ― people are killing one another, after all.
In the past week, police officers have killed black men on video; tense protests have swept the nation and officers have been gunned down on American streets.
But in Dallas, where the latest tragedy happened, that invisible wall ― the one that forces people into declaring themselves pro-BLM or pro-police, has been partially torn down. Vigils have replaced protests. Officers and civilians embraced one another and love has ― generally ― conquered anger and fear.
Keeping those sentiments alive and helping them spread beyond a city struck by tragedy will be the hard part.
"What are we going to do when the reporters leave and the attention fades?" Michael Walton, the president of the Dallas Fraternal Order of Police ― a chapter of the country's largest police union ― said on Saturday.
"This thing that happened with the 12 officers is such a traumatic event, not just for police but for citizens, too, because it shocks the conscience, of everything that we believe is right."
"We have to communicate," he told The Huffington Post. "If we don't communicate we're not going to do any better."
He stood outside the Dallas Police Department building downtown alongside officers and mourners, in front of a police car covered in flowers, notes from the community and stuffed animals.
One of those officers was dressed as the Hulk.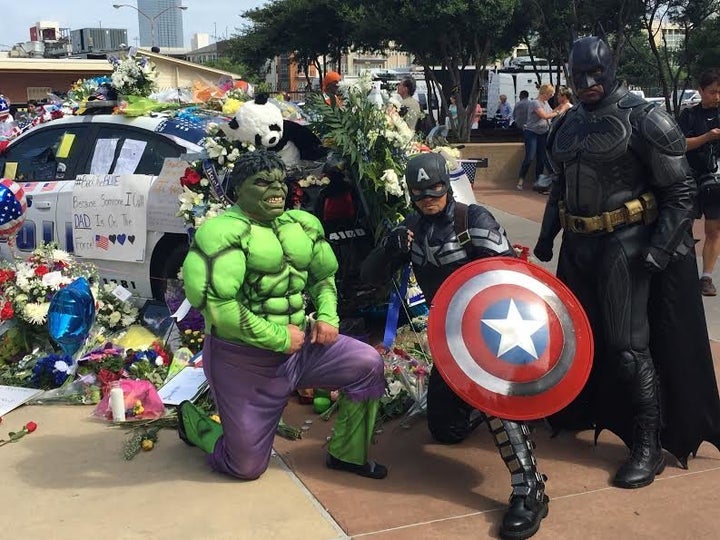 He and local police have been working for decades to foster a better relationship with the community.
"We try to solve bigger problems than day-to-day ― we get the community involved, we get out there as police and ask, 'What are you concerned about? What are your issues and what can we do to address those concerns?'"
"The vast majority of people out here are good people," Trevino said. "We're all out here to do the right thing. We have to band together. The biggest issue for me is to make sure we communicate and have facts before we decide who's right and wrong in any of these situations."
Sympathy for police is real here ― but so is frustration.
On Friday night, an MC at a DJ set near downtown Dallas wore a shirt that read, "Police Murder People." Below her offstage, locals danced and cheered as she shouted, "Dallas is strong! Dallas is united! We will get through this!"
One woman in the audience said she's been mourning every tragedy ― and she's still pissed off.
"We will heal, but everyone has to do it together," said Kayla Washington, 24. "This happens too often, and we always cry, and we're always angry. How much longer do we have to do this before we realize we're in it together? I cried on 9/11; did officers cry when Eric Garner and Michael Brown died? We need to cry together, and then do something together."
Despite plentiful fringe assertions that the Black Lives Matter movement invited the shooting in Dallas, nobody wanted this. The movement's co-founder Alicia Garza told Chris Hayes on Friday:
Black Lives Matter has never, ever called for the murder of police officers. What we have said over and over again is that it is time in this country for policing to be accountable, transparent and responsible. That's not rhetoric. That is what communities in the United States want to see from the people who protect and serve them.
Reggie Holt, a black retired Marine and former police officer, said de-escalation tactics need to improve among police forces.
"Cops are just as scared of the civilians they stop all the time," Holt said. "But that does not give them the right to treat people differently based on sex, race, creed or gender."
Holt came to the vigil for police because he's one of them. His heart goes out to those officers, he said. It also goes out to the black men and women unjustly killed by police.
"It seems you're either pro-police or pro-BLM," Holt said. "Can't we just be both?"
Holt said that, as an older black man, he feels police treat him with more respect. Young men, not so much.
"I tell young black men this all the time ― you get stopped by the cops, put your hands on the steering wheel, say 'yes sir' and if he gives you a ticket, take the ticket and deal with it later," he said. "That way that cop respects you. But not all cops respect you when you get stopped."
It's a common piece of advice black men hear ― but it's no guarantee. Philando Castile wasn't respected when he was shot dead after appearing to cooperate with the policeman who pulled him over.
Holt said that reliance on force needs to change.
"I know it's dangerous as hell out here, man, but not all the answers are at the end of a nine millimeter."
Popular in the Community