The gunman who shot and killed five police officers and injured nine other people in Dallas used his own blood to write cryptic messages inside the building where he died, police said.
In an interview on CNN's "State of the Union" Sunday morning, Dallas Police Chief David Brown said the sniper, 25-year-old Micah Xavier Johnson, left the messages throughout the building where officers killed him after a Black Lives Matter protest Thursday evening.
"We are trying to decipher [the messages], but he wrote the letters 'RB,'" Brown said. "[W]e're trying to figure out through looking at things in his home what those initials mean, but we haven't determined that yet."
Police believe the blood indicates Johnson was wounded on his way up the stairwell of the building, where officers tried negotiating with him for several hours before exchanging gunfire and eventually detonating a C4 plastic explosive strapped to a robot bomb-detector. The explosion killed Johnson.
Johnson, an Army veteran with no criminal history, also left incoherent messages in a journal found in his home, Brown said.
"I think that this killer had some delusions," he said. "There was quite a bit of rambling in the journal that's hard to decipher."
Officers also found bomb-making materials, ammunition, rifles and ballistic vests in his home, Brown said.
Johnson had no apparent ties to the Black Lives Matter movement, which calls for rooting out systemic, anti-black racism.
The chief added that police investigating the shooting believe Johnson was planning these attacks before officers killed Philando Castile ― a 32-year-old black man in St. Paul, Minnesota ― and Alton Sterling ― a 37-year-old black man in Baton Rouge, Louisiana ― earlier last week.
Support HuffPost
The Stakes Have Never Been Higher
Related
Before You Go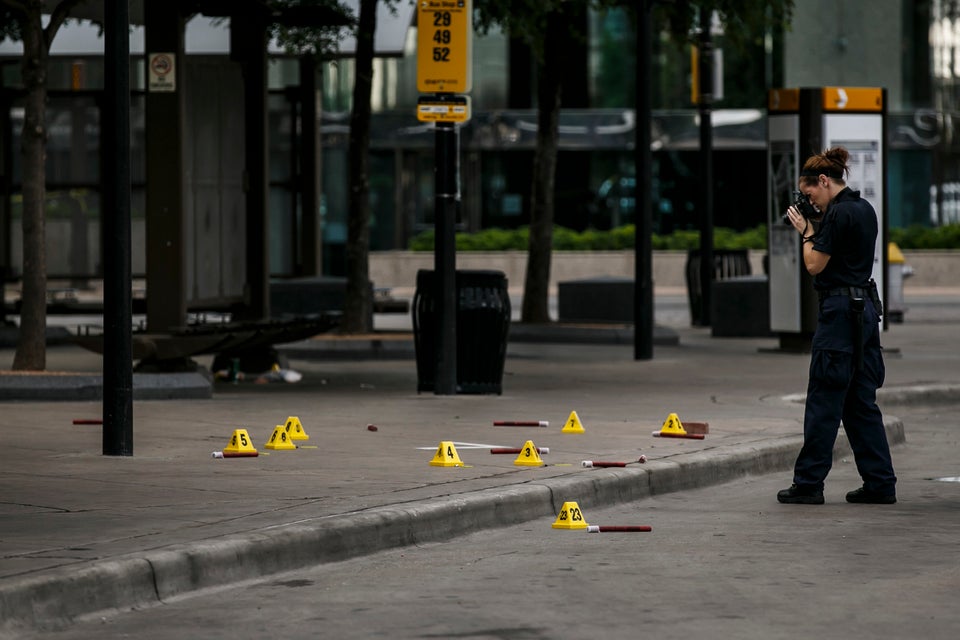 5 Officers Killed By Sniper Attack During Dallas Protest
Popular in the Community