 Big D. An odd place for a national Move-On sponsored "Oil-Free President" action? Spend any length of time in the north Texas metropolis of Dallas, you'll realize the value system here can be summed up by the Three F's: football, fashion and finance (playing it, wearing it and using it to get rich). In addition, it appears that Dallas is the future home of the current resident of Washington DC's White House, our war criminal-in-chief, as well as the presumptive august repository of the Bush "Liberry", adjacent to Dallas' Southern Methodist University's campus, widespread professorial protest notwithstanding. True, Dallas' voting record seems to be acquiring a bluer hue, thanks to the influx of out of state progressives. Occasional anti-war actions occur on the steps of Dallas' City Hall downtown (hardly ever during regular business hours when they might interrupt more "honorable pursuits" or confront or inspire SUV-driving passersby). Dallas, with its affection for chrome-encrusted, gas guzzling mega-machines, hardly seems like fertile soil for passionate protest of the on-going, dismal oil crisis status quo, or for visible support of presidential hopeful Barrack Obama.
So, when I received an e-mail informing me of a Move-On sponsored "Oil-Free President" action scheduled for Dallas' rush hour at the corner of Greenville Avenue and Lovers Lane on July 9, I scrawled it on my calendar in red felt-tip pen. This major intersection bisects the route of a former meandering two lane highway, in full view of Central Expressway, the main multi-lane concrete artery rushing drivers at 70+ mph into the heart of the city, twenty four hours a day, seven days a week. Garish consumerist opportunities beckon from every corner (strip malls, chain stores, high end specialty groceries, bars and restaurants), The sun beats down on the expansive concrete parking lots bordering the streets with relentless glare and heat. How many protesters would actually show up there in the intense heat and humidity, and why? How would "Dallasites" driving by, en route to their usual destinations, respond? This location is so mindlessly status quo....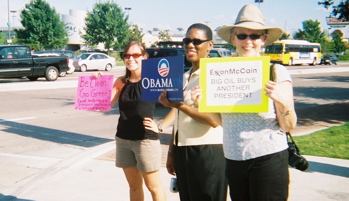 Fifteen or so hearty, committed souls, mostly women, led by cheery youthful organizer Denise, converged on the intersection at 5:15pm and stationed themselves in congenial clusters on three of the four corners. They held up MoveOn approved signs, handed out the downloadable MoveOn flyers and waved at befuddled drivers whizzing by. The mood was festive and brows sweaty. Laughter and animated conversation flowed along with perspiration. I wandered from cluster to cluster and asked why they participated, what they hoped to accomplish. I wondered what they felt Obama had to offer in oil dependency relief that McCain did not.
One Dallas native, who shared she had voted for Clinton in the primary, brought her two small children, one a babe in arms. She said she came because she was passionate about environmental issues and policy change and wanted to show her kids "it's okay to act your passions." She wasn't too sure yet about Obama. Another participant, Robert, proudly sported an Obama for President shirt. He said he supported both Obama and the movement to reduce oil dependency. Inspired to protest by his wife, he said, "Obama will try to make a difference for all of us -- he's new and we need that." Brad, holding a MoveOn Oil-Free sign, got spat at by a passerby but wasn't deterred. "This is a good way to get the word out -- hopefully inspire more involvement and action. I'm not voting for McCain--he embraces Bush's disastrous policies." Christine, a former bilingual education teacher from the Rio Grande, had voted for Clinton during the primary as she liked her universal healthcare policy, but she now enthusiastically supported Obama. "If McCain is elected, the US will disintegrate even further in world standing." I asked a number of individuals why they feel "Dallasites" are so reluctant to show their political leanings in public, as in wearing political t-shirts or affixing slogan bumper stickers to their cars. Almost none of the hundreds of cars bustling past us displayed any sort of bumper sticker. The organizer Denise felt it's a fear-based group mentality that holds people back. Another woman concurred; "it's fear of reprisal and probably vanity. They don't want to mess up their pretty cars."
Cars whizzed by. Many smaller, older models honked, their drivers waved happily and shot the peace sign. Drivers of Hummers, new Lexus sedans and Expeditions and Escalades scowled, and some gave the one finger salute, yelled expletives. City bus drivers honked support, long and loud. Six o'clock came fast. In spite of the heat and their smallish number, the protesters were reluctant to stop. Organizer Denise grinned broadly while rounding up the troops for a few final words of thanks. "This shows people it's okay to act their concern about the fuel crisis. More will get inspired to join in, and that's what the Obama movement's all about."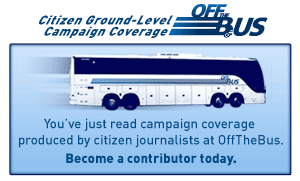 Popular in the Community