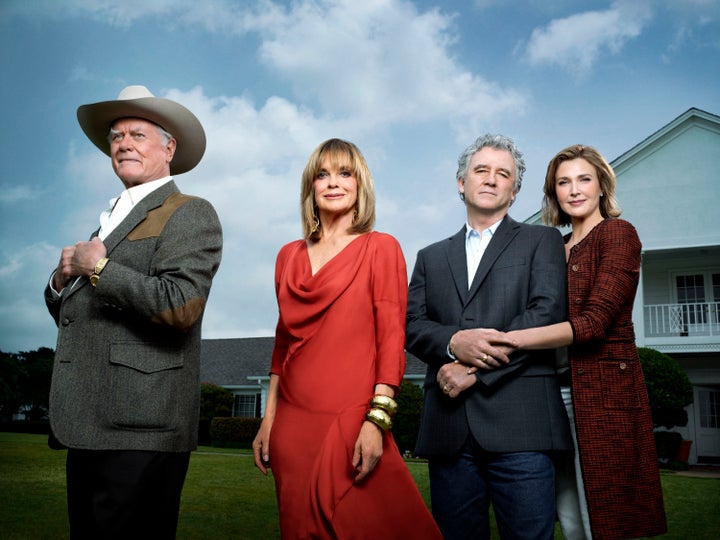 Get ready to head back to Southfork ranch: TNT's "Dallas" reboot has been scheduled for the summer! The continuation of the '80s soap starring Larry Hagman and Patrick Duffy bows on TNT Wed., June 13 at 9 p.m. ET. Season 1 of "Dallas" will have 10 episodes.
"The Closer" begins its final six episodes on Mon., July 9 at 9 p.m. ET. Its spinoff, "Major Crimes" starring "Battlestar Galactica's" Mary McDonnell, debuts after "The Closer" finale on Mon., Aug. 13, at 10 p.m. ET. It moves to its regular timeslot, Mondays at 9 p.m. ET, the following week. Season 1 of "Major Crimes" will consist of 10 episodes.
Other TNT summer premieres include "Leverage" Season 5 on Sun., July 15 at 8 p.m. ET; "Rizzoli & Isles" Season 3 on Tues., June 5 at 9 p.m. ET; "Franklin & Bash" Season 2 on Tues., June 5 at 10 p.m. ET; "Falling Skies" Season 2 on Sun., June 17 at 9 p.m. ET; new reality series "The Great Escape" Sun., June 24, at 10 p.m. ET; and Eric McCormack's new series "Perception" on Mon., July 9, at 10 p.m. ET.
More info on TNT's new shows below.

"Dallas"
This summer, Larry Hagman, Patrick Duffy and Linda Gray reprise their famous characters as J.R., Bobby and Sue Ellen Ewing return to Southfork with secrets, schemes and betrayals. This time, they're joined by the next generation of Ewings, played by Josh Henderson and Jesse Metcalfe, who take ambition and deception to a new level. "Dallas" also stars Jordana Brewster, Julie Gonzalo and Brenda Strong. Shot on location in the title city, "Dallas" comes to TNT from Warner Horizon Television, with premiere episode writer Cynthia Cidre and director Michael M. Robin serving as executive producers. It was developed by Cidre and created by David Jacobs.

"Major Crimes"
This all-new drama series is ready to take television's favorite squad of detectives into bold new territory. Two-time Oscar nominee Mary McDonnell will continue her role from "The Closer" as Los Angeles Police Captain Sharon Raydor. Major Crimes will focus on how the American justice system approaches the art of the deal as law-enforcement officers and prosecutors work together to score a conviction. Joining McDonnell are fellow "Closer" veterans G.W. Bailey, Tony Denison, Michael Paul Chan, Raymond Cruz and Phillip P. Keene, with guest appearances by Jon Tenney and Robert Gossett. New cast members include Graham Patrick Martin as a homeless juvenile and Kearran Giovanni as an ambitious undercover detective. Major Crimes is produced by The Shephard/Robin Company, in association with Warner Bros. Television, with "The Closer's" James Duff, Greer Shephard and Michael M. Robin serving as executive producers.

"Perception"
Drama fans are about to meet one of the most unique crime solvers on television when TNT premieres this fascinating new series about an eccentric neuroscience professor who is recruited by the FBI to help solve complex cases. Emmy and Screen Actors Guild Award winner Eric McCormack stars as Dr. Daniel Pierce, who possesses an intimate knowledge of human behavior and a masterful understanding of the way the mind works. Although Pierce's mind may be brilliant, it's also damaged as he suffers from paranoid schizophrenia. Perception also stars Rachael Leigh Cook, Arjay Smith and Kelly Rowan. Produced by ABC Studios, the series was created by executive producer Ken Biller and co-executive producer Mike Sussman, with McCormack serving as producer.

"The Great Escape"
This fast-paced, nail-biting competition series drops ordinary people into the middle of their own epic action/adventure movie. Each week, Rich Eisen (NFL Total Access) hosts as teams of competitors try to find their way out of seemingly impossible situations for a chance to take home a cash prize. The series, from Fox Television Studios, is executive-produced by the Oscar-winning team of Ron Howard and Brian Grazer, as well as the Emmy-winning producers of The Amazing Race, Bertram van Munster and Elise Doganieri. The series is created and executive produced by Justin W. Hochberg ("The Apprentice") and Charlie Ebersol ("The Wanted").
REAL LIFE. REAL NEWS. REAL VOICES.
Help us tell more of the stories that matter from voices that too often remain unheard.
BEFORE YOU GO