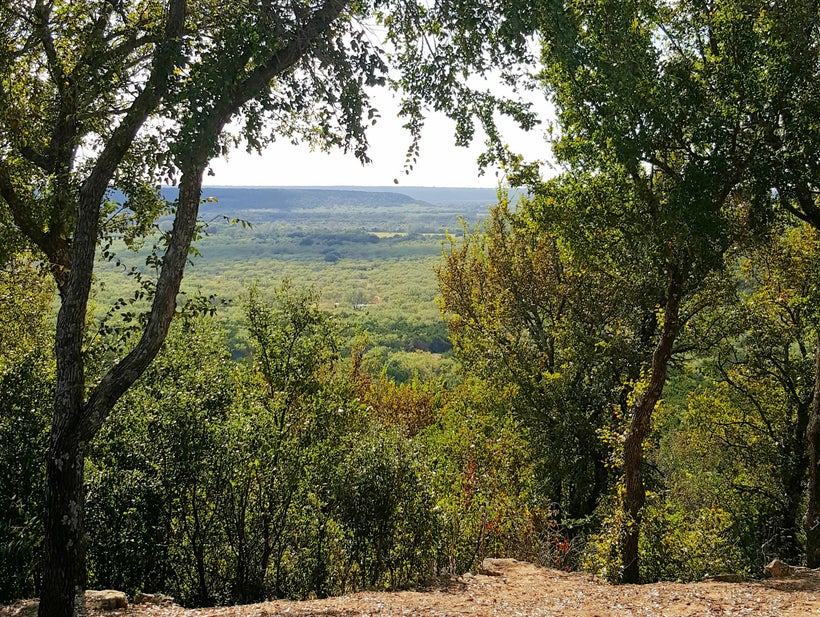 The open road holds an enduring allure and there is arguably no destination with more of said road than Texas. Or at least such is the feeling experienced by anyone who has ever dared engage in the daunting, yet revelatory adventure of driving across America's second largest state.
Defined by its reputation for cattle, cowboys, barbecue and doing everything in a "big" way, Texas lives up to its nickname, "the Lone Star State," in more than superficial terms if only because there is perhaps no other state quite like it. Larger than France and almost as singular in terms of celebrating its own identity, Texas is also simultaneously more and less than what most might expect. That is to say, while it is more over the top than imaginable in some ways, it is far less stereotypical in others.
Late last year, I set out to discover a bit more about the Lone Star State with my good friend and partner-in-crime, YouTube personality Davey Wavey. Together, we were intent on exploring and sampling some of the best (and most unique) aspects of Texan life. Starting in Dallas (the most iconic), continuing on to Houston (the most populous) and ending up in Austin (the coolest), the trek through the heart of Texas slowly and languidly unveiled the state's diverse personalities and identities – much to our surprise. At once cosmopolitan and country, Texas is a place where high meets low in perfect accord, where luxury is most certainly not a bad word, and where culture is not at all at odds with downhome realness.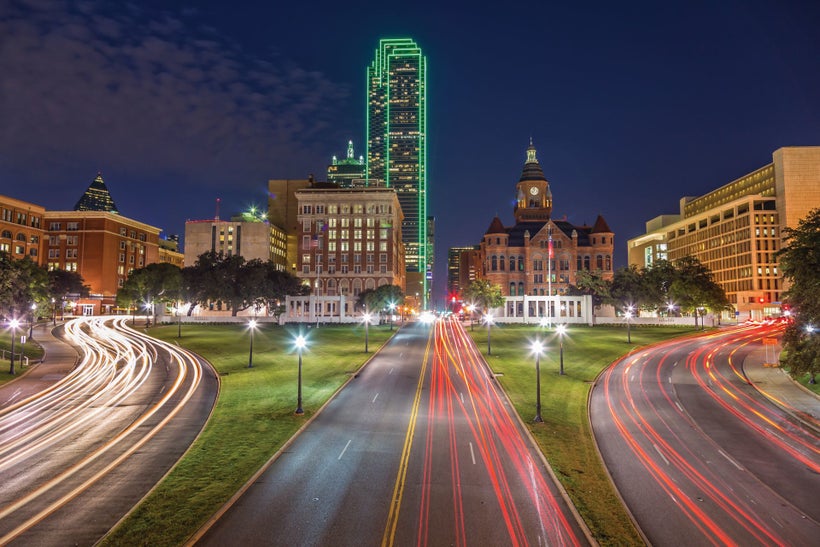 As mentioned above, Dallas is perhaps the most iconic destination in Texas thanks in no small part to the hit television series bearing its name and subsequent television properties set in and around the city's expansive borders. With its famous skyline and memorably brassy tagline, "Big Things Happen Here," of all Texas hotspots, Dallas feels the most familiar – especially to those of us who have flown in and out of Dallas Fort Worth International Airport more times than we care to recount. Fittingly then, Dallas is where our trip began.
Upon arrival, we immediately made our way to the Downtown Dallas Arts District where we took in a healthy portion of local culture courtesy of the nearby Dallas Museum of Art, Reunion Tower, the West End Historic District and Nasher Sculpture Center (along with a smattering of shopping at the landmark Neiman Marcus, of course). Then, it was time for a feast of a different sort. Texas is known for its barbecue and Pecan Lodge is widely respected as one of the best purveyors of 'cue in Dallas, so off to Pecan Lodge we went.
As evidenced by the long lines that wrap round the eatery's lone location in the gentrified Deep Ellum neighborhood, Pecan Lodge has, with very good reason, become one of the temples of worship to which any self-respecting barbecue lover must make a pilgrimage when visiting Dallas.
In fact, in this simple, folksy, family style space, proprietors Justin and Diane Fourton indulge their love of smoke and family with such passion that Texas Monthly named Pecan Lodge one of the top 4 BBQ joints in the world (which is no small accomplishment when you count the number of landmark BBQ joints in Texas alone, let alone the world). As a testament to, or rather in support of this recognition, gigantic smokers burn 24 hours a day kissing brisket, ribs and house made sausage with the delicious flavor of mesquite wood combined with a little oak. Meanwhile the menu is rounded out with family recipes for everything from perfectly crispy fried okra, creamy macaroni and cheese and soulful collard greens to golden, crunchy southern fried chicken so delicious, that it alone makes a visit to Pecan Lodge worthwhile. Bottom line: Few restaurants wear the hype that precedes them as well as Pecan Lodge.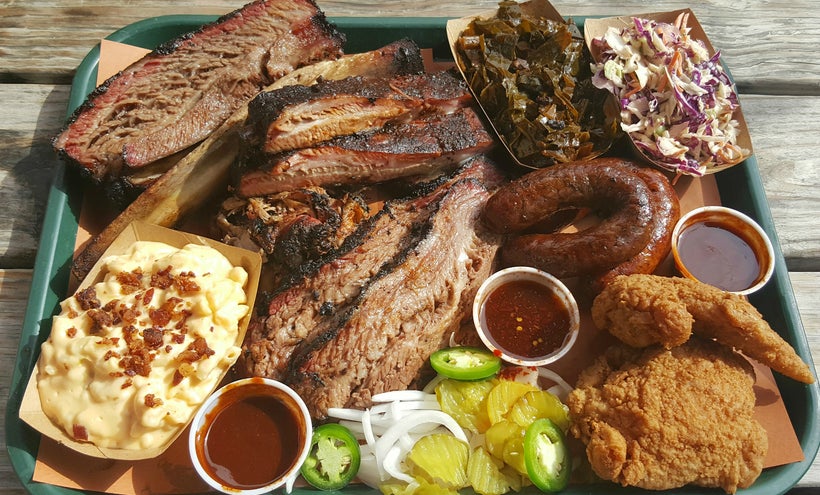 Our next stop was at Wild Bill's Western Store in downtown Dallas to check out some real cowboy swag. A true character in every way, Wild Bill is a prototypical cowboy from his broad hat to his custom-made boots right down to the very real, very ornate revolver he carries on his hip (this is Texas after all...ya'll). If you're lucky enough to find Wild Bill in the store as we did, you'll quickly learn that his stories are as legendary as his hospitality and that his gear is as authentic as it comes. Moreover, the store itself, with its Old West artwork and classic awnings has been selling boots, hats, belt buckles and all manner of western goods for over five decades making it the perfect spot to indulge your inner cowboy or cowgirl, while sampling a little vintage Dallas.
Speaking of vintage Dallas, Southfork Ranch, is actually a bit of a trek outside Dallas proper and less imposing than expected but nonetheless worth the drive for fans of the original Dallas television series or its recent revival on TNT. Primarily a special events venue and tourist attraction these days, a visit to Southfork can only be fully appreciated by taking the guided tour, complete with all its insights into the doings of the fictional Ewing family, which is exactly as camp as expected and twice as much fun because of it.
On the second day of our Texas adventure, we continued our exploration of Dallas with a visit to the hipster-esque Bishop Arts District, home not only to a clutch of fashionable boutiques, restaurants, bars, coffee shops, and art galleries but also to one of my personal favorite spots in the city, chocolatier Dude, Sweet Chocolate – a virtual pantheon to chocolate. Do stop in if you're in the neighborhood, you won't be disappointed by the chocolate (or the service). Elsewhere in Bishop Arts, old and new Dallas collide in this quirky, fun hamlet which traces its roots back to the 1930's and its return to popularity to the late 90's and early aughts. For a look at the changing face of Dallas, Bishop Arts is a prime example.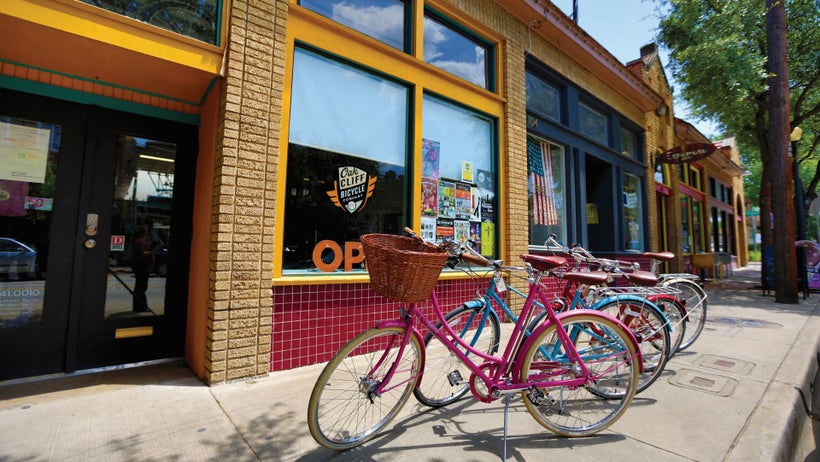 You can't visit Texas and not at least test out your cowboy skills, which is precisely what Davey and I did when we overnighted at the Wildcatter Ranch en route from Dallas to Houston. Wildcatter is a sprawling 1,500-acre working ranch property offering everything from miles of horseback riding and hiking trails to clay shooting, archery and jeep tours all in a remote setting gifted with spectacular views and fortunately upscale cabins offering all the expected amenities plus a few extras to boot.
After settling in, we headed down to the stables, saddled up a pair of horses and took an hour-long horseback ride around the property before heading back to the stables for lessons in the daily chores of cowboys. Horse tails needed to be brushed, stalls needed to be cleared of manure…I could go on but I'm sure you get the picture. What I'm not sure of is whether we made the best cowboys, though I have no doubt we deserved an "A" for effort. Hard work behind us, we took in the jaw dropping sunset from our respective cabins before heeding the call of the dinner bell at the Ranch before calling it a very early night. After a hard day's riding and working on the ranch it seemed only fittin'!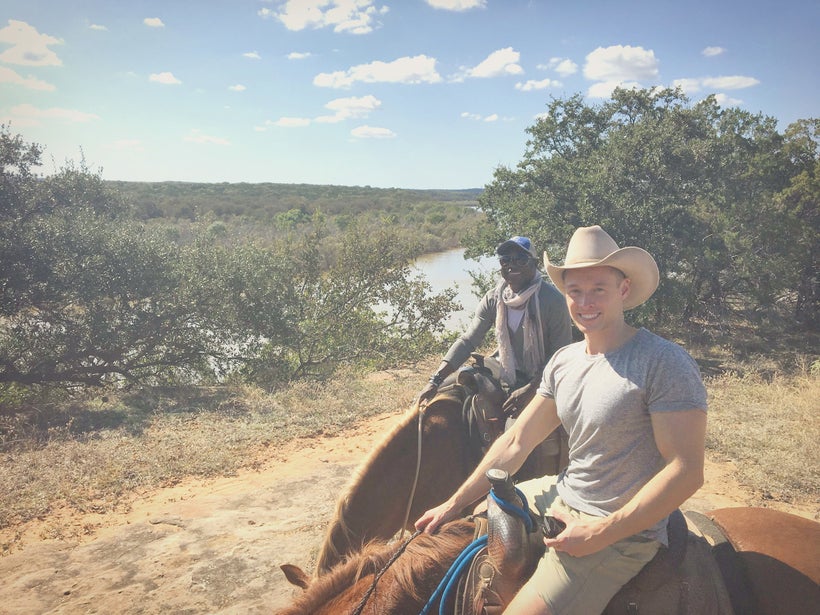 Next stop Houston! For more detailed tips tips on our visit to Houston, click here.
Calling all HuffPost superfans!
Sign up for membership to become a founding member and help shape HuffPost's next chapter
This post was published on the now-closed HuffPost Contributor platform. Contributors control their own work and posted freely to our site. If you need to flag this entry as abusive,
send us an email
.