At this point, we've pretty much heard it all. From the Republican Party's vicious (and biologically ignorant) war on women to the young men at a Sigma Nu fraternity party at the University of Central Florida chanting "Let's go rape some bitches, let's go rape some sluts"; from Rush Limbaugh's repugnant slut shaming of Sandra Fluke to the misogynistic delusion that Planned Parenthood might be giving away free smartphones to every woman who comes in for an abortion, a perverse perspective on human sexuality has conservatives firmly in its grip.
Whether we're talking about a black women's book club that got kicked off a Napa Valley Wine Train "for laughing too much" or Donald Trump Twitter trolling Megyn Kelly with a tweet that says "The bimbo is back," the hateful message is clear. Women's lives may matter, but why should men care?
Consider the signs that were seen hanging in front of a house near Old Dominion University in Norfolk, Virginia this summer.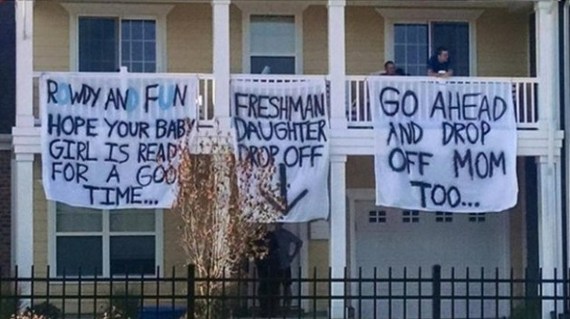 How does one counter such cretinous refusals to treat women with respect? When logic and legislation fail, one can try coating sexual education with a healthy dose of humor and/or sarcasm.
Trying to shame arrogant young men for their boorish behavior has become a lost cause. As rape culture has gained a steady foothold on American campuses, among law enforcement officers (whose job is to protect and serve rather than entrap and assault), and in a culture which refers to men and women alike as "bitches," this lack of basic respect for another human being has led to a sorry state affairs that could be called Fifty Shades of Dysfunctional Family Life.
Part of the problem is that many men see no reason to take any responsibility for their words and actions. They expect women to be codependent, enabling and submissive.
Some men find it remarkably easy to ignore the consequences of their deeds, not caring about the tough psychological work many women must do as they struggle to pull their lives back together. Danica Dillon, an erotic dancer and porn star who claims to have had two sexual encounters with Josh Duggar (while his wife was pregnant) states that:
"He was manhandling me, basically tossing me around like I was a rag doll. It was very traumatic. I've had rough sex before, but this was terrifying. I actually really hope that his wife leaves him and takes his children away from him and leaves him a lonely, bitter man. I don't think he deserves happiness."
I mention these incidents because a new comedy written and directed by Paul Weitz shows three generations of women dealing with the mess thrust upon them by a narcissistic, arrogant, man-boy (Nat Wolff) who has impregnated Sage (Julia Garner). When the young woman approaches her wise-ass, lesbian grandmother (Lily Tomlin), she learns that money can't solve every problem.
As the movie begins, the feisty Elle is in a curious predicament. Having paid off all of her credit card debt, she's just kicked her most recent girlfriend (Judy Greer) out of her home. Still mourning the loss of her long-time lover, the last thing she expects is to have to deal with a teenage granddaughter who is scared and lacks emotional spine.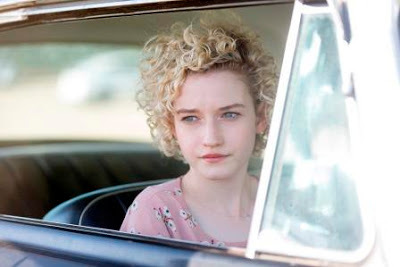 Julia Garner as Sage in Grandma
Taking her granddaughter under her wing, Elle promptly heads for the young man's home. Following an unpleasant confrontation with the would-be father, the two women set out on a day-long adventure in pursuit of the necessary funds.
The script for Grandma is a solid piece of unsentimental writing that does a fine job of rebutting the conservative mindset that would like people to believe that having an abortion is a frivolous decision. As Weitz explains:
The film is female driven. According to the Guttmacher Institute, as of 2008, 30 percent of women had had an abortion by the age of 45. So it's unlikely that most people don't at least know someone who has faced the question of whether or not to end an unintended pregnancy. The film doesn't make light of the issue. It puts it in the context of the characters, who all have their own perspectives towards the issue. It is largely about moving on from loss through wit and empathy and the ability to say screw you. I just hope a splinter of it will lodge in their memory.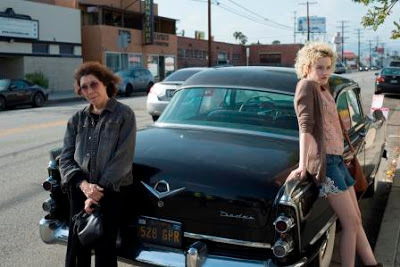 Elle (Lily Tomlin) and Sage (Julia Garner) try to raise enough
money for the young woman to get an abortion in Grandma
While Grandma benefits from magnificent performances by Tomlin and Sam Elliott (as an old flame from her hippie-houseboat days), the fiercest fire comes from Marcia Gay Harden as Elle's daughter (and Sage's mother), Judy. A real piece of work, Judy is the kind of maniacally driven, fire-breathing businesswoman who has lost most of her humanity.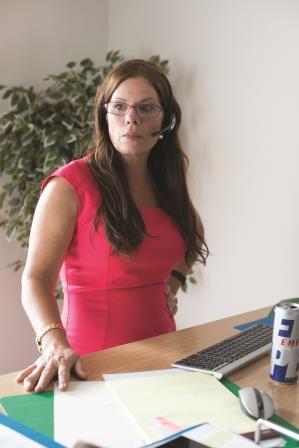 Marcia Gay Harden as Judy in Grandma
Playwrights and composers often talk about writing for a particular person's "voice." In the case of Grandma, Weitz has done a stunning job of tailoring Elle's character so that it fits flawlessly with Lily Tomlin's persona. Not only is her delivery as dry and caustic as ever, she is the perfect person to play an iconoclastic, weed-smoking lesbian grandmother (just watch her priceless interaction with a bratty pro-life protester). At 76, Tomlin is at the top of her brittle and brilliantly sarcastic game.
In supporting roles, Judy Greer scores strongly as Elle's most recent partner, Olivia, while Laverne Cox makes an appearance as one of Elle's tattoo artist friends. Although Grandma features a beautiful cameo performance by the late Elizabeth Pena, the film is so carefully synced to Tomlin's talents that it's her show all the way. Here's the trailer:
As part of its Sandbox Series for developing new works, the San Francisco Playhouse recently presented the world premiere of 1-2-3 at the Tides Theatre. Written by Lila Rose Kaplan and directed by Lauren English, this four-character play depicts the sibling rivalries and personal neuroses of three sisters who have grown up under extraordinary circumstances. The reason each character is referred to by a number is that, whenever they are moved to another foster home, they take on new names (often in the hope that it will make their new foster families and classmates like them).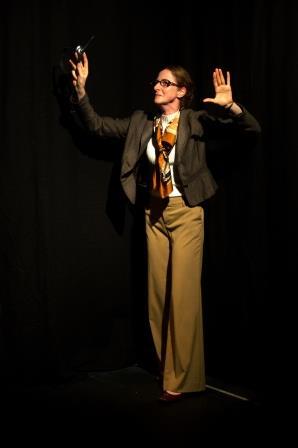 Jessica Bates as "1" in 1-2-3 (Photo by: Fei Cai)
In addition to their individual and collective emotional baggage, these three sisters are permanently attached to a social stigma: their parents have been imprisoned for acts of domestic terrorism (killing people was an unintended consequence of planting a bomb). As a result, contact with either parent is iffy at best.
"1" (whose mother instructed her to look after her younger siblings) takes an interest in history while acting as a surrogate parent.
"2" tries to lose her anger and/or express herself through dance.
"3" becomes obsessed with recording life on handheld cameras and smartphones, eventually working for a needier-than-thou reality television producer in Los Angeles.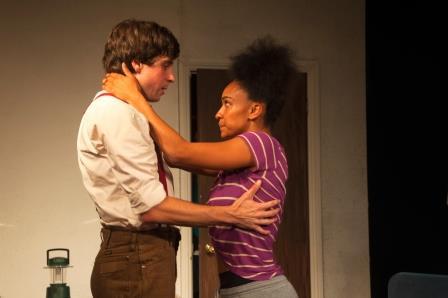 Luke (Jeremy Kahn) and "2" (Tristan Cunningham) learn to
communicate through ballroom dancing in 1-2-3 (Photo by: Fei Cai)
A threat to the cohesiveness of the three sisters materializes in the form of Luke (Jeremy Kahn), the sweet, shy young man who waits tables in his mother's cafe. Because Luke's mother is a ballroom dancer, he has learned quite a bit about various dance styles. When confronted with "2" (a raw bundle of nerves and confusion nursing some severe emotional wounds), he manages to coax her out of her shell by teaching "2" how to dance the cha-cha.
As the years progress, Luke and "2" become a competitive ballroom dancing team on the brink of winning an international competition. However, while Luke wants to get married and settle down, "2" still refuses to wed.
Meanwhile, "1" becomes a teacher who is mortified when, after being freed from jail, her father is refused entrance to her school (where he is scheduled to be a guest speaker).
After a depressed and disillusioned Luke arrives in Los Angeles for a visit, a desperate "3" (who doesn't know the difference between techno music and salsa) attempts to set her brother-in-law up for a job interview where Luke can teach dancing to amateur reality show contestants . She also attempts to seduce him while he is mourning the death of his relationship with her older sister.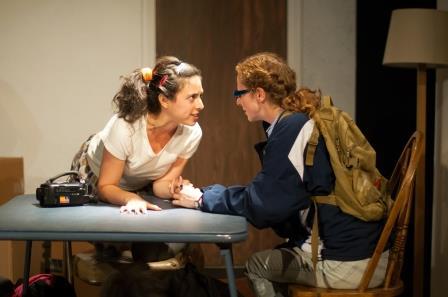 "3" (Devin Shacket) and "1" (Jessica Bates)
in a scene from 1-2-3 (Photo by: Fei Cai)
Lila Rose Kaplan's meticulous plotting and strong writing show a keen awareness of Sir Walter Scott's comment, "Oh, what a tangled web we weave. When first we practise to deceive!" Jessica Bates ("1") showed the strongest levels of intellect and maturity among the three sisters with Tristan Cunningham ("2") obviously the most athletic and movement-oriented of the sisters (I'm running out of superlatives to describe this talented artist's work). Devin Shacket's "3" suffered the tragic consequences of having far too much stress and not enough love in her life. As always, Jeremy Kahn was pliable and reliable in his approach to accessing Luke's conflicted emotions.
Subtitled "A play about abandonment and ballroom dancing," 1-2-3 has the fierce dramatic potential to become more fully realized in subsequent productions. For now, it's an impressive world premiere.
Popular in the Community