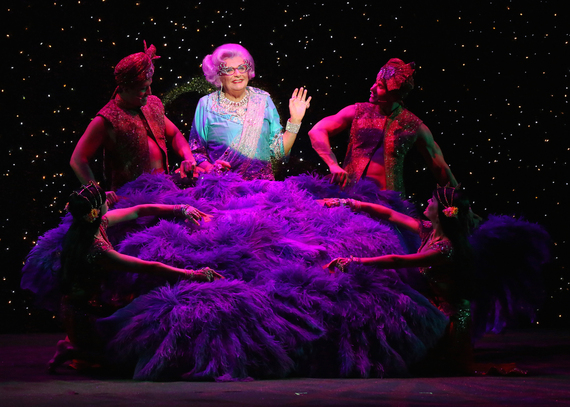 Dame Edna Everage's "possums" near and far might be fretting over the news that the savage, self-proclaimed international superstar is taking a bow after her current U.S. tour fades to black next month. But fear not--one never really knows for sure if this is, indeed, the last we'll see of this versatile Aussie, exquisitely brought to life by the incomparable Barry Humphries. After all, Dame Edna has surpassed expectations and withstood the fickle fate of time--six decades have passed in fact, since the character first appeared in a little theater in Melbourne. In between performances for "Dame Edna's Glorious Goodbye: The Farewell Tour" in San Francisco, the lady--she of stage and screen and fabulous self-glorification and quick wit-- pauses between performances to fill us on about her state of mind and the road ahead.
Greg Archer: You are on the last leg of your final farewell tour.
Dame Edna: It's quite poignant.
Greg Archer: Tell me. How are you feeling?
Dame Edna: Very very emotional, Mr. Archer. You understand because you are a Sagittarius.
Greg Archer: Thank you for acknowledging that. I feel so validated.
Dame Edna: [Laughs] Well, you don't need to be validated, Mr. Archer.
Greg Archer: Well, some days ... Tell me, what is inspiring you the most, now that you have a few weeks left of your tour?
Dame Edna: You know that San Francisco is a special place for me. Because this is where it began. All those years ago when Joan Rivers told me I should come here. Upon her advice, I came here over 16 years ago on the Theater on the Square. You were probably a little boy in Poland then.
Greg Archer: Ha. Probably. I was. I was barely speaking English.
Dame Edna: Well, it was the beginning of a miracle journey.
Greg Archer: Ms. Rivers must have been very inspiring for you.
Dame Edna: Well, she said I inspired her but we were very very close buddies. I was deeply saddened by her passing. Premature in my view. But it has been wonderful here. It's a homecoming for me. And the theater is lovely, too. If I could ever have a home in the United States, it would be here, probably Sausalito. And my little friend Amy Tan lives there. And I might say that some of my best friends are in San Francisco--Amy, Armistead Maupin, Michael Tilson Thomas. They are my best American buddies and they all live here.
Greg Archer: You should move. However, how would we handle you on an ongoing basis?
Dame Edna: You would be fine. I just find there's a wonderful level of acceptance here. In Australia, they really want to turn me into a religion. A religion! Can you imagine? The Church of Edna? Oh. I don't want to be over-revered. On the other hand, I do think you need a really glamorous woman dominant in culture here. Danielle Steel isn't enough. Even Arianna Huffington isn't enough.
Dame Edna: I knew you know little Arianna. I met her in London when she was a very humble little Greek girl. I met her when I was having laser treatment for my leg hair. We had the same leg waxer. I gave her make-up tips. But I don't think you can print that. [Laughs]
Greg Archer: I'm going to try.
Dame Edna: No darling. I wouldn't put your job on the line. You know, I was looking over some notes I have on you and I see here you come from Chicago.
Dame Edna: I like it there too, but it is too cold for me. Now, I want to read your book, Grace Revealed.
Greg Archer: I will give you a copy. It's been an experience, to say the least, writing about the forgotten Polish deportations and my family.
Dame Edna: Would you? That theme of survival is important to me. I survived Australia.
Dame Edna: It was my Stalin, you know.
Greg Archer: I can imagine. What do you think got you through it?
Dame Edna: I think my own wonderful talent. And I have an unconventional beauty. Let's accept it. But I am an attractive woman, don't you think?
Greg Archer: Nobody wears sequins quite like you.
Dame Edna: Now, you and I met several years ago.
Greg Archer: Yes. I interviewed you for a local publication and also for The Advocate.
Greg Archer: You made a significant comment about my faded jeans and afterward, I immediately threw them out. I was grateful.
Dame Edna: [Laughs] Now, you are doing book tours are you?
Dame Edna: Those book tours are really important. They put you in touch with your reader. And it helps if the reader is plural.
Greg Archer: So far, so good. The three of them seem to love the book. No. Just kidding.
Dame Edna: You see, I think books about survival and family journeys are very important. And I am setting out to write another account of my life. Unfortunately, my manager Barry Humphries writes his to contradict mine.
Dame Edna: He has another story to tell and of course, it is about promoting himself.
Greg Archer: Do you think he's resentful of your fame?
Dame Edna: It's terrible. It's old fashioned resentment. I am telling you this Greg Archer--Never underestimate envy. Think of how many writers in America would envy your opportunity to talking to me this morning.
Greg Archer: You have a point.
Dame Edna: And this despite my voice being in ruins.
Greg Archer: Oh, you sound fine. Pop in a throat logenze and it will be just fine.
Dame Edna: Oh, you are inspiring.
Greg Archer: I live to please. I am a good Polish boy.
Dame Edna: Yes, I know. I have been to Poland--Krakow and Warsaw. And we have a lot of Polish refugees in Melbourne. They changed our culture somewhat with the dumplings and other delicacies.
Greg Archer: It must have been quite a shock.
Dame Edna: [Laughs] It was. Now, your name isn't really Archer.
Greg Archer: Well, it is and yet ... it's my professionally name, technically. I took it on more than 20 years ago. It used to be Krzos.
Dame Edna. Well, you could say "cross" couldn't you.
Greg Archer: Because I was a Sagittarius, I took on Archer.
Dame Edna: It makes perfect sense to me.
Greg Archer: Well, tell me: What's beyond this?
Dame Edna: Well, you know, I am starring into an abyss. And I am not talking about Market Street, San Francisco. I am staying in a hotel I used to love called the Huntington. And it's been redecorated by a blind person--from Singapore. Well, I am all for helping the blind. Unfortunately, you get a headache every time you walk into my hotel room.
Greg Archer: You have to wear sunglasses then?
Dame Edna: Very very thick sunglasses. Actually I may have to live in them. And the hotel ... well, they say it has not been redecorated, but "re-imagined" to resemble Singapore. Don't let them re-imagine your home, darling. So, what's ahead. Well, I have my charities, The Friends of the Prostate, which is a major charity. And I am on the committee for the International Prostate Olympics.
Greg Archer: And ... how does that work, exactly?
Dame Edna: Hard sell. Mostly aquatic events ... as you can imagine. White water rafting. Or, preferably, yellow water rafting. And then, of course, I'll have private appearances. I will be on cruise ships talking about my career. I have been approached by some of the very upscale cruise lines. I will continue writing my books. I am writing a book called "The History of Australia in Hundred Objects." It's of things we have invented in Australia. And you know, some of them are amazing. We invented the clapper boards used in films. We invented those cranes--those big long cranes used on constructions sites. I am also doing a series on the BBC about my travels around the world.
Greg Archer: You seem to move through these environments with ease.
Dame Edna: I try to. I have a ceaseless intellectual curiosity. I am very excited about things. And I am very very useful for my age. As I tell my audiences--I am approaching 60 ... but from the wrong direction. [Laughs] Now ... as we talk, I can remember our previous conversation. Somehow, as we were chuckling away with each other, it was such a pleasure.
Greg Archer: I agree. It was.
Dame Edna: Now, do you think you will spend the rest of your career in San Francisco?
Greg Archer: I sense Palm Springs is next. But back to you. Tell me: Who inspires you?
Dame Edna: I will tell you, I am very inspired by my friend the Queen. The other day, the Queen said to me, "Edna, if only you had played me in that film instead of Helen Mirren. She said, you would have captured what a really nice person I am. She said Helen Mirren was quite wrong and that I would have been perfect. And there are other offers for film parts for me. Oh yes--roles that Sharon Stone are too old to play.
Greg Archer: You do cross ... and uncross your legs well.
Dame Edna: Well, I do. It's advisable. One of the things I would like to do is clothe people before going to the theater.
Dame Edna: You look out at that audience and you think: Why can't they buy nice clothes? And there are beautiful shops here. When ... do ... they ... wear ... them, Greg?
Greg Archer: Maybe at a Bar Mitzvah?
Dame Edna: At a Bar Mitzvah? Don't tell me you're Jewish as well, Greg.
Greg Archer: I'm not. I was raised Catholic. I've recovered, thank you.
Dame Edna: Lovely. You know where I went when I was in Krakow? I went to the Black Madonna?
Greg Archer: Oh my. Wonderful. Did you pray?
Dame Edna: Of course I did. And, as you see, my prayers came true [laughs].
Greg Archer: They did. In spades.
Dame Edna: Now, I am afraid I have to talk to Washington.
Greg Archer: One last question: What's some of the best advice you have been given about life?
Dame Edna: The best advice about life is ... enjoy yourself, Greg. And preserve your sense of humor. I was born with a precious gift--the ability to laugh at the misfortunes of others. And that's kept me cheerful 24/7.
Greg Archer: What a beautiful thing.
Dame Edna: [Laughs] I thank you for your talent. And I am looking forward to your book. I have a feeling it's a bit special.
Greg Archer: Well, thank you.
Dame Edna: Bye darling...
Dame Edna is at San Francisco's Orpheum Theatre through March 22. Learn more about her next stops here.