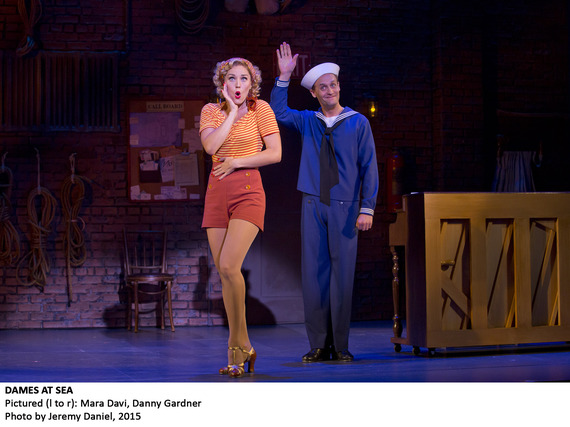 Last week, my best friend texted to ask if she should see Dames at Sea when she comes into the city. She's a tap fan, and on paper, the show suits her tastes. Set in the '30s, the action bursts into song and dance every five minutes.
My reply? "You'd be an idiot to buy tickets for that."
This, in summary, is what I have to say about Dames at Sea. Nostalgia is a dangerous thing, especially on Broadway where nearly everything is staged in the past. In this case, the most positive outcome would be that Dames at Sea proved another On the Town, replicating and replacing what already existed on the Great White Way last year. But with George Haimsohn and Robin Miller's book and lyrics that are about as inventive as a toothbrush, the musical stumbles into predictability and falls into the worst scenario: it's boring.
In over two years of reviewing theater and dance, I've seen some pretty horrible productions. Doctor Zhivago springs to mind, the largest failure of the 2014-15 season. But Doctor Zhivago was immensely entertaining -- terrible, but so terrible it was almost brilliant. The flashlight song may be my favorite Broadway moment thus far, as a slew of policemen dramatically waved around bright orbs, thrusting them on a diagonal and belting their lungs out. Even the deaths were hilarious, and I still smile about that time I wasted three hours on a show that was trying so hard to be Les Misérables.
Basically, bad Broadway can still be good Broadway, because it makes for memories. That is the most disastrous part of Dames at Sea: It is without memorable moments.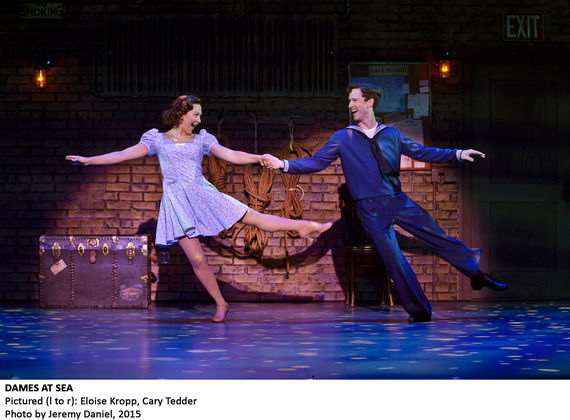 Sprinkled with cheesy puns and rampant sex jokes, the plot lies in a land of apathy. No one cares what happens at the beginning, middle or end. Supposedly evocative of the golden age of film, Dames at Sea is more a testament to how much B.S. theatergoers will take before bailing. For about a third of the audience on the night I attended, it was until intermission. They got up from their seats and wandered into N.Y.C.'s night air so they wouldn't suffocate from corniness.
It's always a shame when a show is poorly written but the cast's outstanding. That is not the situation here. All of the performers have potential, but only Mara Davi harbors the poise of someone who's ready to star on Broadway. Of course, you can't blame the other youngsters for their subpar delivery; they've been given nothing to work with, and some of them are making their Broadway debuts or filling their first big role. They'll grow -- Cary Tedder especially seems promising. As for John Bolton and Lesli Margherita, they have no excuse for choosing such an ill-advised project, and it's doing them zero favors.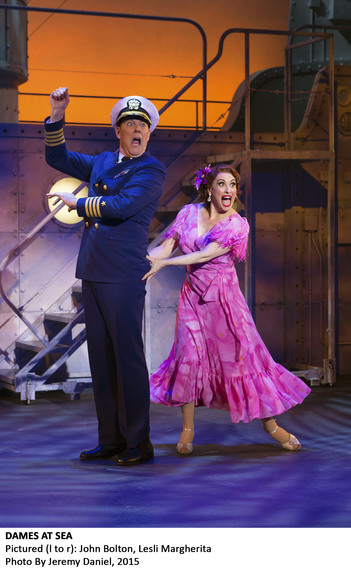 There's no need to rip these entertainers to shreds anymore. They're trying, and hopefully they will keep trying. But Dames at Sea is a waste of energy and time, for them and for the public. It's small and amateur. You could probably see something better at your local playhouse, and this isn't worth the ticket price.

Dames at Sea is now playing at the Helen Hayes Theatre.
Calling all HuffPost superfans!
Sign up for membership to become a founding member and help shape HuffPost's next chapter