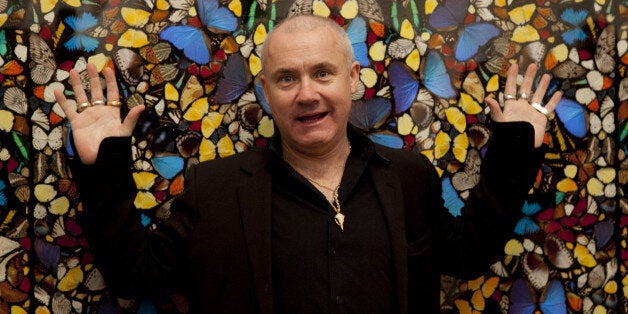 It came to our attention earlier this week that British YBA hero Damien Hirst was looking for some sort of studio assistant. The job listing over at The Gaurdian called for a photorealists artist with experience in oil paint, color matching skills and attention to detail. Although the listing has unfortunately closed, we'd ask that the mega-star consider one last applicant. The following is a cover letter we came across in our daily search for Hirst-related news. We eagerly await his response.
Dear Mr. Hirst:

I was excited to see that you are hiring for the position of photorealist painter, and I hope to be invited for an interview. I believe, due to my experience in the arts as well as my passion for subject matter in line with your work, and that of Science UK Ltd., that I am the ideal candidate for the position.

I have been interested in art since a young age, your art particularly, since it addresses themes so near and dear to my heart. Firstly, pregnancy. As you so eloquently realized in your 66-foot, 55,00-pound "Verity" sculpture, the so-called gift of human life is all kinds of freaky. Like, seriously foul. Why does no one talk about this more?

Whenever I hear that a new person in my extended social circle has been blessed with the miracle of life inside her, I want nothing more than to see that unborn fetus as if it were a blown-up, metallic monster, like one of those Body Worlds exhibitions but, way bigger and way more expensive. Thanks to "Verity," whenever a resident of the small seaside town of Ilfracombe, Devon wants to take a sunny stroll, they'll be coldcocked by the wonder of birth. The birth of a silver giant! Don't listen to what any of those hundred Ilfracombians said when they begged and pleaded against the so-called grotesque artwork overshadowing their hometown. They don't understand the meaning of art.

This brings me to my second qualification that I know will set me apart from my fellow applicants. My unabashed and all-consuming hatred of butterflies. I am not naive, and thus am well aware that I'm far from the only person who loathes the undesirables. So fluttery. However, with all their cheery connotations in contemporary society, it's nearly impossible to express one's disgust of the beasts in public. As anyone who's ever seen the look on a strangers face when you smush a butterfly between your fingertips and watch as its little antenna shakes a final quiver knows, this kind of behavior is denigrated in mainstream society.

Mr. Hirst, if hired I assure you that I will show no mercy in my pursuit of slaughtering butterflies on a massive scale. I know your 2012 installation "In and Out of Love" resulted in the death of 9,000 of the vermin, but under my watch, the count could reach up to 15,000. At least.

Finally, your listing requested experience with oil paint, as well as good color matching skills and attention to detail. While I am not necessarily proficient in any of these realms, with all due respect Mr. Hirst, I've seen your spot paintings. I think I can handle it.*

Back in the 1990s you said words that have remained emblazoned in my memory: "I can't wait to get into a position to make really bad art and get away with it." You're still, unfortunately, receiving a vast number of not-so-flattering reviews , for reasons I cannot begin to comprehend. I could think of no greater honor than making your dream come true, to truly create bad art and make even more money for it. With me by your side, you can hopefully one day rise from the richest living artist in the world to the richest living artist in the universe.

For the Love of God, Mr. Hirst, give me the privilege of being your assistant.

All best,

*I won't even embarrass you by mentioning these.
This is, of course, a satirical letter.
Popular in the Community