Amid the rubble lies a barnacle-encrusted sculpture of Mickey Mouse, a bust of a pharaoh with a peculiar resemblance to Pharrell, and a golden sculpted head, aptly titled "Golden heads (Female)."
It was the latter piece that Nigerian artist Victor Ehikhamenor noticed while perusing Hirst's exhibition, which he passed by daily while setting up for his own exhibition at the Venice Biennale. The bust appealed to Ehikhamenor because of its near exact resemblance to an iconic Nigerian artwork, known as the "Bronze Head from Ife," or "Ife Head." Made around the 14th century, it was unearthed in 1938 in Ife, Nigeria.
The piece, believed to represent a king of the Yoruba people, is notable in its naturalism and sophistication, especially given its 14th-century origins. Made before Britain colonized Nigeria, or Europe had any contact with or imprint on African culture, the piece displays the talent and technique of a civilization untouched by Western practices.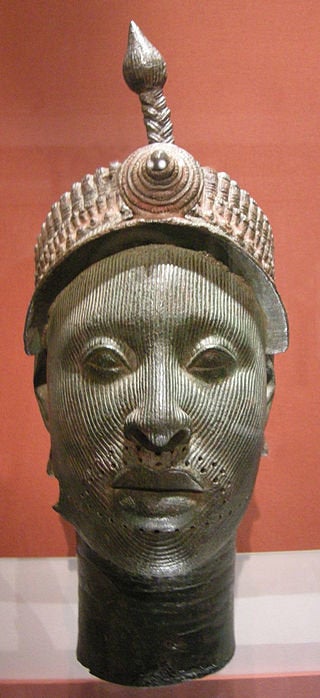 "This is part of our cultural and artistic heritage," Ehikhamenor wrote in an email to HuffPost. "It plays exactly the same role other important art or sculptures from a certain era play in other communities and countries of their origin, especially the classics. This is a well-known piece of very important work, easily identifiable by many Nigerians and art historians round the world."
And yet for the many visitors flocking to Hirst's blockbuster show, where the time-honored statue is stripped of its historical context, the piece appears as part of Hirst's own vision. Ehikhamenor expressed his frustration with the act of appropriation on Instagram:
For the thousands of viewers seeing this for the first time, they won't think Ife, they won't think Nigeria. Their young ones will grow up to know this work as Damien Hirst's. As time passes it will pass for a Damien Hirst regardless of his small print caption. The narrative will shift and the young Ife or Nigerian contemporary artist will someday be told by a long nose critic "Your work reminds me of Damien Hirst's Golden Head". We need more biographers for our forgotten.
Artists often blur the line that separates inspiration and appropriation, adopting images from other artists and cultures for their own creative fodder. While Hirst is not unique in co-opting traditional imagery for his own artistic purposes, his status as one of the richest living artists, whose works yield up to $5 million each, make the act of cultural poaching feel especially exploitative.
"I am not particularly against getting inspiration from other iconic works like this," Ehikhamenor said, "but don't weave a warp narrative around it and commercialize it to your own benefit. This was an outright copy with very minimal alterations. Don't copy it outrightly and fictionalize what is a well-known fact. It borders on the line of broad daylight robbery. One must also be mindful of the past relationship Nigeria has with Britain in regards to carting away some of our best works during the Benin punitive expedition of 1897."
From Ehikhamenor's perspective, Hirst's co-opting of traditional Nigerian imagery rehashes the power dynamics of British colonialism, under which British forces looted Nigerian cities in the late 19th century, plundering and seizing much of the native artwork. To ignore that historical event, or worse, unintentionally repeat it, seems less stimulating than ignorant.
Intensifying the power imbalance is the fact that Hirst is one of the most well-known living contemporary artists in the world. As Ehikhamenor put it: "People will think he is the original creator of such an important artwork. He has a bigger PR machine and probably a wider reach, and the narrative can quickly change in his favor."
However, a spokesperson for the exhibition curator, Elena Geuna, assured CNN that there is indeed text accompanying the artwork, as well as in the exhibition guide, that makes reference to the Ife heads' origin and concept. "One of the sources of inspiration for the exhibition is the collection of the British Museum, in London, where the Ife heads are displayed," she elaborated. "An Ife head from the British Museum collection has also been included in the famous book, 'A History of the World in 100 Objects' by the former museum director Neil MacGregor."
Still, Ehikhamenor was outraged by Hirst's act of appropriation, as well as the reception it received. In another caption posted on Instagram, he writes: "I have read many reviews of 'Treasures from the Wreck of the Unbelievable' and yet to see the words 'primitive' or 'ethnographic'. These are two of the frequently used words to describe classic art from Africa." He signed off on all the posts with hashtags including #abiographyoftheforgotten, #madeinnigeria, #lestweforget and #myforefathersdidit.
Hirst has long worked to collapse the boundaries separating past and present, high- and lowbrow, mythology and pop culture, fact and fiction. But given his wildly privileged position, Hirst's interest in mixing up categories doesn't justify his erasure of an image's centuries-long history.
The question isn't can Hirst adopt traditional Nigerian imagery for his own artistic purposes, but why should he? Is the work interesting? Radical? Or does the work simply reaffirm the imbalanced power structures inside the art world and beyond it?
"I understand he is fictionalizing his ideas, but sleep should not be comparable to death, as my people would say," Ehikhamenor concluded. The artist expressed his wish that Hirst credit the sculpture properly, paying homage to its origins in Ife, Nigeria. He also advised that the work not be sold.
UPDATE: This piece has been edited to reflect that Hirst's sculpture is accompanied by text that references the influence of Ife heads on his work.
Popular in the Community