 And yet, these 331 paintings have held the art world hostage for the moment, with every single major news source rolling out previews and reviews full of praise and disdain for the wealthiest living artist on the planet. Frankly, it is a bit amusing to watch critics search for inventive ways to describe the dots, and it's worth noting that nearly every review below includes reluctance, as though the writers are all striving to not hate -- or at the least, strongly dislike -- not only the pieces but a show of such blunt, distracting scale.
"Damien Hirst the Complete Spot Paintings 1986-2011" is a stunt. But there may be something to be said for art fans -- and tourists -- in so many cities experiencing a show at the same time. Of course, each show varies greatly in style and scale, but it's something. (We're trying, dear reader).
Here's what the critics are saying:
The Daily Mail is perhaps most incredulous, noting that the artist has indeed only painted five of the 1,400 spot paintings in existence (the rest were done by assistants). Hirst himself bristled at the suggestion that that assistant-generated art is problematic, arguing, "Every single spot painting contains my eye, my hand and my heart. I imagine you will want to say that if I don't actually paint them myself then how can my hand be there?" The artist quickly added that he "controlled every aspect of them coming into being and much more than just designing them or even ordering them over the phone." (Ed. Note: HuffPost Arts is relieved to know you can't phone-order multi-million dollar creations into being).
Bloomberg's review explains that the paintings are meant, of course, to resemble pharmaceutical pills. In a scathing take on the show, critic Martin Gayford claims the works are completely passe. "Once, say about 1995, his spot works seemed to catch the zeitgeist, at once energetic and nihilistic. That time has passed," he writes. "The project of creating unlimited paintings, executed by assistants, all derived from the same formula, seems to reflect the years of the dotcom boom and subprime mortgages all too accurately. Now the atmosphere is much more sober and earnest. Perhaps it's time for some real paintings."
The New York Times describes the show as "very bad at times, and yet, at others, not bad at all, in fact rather good." Critic Roberta Smith notes that some of the paintings are accessible in a fun-for-the-whole-family way, but others are " so redundant and oppressive as to appeal to only hard-core Hirst devotees." She compares the shows to the unveiling of a new Apple product, "a spectacle with benefits" that is perhaps best described as "a blatant promotion of both the Hirst and Gagosian brands, and a sitting-duck symbol of the end-time, we're-doing-this-because-we-can decadence that has subsumed so much of the art world -- yet another instance of money celebrating itself."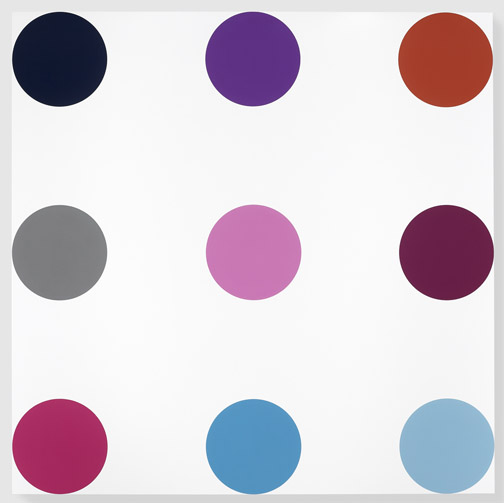 (c) Damien Hirst and Science Ltd. All rights reserved, DACS 2011, Courtesy Gagosian Gallery. Photographed by Prudence Cuming Associates
Sam Parker writes in The Huffington Post UK that the show made him "ponder the extent to which humans are truly capable of creating random chaos," but ultimately found the London shows "incorrigibly smug." Parker notes that Hirst's "prize" for any fan who visits all 11 galleries is a mere signed print: "It's essentially an absurdly rich artist offering a prize to anyone absurdly rich enough to travel across an absurd global route to see his work." Are there ulterior motives at play as well? The review posits the question of just why such a large show was necessary, and wonders if "Hirst knows, deep down, that his beloved spots simply aren't interesting enough on their own, that they need a publicity stunt to get anyone interested."
Artinfo has a helpful comparative guide to the pieces, and Gallerist has a similar spots-by-numbers guide (the latter notes that the record price a Hirst spot painting fetched was $3.48 million).
And, finally, if you're yearning for more dots on this Friday the 13th but are just ill at the thought of seeing another Hirst-ian circle, check out this gallery of dot paintings done by other artists.
What do you make of all the buzz, and of Hirst's show, "Damien Hirst the Complete Spot Paintings 1986-2011"? Is it earnest and fun or just an unseemly spectacle?
Popular in the Community