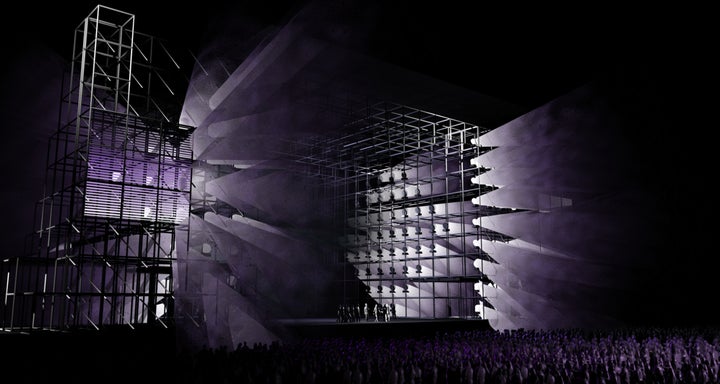 Revivals are funny things. Looming over their production is the fact that they've been done before. Is it a revival to reclaim a flop, like Carrie? Is it a revival of an acclaimed play that's fallen out of sight, like Painting Churches? Is it a revival of a challenging and bold classic like The Maids? You can't help immediately measuring the new show against the original...even if you haven't seen the original. (Surely, the original probably did... this... or that.) Here are several revivals, none of them successful -- is it because they fall short of the earlier productions or because the original was over-praised? You can't always tell.
Well, the reputation of Damn Yankees is safe as a breezy example of the entertaining shows Broadway turned out by the truckload back in the 1940s and 1950s. An ardent baseball fan sells his soul to the devil in exchange for a chance to become one of the greatest players of all time and -- more importantly -- finally beat those damn Yankees. You might almost think the team of Adler and Ross sold their souls for success as well. Two guys in their 20s, they burst onto Broadway with a hit revue followed by The Pajama Game and then Damn Yankees, all three of them critical and commercial hits. These guys had songs on the radio, hits on the Great White Way and the world at their feet until Jerry Ross dropped dead of lung disease at the age of 29.
The sky was the limit for this duo but having seen the Broadway revival and now this production, I feel Damn Yankees at its best is a solid but not great show. Still I love baseball (and those damn Yankees specifically) not to mention musicals, so singing and dancing ballplayers are always welcome.
But with some good songs and a silly plot, Damn Yankees needs star power to put it over. (That's why the Broadway revival of The Pajama Game worked so well -- Harry Connick Jr. and Kelli O'Hara tore it up and had star power to spare.
Unfortunately, on the day I saw the show the actor playing Joe Hardy was out and Steve Czarnecki took his place. Sports is filled with stories of players coming off the bench and scoring the winning run but sadly that wasn't the case here. Czarnecki has a booming, old-fashioned voice more suited for Les Miz than this light fare. Plus, he simply doesn't have the physical presence of an athlete in his prime which keeps the sexual tension that should be abundant distinctly low-key. Similarly, Chryssie Whitehead has huge shoes to fill playing the vamp Lola, a role previously tackled by Gwen Verdon and Bebe Neuwirth, among others. She too falls notably short both as a singer and dancer, so the big knock-em dead song "Whatever Lola Wants" and their duet "Two Lost Souls" fall flat.
On the plus side, it's a typically handsome production (the office and stadium scenes with the lights of the playing field in the background are especially effective), the orchestra is up to its usual standards (led by Music Director Ben Whiteley handling new orchestration and arrangements by Bruce Monroe) and a string of performances in smaller parts score at least doubles.
Howard McGillin takes none of it seriously as Applegate, though he especially would have benefitted from stronger cast mates in the two key roles of Joe Hardy and Lola. Nancy Anderson is strong as Gloria, the nosy reporter who wonders exactly where this phenom came from. Mike Cannon is memorable as Smokey, one of the locker room leaders on the team. (Indeed, the show's high points are the ballplayers on "Heart," "Shoeless Joe From Hannibal, Mo" and "The Game." And Patti Cohenour is spot-on as Joe's long-suffering wife Meg, a baseball widow for six months out of the year. Her genuine emotion and casual authority on stage let you know that this Damn Yankees can and should be a damn sight better.
I'd never seen The Maids before, but it's clear this Jean Genet play is a tricky one. It's filled with so much theatricality and subtle changes in the balance of power that you can easily imagine it either works...or it doesn't. This production -- which seems to go out of its way to telegraph the comedy and more obvious trappings of the work -- doesn't. The work is based on a scandalous true crime story of two maids in 1933 who brutally murdered their employer and her daughter. Genet's show uses this lurid tale to create a three-person balancing act in which first one maid, then the other and then the mistress in charge all take turns being in control and humiliating and challenging the others.
It begins with what appears to be a maid serving her domineering mistress but we soon realize -- indeed, it's underlined and exclamation pointed to an annoying level -- that this is merely play-acting by the two maids, sisters who are ginning themselves up to commit some outrage against their mistress. They've already sent an anonymous letter to the police that has led to the arrest of the mistress's love. Now, before they're found out, they hope to mock her further, even to the point of death. Ana Reeder (who could be cast as Emma Stone's sister) and Jeanine Serralles (weaker as the maid Claire) take turns cowing before the other's wrath of lashing out in anger over the cruelty of their fate.
In a good production, the back and forth here would be fascinating. We would watch the balance of power shift again and again, wondering or marveling at who exactly is in control and whether it's that very unstable dynamic that keeps them upping the ante. Instead, it all feels very random. I must blame the director Jesse Berger, who has clearly urged them to be as broad as possible, as if worried the audience might be too lost for too long in determining what exactly was going on.
Suddenly, as if a switch had been turned on, J. Smith-Cameron enters as the mistress and you sit up straight as if the play had really just begun. Smith-Cameron's Madame is no less theatrical than the maids (they are her audience) but she's a real person, not a construct. As she undresses for the night and natters on and on, the show is grounded in a reality it otherwise sorely lacks. Unfortunately, her part is secondary and when she's gone the play is adrift again until it peters out to a finish.
On a technical level, however, the show is a triumph. The set by Dane Laffrey is constructed in the round (or should I say, in the rectangle) with Madame's lavish, flower-bedecked bedroom flanked on all four sides by audience members who peep in through "windows" in the wall. Simply and effectively, this emphasizes the undercurrents of the show. It's great fun to see the maids tussling on the bed while audience members on the side lean over to peep down at them. Similarly, the costumes by Sara Jean Tosetti and lighting by Peter West are effective. Special kudos to the sound design by Brandon Wolcott, which is masterful in its subtlety. Wolcott effectively creates an aura of menace and unease but does so with such quiet authority I almost wasn't certain at first it the sound design was bleeding in from outdoors or part of my imagination -- that's how natural and effective it was. As a servant to the play, the tech team behind The Maids is far more trustworthy than the two murdering siblings at its heart.
I've wanted to see Painting Churches for years. Somehow, the title stuck in my head, even though I was growing up in Florida and nowhere near New York when it was an Off Broadway hit and short-listed for the Pulitzer Prize. It has a very rough similarity to On Golden Pond, the more crowd-pleasing hit turned into a feature film. Both are about estranged children who visit their aged parents and must deal with feelings of rejection and neglect while accepting the loving, almost closed-off relationship that the parents depend upon. In both, the father is ailing and slipping into senility where his ability to hold onto the present is slipping away.
Now that my first experience is not a success, I can't be sure whether the show hasn't stood the test of time or simply needs a better showcase to stake its claim.
Gardner (John Cunningham) and Fanny (Kathleen Chalfant) are the Churches, a couple finally packing up their rambling home in the city so they can spend their days at their weekend home, where the ailing Gardner will be easier to keep an eye on. Their daughter Mags (Kate Turnbull), a successful painter with a major solo show in the works, arrives to pitch in and help and hopefully connect with her folks by finally getting them to sit for a portrait. That's it and in a better show, that's plenty.
Cunningham has the best time here as the poet Gardner. He gets to quote brilliant classic poems and draw our sympathy by forgetting who he is, where he is and what he's doing. Kathleen Chalfant is fairly solid as his wife, though not pitch perfect the day I caught her. However, she spends much of her time interacting with their daughter Mags, whereas Gardner is in his own little world. And Turnbull as Mags is simply out of her depth. The scene where she hyperventilates while they study her work is especially painful to watch for its clumsiness. With Turnbull to play off of, Chalfant simply can't do her best work.
Tech credits are modest and the show as a whole makes Painting Churches feel like a minor work by playwright Tina Howe, rather than her most acclaimed work. I'l have to wait for a better-cast revival before making my final judgment but it's an unfortunate effect of a poor production that it's not something I'm especially eager for. This doesn't feel like a missed opportunity and that surely is the unkindest cut of all.
The Theater Season 2011-2012 (on a four-star scale)
NEW YORK MUSICAL THEATRE FESTIVAL 2011
Thanks for reading. Michael Giltz is the cohost of Showbiz Sandbox, a weekly pop culture podcast that reveals the industry take on entertainment news of the day and features top journalists and opinion makers as guests. It's available for free on iTunes. Visit Michael Giltz at his website and his daily blog. Download his podcast of celebrity interviews and his radio show, also called Popsurfing and also available for free on iTunes. Link to him on Netflix and gain access to thousands of ratings and reviews.
Note: Michael Giltz is provided with free tickets to shows with the understanding that he will be writing a review.
Calling all HuffPost superfans!
Sign up for membership to become a founding member and help shape HuffPost's next chapter