Damon Wayans, Jr. wants to take your party, office retreat, or conference to the next level. He and Kristopher Jones have come up with a new app called Special Guest, now available on the App Store, to bring live entertainment to you. Like Uber, eBay, Fiverr, or airbnb, it is designed to make it easy for consumers and providers to find each other. In an interview, Wayans and Jones talked about the inspiration for the app and why they want every entertainer to find an audience and everyone to be able to enjoy live performances.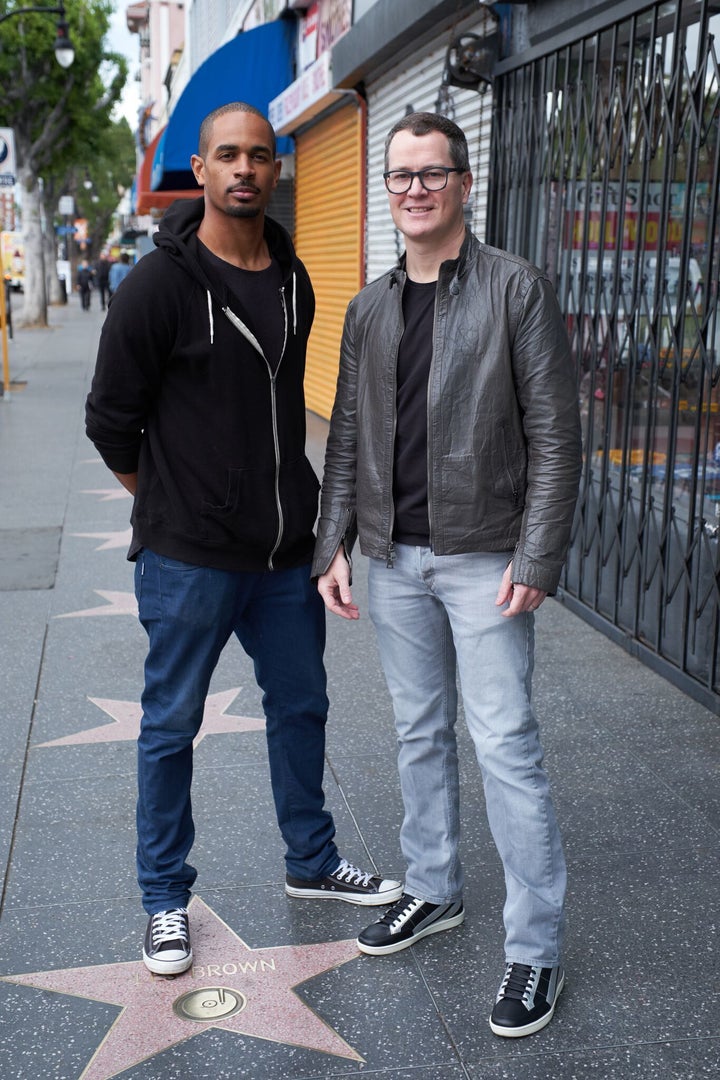 What made you think of this idea?
DW: I do a lot of stand-up comedy. I travel around the US entertaining people and when I'm not doing that I'm home in LA refining my material. I do a lot of open mics. Open mics are where people who entertain for a living go to practice their material. It's not just stand-up comedians. There are poets and there are musicians and what have you. One time I was at this open mic, sitting there waiting my turn. Two comedians go up ahead of me; very funny guys, never heard of them before and they kill it. Then this young lady goes up, she's a freckle-faced, young, redhead who goes up there with an acoustic guitar. She starts singing her own material and she blows me away. Everybody in there was like, "Wow, why isn't this girl famous already?" I had goose bumps and I thought to myself that it sucks that so many people who are entertainers will never get the opportunity to be paid for the thing that they love doing the most. They ultimately have to set aside their dreams and get a regular job and it's because of the way that the entertainment industry is set up. I have representation; I have a manager; I have agents. A lot of people don't have that. So I wanted to make a platform for entertainers to make it easier for them to get gigs. One of my good friends put me in contact with Kris Jones and we just hit it off. I pitched him the idea, he loved it, and we just made it real.
Kris, how do you begin to structure an app like this? And how did Apple's "Planet of the Apps" get involved?
KJ: The process of building a platform like this, a global app platform to connect venues and entertainers is a pretty big project. My background in addition to building apps is raising investment capital as well as putting together and executing growth strategies/marketing strategies. Midway through building the app I was contacted by a casting director for Apple's first original TV program, "Planet of the Apps." You can see us throughout but especially on episode 4, which you can watch for free with a 90-day trial subscription to Apple Music. We were successful in raising over $1.5 million during the show so now we're just out there taking it forward.
We knew that it was not going to be easy at all to build a platform that became the solution for anyone anywhere to be able to easily and affordably hire live entertainment. So we thought the partnership with Apple, going on the show, having the opportunity to pitch at the end of the show to a top tier Silicon Valley investment fund because we made it that far was worth it; it was worth Damon and me dedicating the time that we did to preparing for the TV show and then eventually getting cast on the show and then performing really, really well.
We received quite a bit of attention because of the show. In addition to that we raised some investment capital from other influential entertainers; people like Kevin Hart, Marlon Wayans, and Wilmer Valderrama among others, so it's all part of a multi-pronged strategy to get people talking about it. There's no other mobile app that does this at this scale so part of what we have to do now is be patient and dedicate the time to educate the entertainers so they know that a mobile app to help them get paid to do what they love to do is now available. This app is available to help talented people get paid for what they do and what they love to do. And it is important that they know that unlike agents and managers, we do not take any part of their fee. They set the fee and they get all of what they charge. We are paid by the person booking the talent. This is the game changer: to democratize the experience of live entertainment and the way that talented people get paid. You do not have to have an agent to get booked.
This is a really ambitious goal but it's our goal; to redefine the way that live entertainment is experienced by making it easy for you to pull out the app and to hire someone to perform at your office, at your home, at a wedding, at an event that you might be sponsoring as well of course making it easier for traditional venues like restaurants and bars and clubs and all the other ones that are booking live entertainment.
How do I know if an entertainer is right for my event or venue?
DW: The talents build their own profiles, so you get to upload your bio, you upload pictures, you upload videos of yourself; you are able to connect your profile to your Instagram and your Twitter account so people get to see what you're all about. You can communicate with the performer about the kind of event and what the audience expects. And there are rating reviews both for the talents and for the hosts so it's really streamlined.
Our goal is was to make it a one stop shop so you get to discover talents, you also get to hire talent and they get to get paid; everything happens within the app. Also it's not just for comedians; it's for musicians or fire blowers, some of the top magicians in the world, anyone who performs for an audience.
KJ: We are very proud to currently have the number one Obama impersonator in the world; a guy by the name of Reggie Brown from Chicago, in the app, we've got people in there who'll come to your kid's party and paint faces, who will come to your kid's party and juggle, or dress up like a clown and entertain. It's like having "America's Got Talent" available right now in the app store on Apple so that anybody can get entertained for whatever it is you fancy or whatever entertainment you need.
Damon you've done television, you've done film; what is it about live performance that is so vital and so meaningful to you?
DW: I like the instant gratification, the instant reactions to whatever I'm saying on stage. There is a feeling also of connectivity in live entertainment that can't be replicated and I think that is why no matter how many advances we make in technology it will never go away. People will still flock to go see their favorite musician or their favorite comedian and it is going to stand the test of time. That is what I love about it.
Kris, what do you want to achieve?
KJ: We've achieved our goal if we get talented people in the app and get them paid. The problem is that the traditional booking industry favors managed talent and 98 percent of talent that isn't managed. So you have this conundrum where the 98 percent have to be not just performers but entrepreneurs. We want them to be able to focus on their acts; we will help them find venues that pay.
Popular in the Community