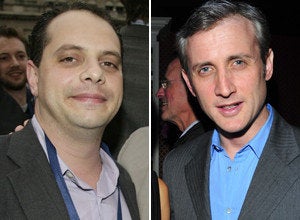 Peter Lauria, who's covered his share of media moguls for the New York Post and the Daily Beast, is joining the soon-to-be-launched Mogulite as consulting editor.
Movie mogul Harvey Weinstein once jokingly dubbed Lauria the "No. 1 bastard" he knows. But Mogulite publisher Dan Abrams only had kind words for the dogged reporter.
"There's no one who's covered the 'mogul beat' more or better than Peter Lauria," Abrams told The Huffington Post. Abrams -- who recently made a move of his own, from NBC News to ABC News -- described Lauria as a "crucial" part of the site's April 25 launch.
Lauria won't be joining the operation full-time, but is expected to write posts and provide tips and contacts to recently hired managing editor Amy Tennery over the site's first few months. "This is the kind of site where contacts will matter," Abrams said. "I want the site to be the place where news is broken about movers and shakers of the industry."
Abrams said he plans on hiring at least one other full-time staffer for Mogulite, which is the seventh site in his growing blog network. He described Mogulite as having "the same kind of philosophy of Mediaite" in treating "media figures as celebrities to some degree." Like Mediaite, there will be also be a "power grid" ranking Fortune 100 CEOs, entertainment executives and celebrities-turned-moguls.
Lauria described the consulting editor position as way to help mentor a younger reporter, be a part of a new site's launch and also "get back into the game and work my sources."
He's been somewhat out of the game since quietly leaving the Daily Beast a few months ago. The New York Post reported in February that Lauria had been missing from the newsroom for several weeks, amid rumors of tensions with management. When the Post called Lauria's office number, another reporter had already occupied his desk. Lauria declined to comment on his departure from the Daily Beast.
REAL LIFE. REAL NEWS. REAL VOICES.
Help us tell more of the stories that matter from voices that too often remain unheard.