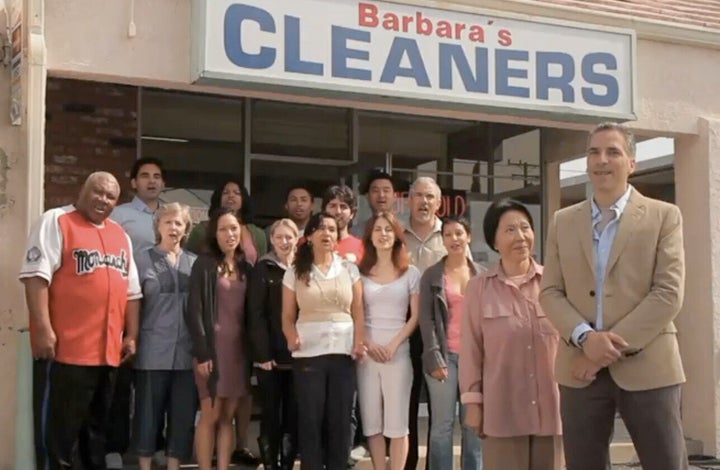 UPDATE -- In preliminary results that don't include absentee ballots, Adler garnered 285 votes, or 0.54% of the vote. After those results were announced, Adler said he was encouraged by the national and international attention his ads attracted, but disappointed they didn't translate into votes in the 36th District: "I think one of the issues is figuring out how to target."
"I honestly couldn't be happier with the message we got out, with how well that message resonated with everybody we put it in front of," Adler told HuffPost.
PREVIOUSLY -- You may know aspiring Congressman Dan Adler's work. This candidate, who by his own admission hasn't taken part in a political debate since high school, is running a long-shot campaign in California's 36th District. And he has a popular Internet ad to prove it.
The "Stick Together" video went viral, just like the campaign hoped it would. The ad features Adler, who is Jewish, being told by a heavily-accented Korean-American woman in her laundromat that "we minorities should stick together." It has been called everything from funny to bizarre to "cringe-worthy" and "vaguely racist."
The spot has also drawn a lot of attention to the race to fill departing Democratic Rep. Jane Harman's seat in Congress, which covers coastal areas like Venice and Manhattan Beach in L.A. County. That's good news for the previously unheard of candidate, who hasn't placed well in the few polls conducted so far. But the increased attention may not be enough to give Adler the votes he needs to advance from Tuesday's open primary to the July 12 general election.
Still, Adler is optimistic.
"There's not a single person I've met, honestly, who's been offended," he told The Huffington Post.
The candidate had help from a man with ample experience in turning outsiders into winners. Political consultant Bill Hillsman was the force behind Paul Wellstone's famous "Fast Paul" ad and Jesse Ventura's action figure spots. (Hillsman also worked on the 2003 gubernatorial campaign of this site's founder, Arianna Huffington.)
"In L.A., it's almost impossible to get people excited about a political race," said Hillsman, who is a strategic and media consultant for Adler. The ad's weirdness was "a little bit by design. You want to create that sort of provocativeness."
With over 179,000 views on YouTube (about 177,000 more than competing candidate Debra Bowen's most popular video), the ad has certainly taken on a life of its own.
Adler, a former agent at Creative Artists Agency and vice president at Walt Disney Imagineering, is by no means lacking in connections. Most of his advertisements, including "Stick Together," are directed by Sean Astin, who acted roles in "Rudy" and "Lord of the Rings."
While Hollywood is oftentimes used as a dirty word of sorts by politicians, Adler's not running from the association.
"I've spent a career essentially representing other people, so I get the gig," he said, referring to the job of a Congressman.
Adler's running against heavily favored frontrunners Bowen and L.A. City Councilwoman Janice Hahn. The "Stick Together" ad is intended to turn out first-time voters and independents.
"The 'real' politicians, in my opinion, were really happy playing to the 30,000 people they thought were going to vote in the race," Adler said.
The changes Adler proposes for the 36th District are more stylistic than anything else. When asked which of outgoing Rep. Harman's policies he would break with, he noted that he would be "the ideal candidate to pick up that mantle" on Harman's signature issues of Israel and defense spending.
Instead he hopes to bring an outsider sensibility, which his ads are meant to reflect, to the halls of Congress. Adler pointed to his pledge to take five ordinary district residents to staff his Capitol Hill office if elected.
Whether he will get the chance is another question. His ads -- which also include a pitch to Hispanics and a pledge by one of his sons that the elder Adler "gets shit done" -- have racked up plenty of hits. But that doesn't necessarily mean they will translate into votes on Tuesday.
One ray of hope for Adler: There were plenty of undecideds.
Correction: An earlier version of this report incorrectly quoted Adler as saying his opponents expected a particular 3,000 voters to take part in Tuesday's election, not 30,000.
Popular in the Community