WASHINGTON -- Over the Christmas break of 2010, Mitt Romney and his family took an internal poll on whether he should run for president once more. Twelve family members cast ballots. Ten said no. One of the 10 was Mitt Romney himself.
The doubts that the former Massachusetts governor harbored before ultimately launching his second unsuccessful bid for the presidency are one of several attention-grabbing details in "Collision 2012," the newest book on the 2012 campaign.
Written by The Washington Post's Dan Balz, the book is set to go on sale Aug. 6, 2013 (pre-order your copy here). The Huffington Post obtained a copy on Monday.
Meticulously reported, Balz's subject is the entire 2012 presidential contest. But the main drama is the Republican primary, which is covered from page 87 through 225 (out of a 350-page book). And the chief protagonist is just one of the candidates: Romney.
As Balz reports, Romney suffered far more from political cold feet than was previously known. When his family gathers in Hawaii on that Christmas break, he's worried about the personal toll another campaign would take and whether Republican politics had become completely unsympathetic to a candidate with his background. From Balz's book:
Mitt Romney had other reasons to think that not running might be the wiser choice. Winning as a moderate from Massachusetts who happened to be Mormon was always going to be difficult. "A lot of the thinking on the part of my brothers and dad was, 'I'm not sure I can win a primary given those dynamics.'" Tagg Romney said. The prospective candidate also knew the sheer physical and family toll another campaign would take. "He's a private person and, push comes to shove, he wants to spend time with his family and enjoy his time with them," his son said. "Even up until the day before he made the announcement, he was looking for excuses to get out of it. If there had been someone who he thought would have made a better president than he, he would gladly have stepped aside."
In an interview with Balz that's placed at the very end of "Collision 2012," Romney explained that he ultimately decided to run when he saw the other (leaving-something-to-be-desired) candidates in the GOP field.
"I didn't think that any one of them had a good chance of defeating the president," he told Balz, "and in some cases I thought that they lacked the experience and perspective necessary to do what was essential to get the country on track."
Coming from one of the most respected reporters in politics, Balz's account is perhaps the most highly anticipated of the 2012 campaign retrospective genre. His book on 2008 -- "The Battle for America: The Story of an Extraordinary Election" -– didn't get the accolades (or HBO movie) that "Game Change" did. But campaign veterans regarded it as the definitive take on that race. (Romney also reportedly sat down for an interview with "Game Change" authors Mark Halperin and John Heilemann for their 2012 sequel, "Double Down: Game Change 2012.")
Balz's look into last year's Republican primary is both substantive in its analysis of conservative politics and entertaining with its richly reported anecdotes.
Romney's campaign team, Balz writes, held "Kill Newt" meetings after former House Speaker Newt Gingrich vaulted to a victory in the South Carolina primary. During those meetings, they plotted what Communications Director Gail Gitcho described as "an entirely negative earned media campaign against Newt."
During the vice presidential selection process, Romney assured Ohio Sen. Rob Portman that his son's homosexuality would not be an issue in the selection process. He also asked New Jersey Gov. Chris Christie if he would resign as governor if chosen as the running mate because Securities and Exchange Commission rules prohibited employees at big banks and financial institutions from making donations to candidates who also ran states where the banks did bond business.
The Republican National Convention, Balz reports, was chaotic. Christie threatened to drop an F-bomb during his primetime speech if organizers cut down his introduction video by three minutes (they were nervous about getting everything done by 11 p.m.). Organizers relented. Meanwhile, Clint Eastwood's primetime address to an empty chair caught Romney's team completely off guard -- which one Romney adviser confirmed to The Huffington Post.
"He did just what he said he did," said the aide, "came up with the whole thing just as he went on stage. Utterly unimaginable."
By the time Election Day approached, Romney was confident he was going to win, as was widely reported. But Balz adds another gem to the story line: Vice presidential nominee Paul Ryan was even more confident.
As he was preparing to fly to Boston in the later afternoon of Election Day, he was openly talking about resigning his chairmanship of the House Budget Committee immediately after the election and was already thinking of possible replacements to head the committee during the budget fight coming in the lame-duck session.
And when victory didn't come through, Romney's first reaction was to fear for the country.
"I'm fearful that unless we change course, if we keep borrowing a trillion dollars a year, this is -- we're walking along a precipice," Romney told Balz. "I can't tell you we'll fall over it ... But as a guy who's occasionally walked the mountains, I don't like to walk along the precipice. I like to walk back from the precipice."
That interview took place in late January 2013. On Feb. 5, the Congressional Budget Office released a new projection that the federal budget deficit would drop below $1 trillion (to $845 billion) this year.
UPDATE: Balz's anecdote about Romney voting against a Romney presidential bid was reported earlier by The New York Times, a New York Times reporter enthusiastically pointed out to The Huffington Post on Tuesday afternoon. Credit where credit is due.
Before You Go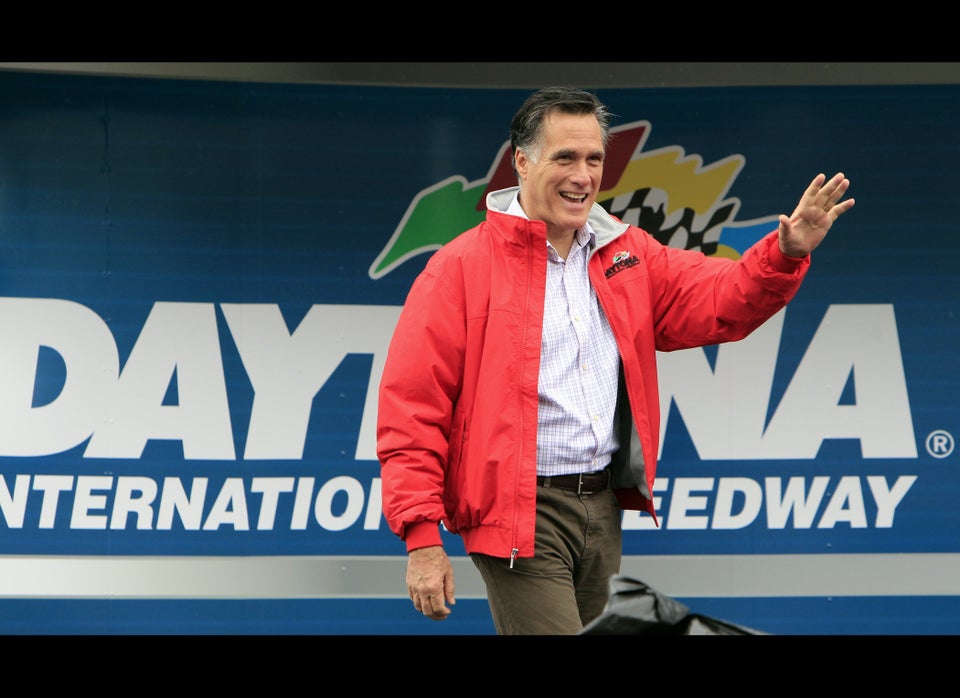 Awkward Mitt Romney
Popular in the Community