Dan Barber, the James Beard award-winning chef, has created an 18-day pop-up in his West Village restaurant, Blue Hill, serving a menu celebrating that which is usually discarded (think a burger made of "juice pulp" and stew of kale ribs). Every night a guest chef is joining Barber and the Blue Hill team to create one additional special dish (so far it's been Daniel Humm of Eleven Madison Park and Mads Refslund of ACME; for the full list check out Eater). Monday night I had the privilege of attending Danny Bowien's visit and eating my way through the menu with a pal. Don't be misled by the names, this was nothing if not a sensationally tasty meal.
We noshed on the "Dumpster Dive" vegetable salad to start: a glorious ode to the flavorful skins and ribbons of carrots and apples, celery and pear that usually get slid into the bin. Instead they were served with pistachio, a bright green goddess of a vinaigrette beneath them and a pillow of chickpea water foam; a crunchy, fresh, nuanced beginning. As another amuse, strips of scraped-clean skate wing cartilage fresh out of the frier were served with a tartare sauce of herb ends enriched by smoked whitefish heads. Fried skate wing cartilage, you say? The chef who delivered it urged us to dig in while it was piping hot and he was right. Crispy as a potato chip with no rubberiness to freak out my dining partner with admitted "texture issues," they hit the spot.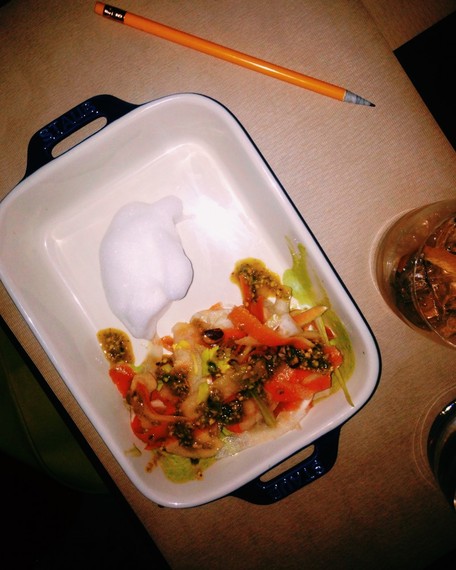 A mini charcuterie board of cured cuts of "waste-fed pigs" was next, made vibrant by thin slices of pickled "bastard" potatoes (these taters tasted great but had grown in some funky shapes). We piled our slices of copa and headcheese onto melba toast made from yesterday's oatmeal and added dollops of reject carrot mustard to round it out. (To clarify, there ain't nothing wrong with the swine that this charcuterie came from, rather, they live off of the cast off whey from an upstate cheese maker, and boy do they live well off of it).
"The worse we are at our jobs, the more you have to enjoy there," the adorable and extremely informed kitchen director who delivered the cod collar to our table remarked (it should be noted that even the tables were constructed specially for this pop up--or rather grown with compostable materials and mycelium). Needless to say, the guys in the kitchen are pros, but perhaps they were a wee bit less meticulous as they broke down the fish for our sake, so that we would have a little extra sweet meat to pull off of the cut and enjoy with carrot top marmalade and a fish skin and parsley vinaigrette.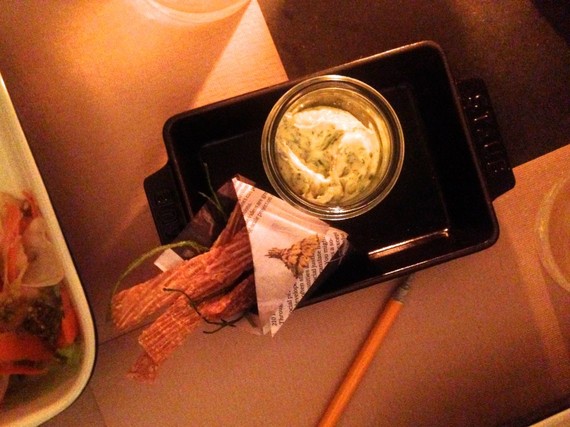 Our meal was lit by a candle burning in clear liquid labeled "beef." In fact, it was tallow (rendered animal fat), and was poured into a shallow dish of fresh pepper and herbs for us to soak up with the grainy bread from reject seeds that was offered at our table.
Monkfish wings (which are somewhat terrifying appendages that extend off a monkfish's fugly head and are usually removed and cast back into the sea immediately by fishermen) were brined in the olive bin, fried and served in a basket with gingham paper and a bottle of fish pepper hot sauce meant to invoke the all American charm of buffalo wings and their requisite Frank's hot sauce, and while it was certainly strange, one couldn't ignore how tasty it was or how much meat was on those enormous projections.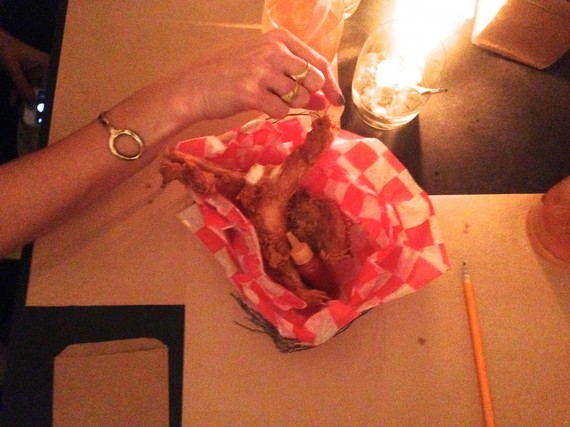 Lastly for savory, we indulged in Danny Bowien's special: a smoked fish skin and peanut heart furikake with chili-pickled ikura, broken rice and sesame leaves, which was delicate with just the right amount of hedonism as those bright red ikura exploded on our tongues.
Truthfully, if it hadn't been called out ahead that we were feasting on detritus, we would have simply thought we were feasting. Instead of calling out environmental or population issues--the greater causes for thinking about food in this way, Barber reiterated how much he wanted the meal to be delicious, which it was at every turn. The Blue Hill gang did away with a prix fixe and encourage diners to pick and choose 1 dish from each section. The genius of this is that one could return many times in the 18 night series and always have a different meal. Scoring a reservation may not be easy, but it's walk-in only every evening after 9pm.
Go for the inspiration on how to use, eat and enjoy everything. Go there for the deliciousness, just go. I mean it, get in line already. More details here on Tasting Table.
Blue Hill
75 Washington Place
New York, NY 10011
Tel: 212 539 1776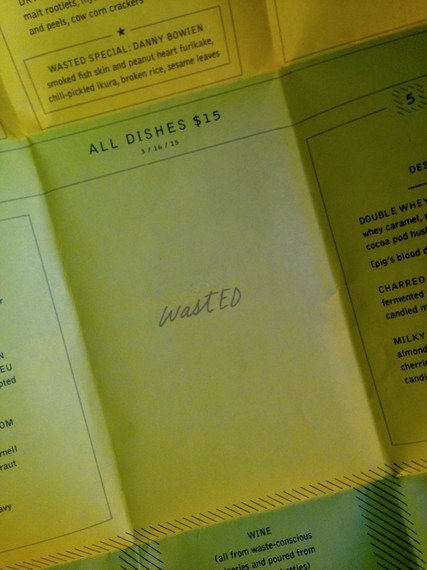 REAL LIFE. REAL NEWS. REAL VOICES.
Help us tell more of the stories that matter from voices that too often remain unheard.