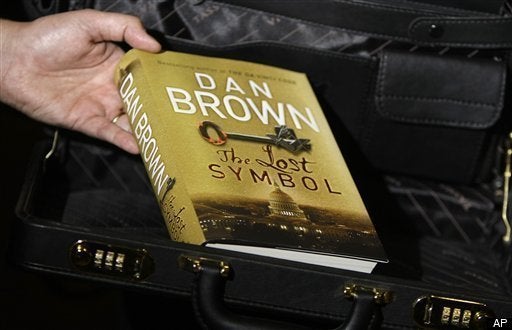 The Times did it again, they published a review of a book that was embargoed before publication date. Or did the publisher encourage it by imposing an embargo? The chance to break a story becomes irresistible, and so they went for it and published a review of Dan Brown's The Lost Symbol. Earlier this month they broke the embargo on the Kennedy memoir, True Compass, when they published a review nearly two weeks before publication date.
Now, they've jumped publication date by a day, but with a blockbuster that's sure to have a strict on sale date, every minute counts as customers line up to buy the next book by the author of The Da Vinci Code. The good news for Doubleday and readers is that Janet Maslin likes it:
Too many popular authors (Thomas Harris) have followed huge hits ("The Silence of the Lambs") with terrible embarrassments ("Hannibal"). Mr. Brown hasn't done that. Instead, he's bringing sexy back to a genre that had been left for dead.

When the True Compass embargo was broken, the following was sent from Jonathan Karp, the publisher of Twelve Books:
We are gratified by the intense interest in and enthusiastic reaction to True Compass by Senator Edward M. Kennedy. We also regret we are unable to make the book available to you immediately. We are eager to share this extraordinary autobiography with you. This is not yet possible because the book has not reached most booksellers, including major national accounts and independent stores. We know how frustrated readers can get when they can't find a book, and we also know how frustrated booksellers can get when they cannot meet demand (or when certain accounts have an unfair advantage by selling early). That's why we set a uniform national on-sale date of September 14, which is the earliest we can guarantee all readers and booksellers access to True Compass.

While we recognize the news value of the book, one of our objectives as a publisher is to facilitate a national conversation among readers. That conversation will be better and more informed when everyone has access to True Compass on September 14th, and we eagerly await that day. At that time, we will also post the first chapter at www.twelvebooks.com. In the interim, we appreciate your patience, your understanding, and the strict adherence among booksellers to our embargo.
This time around, Doubleday took a different stance and sent books to media outlets early.
Calling all HuffPost superfans!
Sign up for membership to become a founding member and help shape HuffPost's next chapter