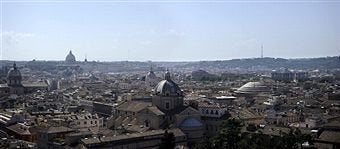 WASHINGTON -- Summer is upon us and that means only one thing in the nation's capital: time for Congress to take a holiday at government expense.
Friday evening, a government jet carrying six House members, four of their wives, three congressional staffers and five members of the military, including an Army doctor in case anyone gets sick along the way, will taxi down the runway at Andrews Air Force Base. Over the next 10 days, the group, led by Rep. Dan Burton (R-Ind.), chairman of the House Foreign Affairs Europe and Eurasia subcommittee, will visit five capital cities: Rome; Tbilisi, Georgia; Vilnius, Lithuania; Moscow and Lisbon.
Despite a debt crisis at home and an economy that will see many private citizens take 'staycations' this summer, this bipartisan congressional delegation, or CODEL, is hardly unusual. In May, Burton led a CODEL to Dublin, Vienna and Prague.
On board for this European trip are two Republicans and four Democrats -- including the non-voting delegate from Guam: Reps.Tom Marino (R-Penn.), Mike McIntyre (D-N.C.),Theodore Deutch (D-Fla.), Ruben Hinojosa (D-Texas) and Madeleine Bordallo (D-Guam).
Also along for the ride are the wives of Burton, Deutch, Hinojosa and McIntrye. According to the itinerary, Dee and Mike McIntyre will celebrate their 29th wedding anniversary in Rome.
Burton's latest junket, like all official government trips, has been planned in excruciating detail by military and diplomatic staff, the latter of whom are in the midst of a two-year pay freeze.
While the purpose of the trip is reportedly to "examine the European financial crisis" and the "foreign operations of the U.S. government," a minute-by-minute itinerary of the Rome leg obtained by The Huffington Post makes clear there will be plenty of time for fun this weekend.
Burton's office did not return a request for comment.
After flying overnight to Rome, the coterie will check in Saturday for two nights at a 5-star hotel on the famous and expensive Via Veneto. Lunch follows at a quiet restaurant near the Vatican before the group heads off for a tour. Then it's "evening at leisure."
Sunday begins with breakfast followed by a Latin High Mass at St. Peter's Basilica. An afternoon "cultural tour of Rome" will cost "approx $35/person" so delegation members will need to carry some cash. More personal time follows. The schedule notes: "See Welcome packages for suggested venues."
Monday morning the business begins. The congressmen will have a half-hour meeting with U.S. Ambassador to Italy David Thorne. Then it's off to the Bank of Italy to discuss, presumably, the European debt crisis that, so far, the government in Rome has managed to stave off.
Then it's off to the airport and wheels-up to Tbilisi at noon..
A U.S. government official familiar with the planning for the Rome leg said the weekend alone will cost taxpayers about $70,000. He noted that figure includes extra security, drivers and overtime for embassy staff, including a cashier and two guards for a delegation courtesy room at the hotel where guests can exchange their dollars for Euros, instead of heading to the nearest ATM.
The itinerary offers other delectable details such as:
Luggage call. Members of Congress need only set their bags outside their hotel room door and the bags will magically make their way to the airport.
Meals included. Airline customers may have to bring their own food on cross-country flights in the U.S., but not government officials. Dinner Friday night will be "Pork tenderloin, roasted potatoes, steamed vegetables, side salad, dinner roll and dessert (*Vegetarian meals will be provided for Rep. and Mrs. Deutch at all meals)." Lunch en route to Georgia: "Pesto Marinated Salmon, Rice Pilaf, Mixed Vegetables, & Dessert."
Per Diems. Those get distributed to the group Saturday morning, according to the printed schedule.
Sartorial advice. For the Vatican, the group is told the attire is "Business Dress (Dark colors please. No white suits/dresses)." At other times, "flat shoes" are recommended, presumably for all the sightseeing the delegation plans to do.
Details were still being finalized late Thursday evening, according to an all-caps footnote in the itinerary addressed to what appears to be an embassy staffer.
"THERE IS A CHARGE FOR COFFEE/TEA SERVICE IN DEL [delegation] ROOM SINCE HOTEL EXPECTS GUESTS TO HAVE BREAKFAST IN THE DINING ROOM. PLEASE ADVISE IF YOU WANT TO PAY FOR COFFEE/TEA SERVICE."
Popular in the Community